The Timeless Look of Handcrafted Pewter Hardware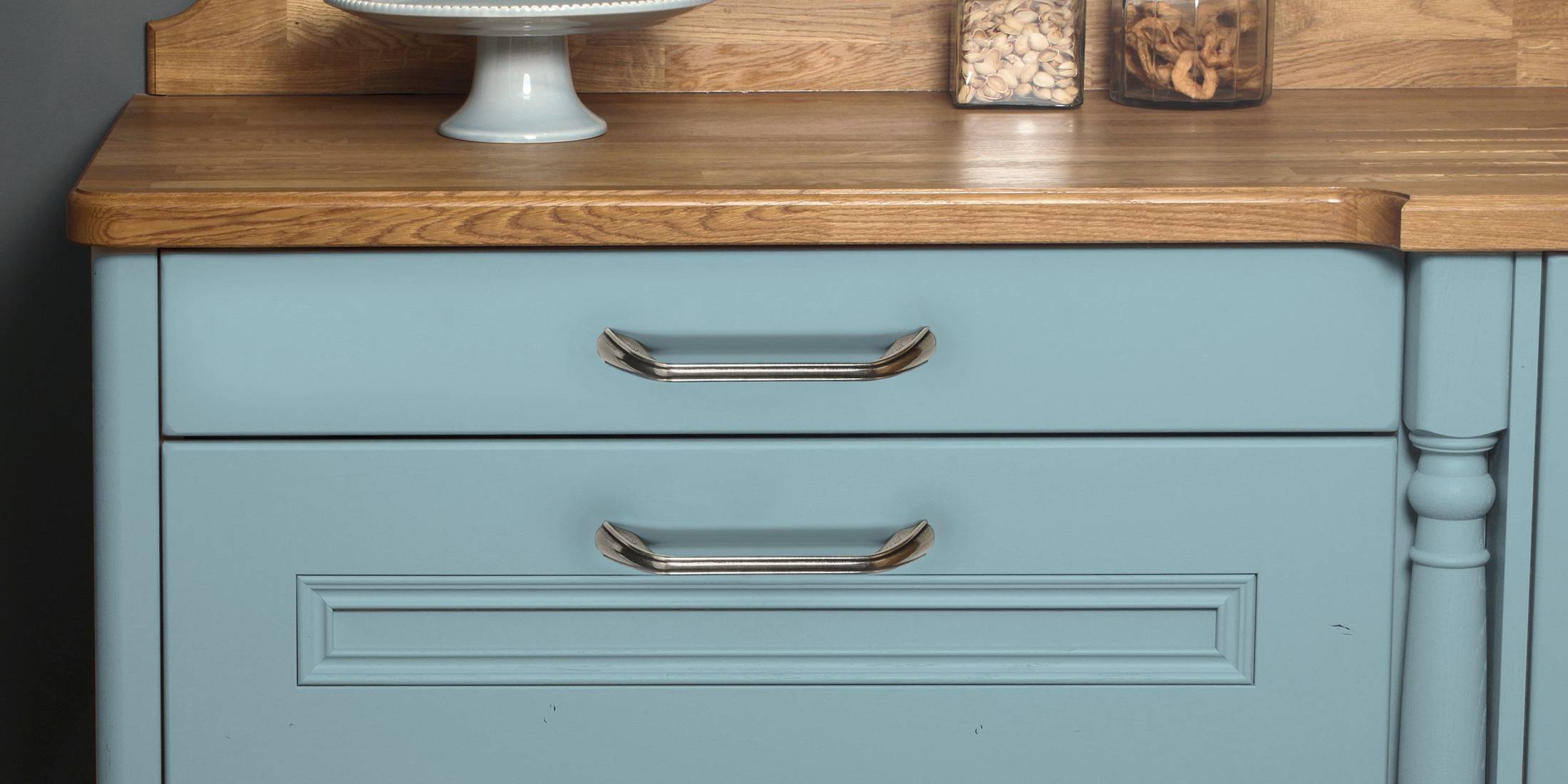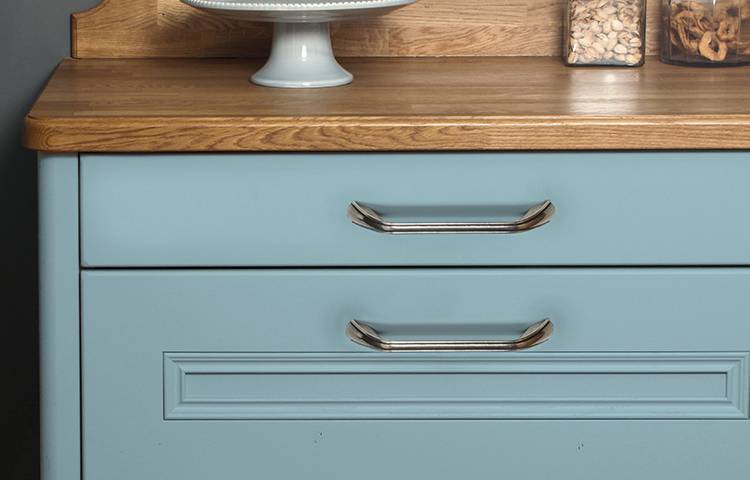 28 March 2023
Carl Benson
Introduction
In a world where home décor and hardware trends continually evolve, one material has maintained its allure and desirability for centuries: pewter. As a leading manufacturer of high-quality pewter hardware in the United Kingdom, Finesse, a child company of DJH, has perfected the art of crafting exquisite, hand-finished pewter products that stand the test of time. Steven Windows, the founder of DJH, began with a passion for model trains, which ultimately led to the birth of Finesse and their specialisation in stunning pewter hardware.
This blog will take you through the journey of creating timeless pewter hardware, the craftsmanship involved, and the diverse range of products Finesse offers to enhance the beauty and functionality of any home.
It all starts with a simple sketch on a piece of paper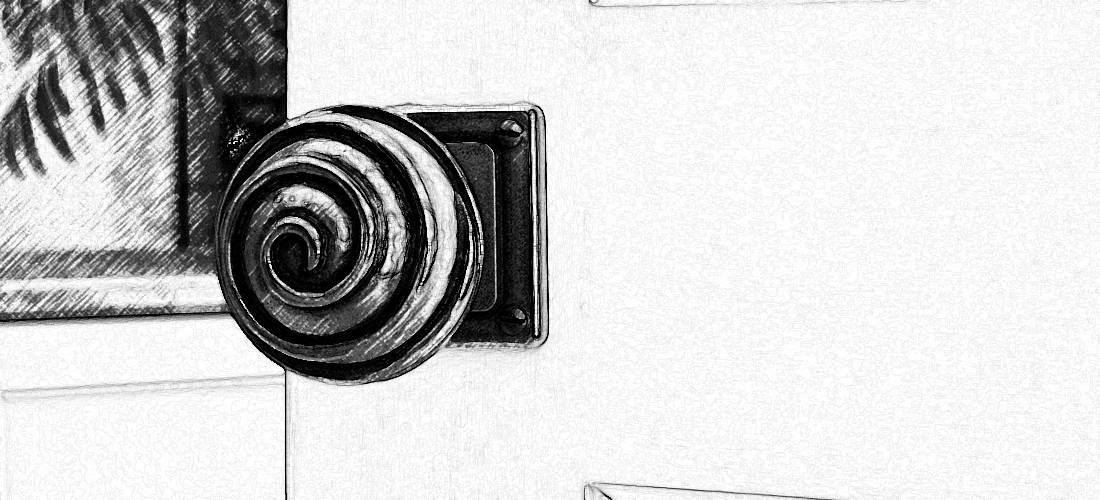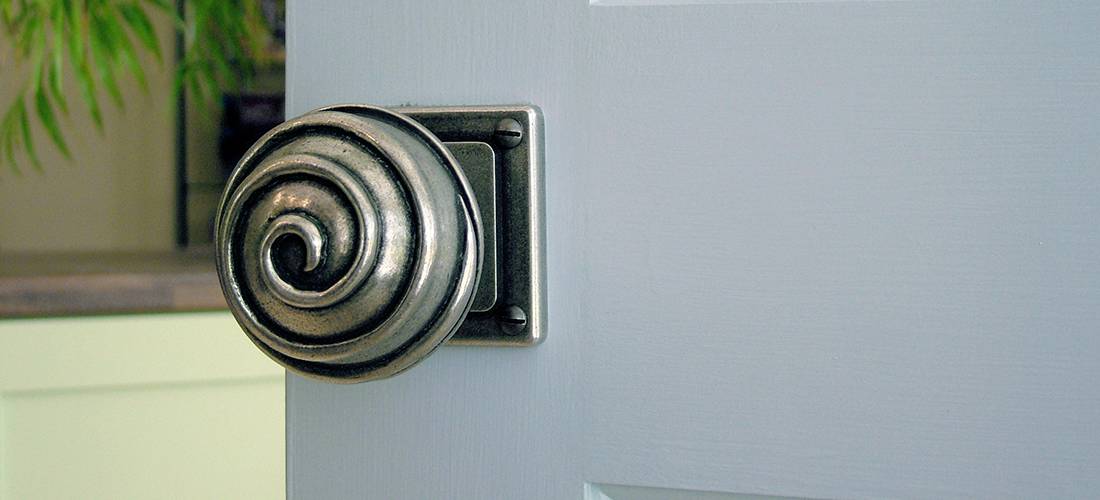 The Journey from Idea to Reality: An Artisan's Touch
Each piece of Finesse pewter hardware begins as a simple idea, often starting with a sketch on a piece of paper. The designs are then brought to life by a skilled CAD (Computer-Aided Design) team that transforms the concept into a detailed digital model. This seamless collaboration between artistry and technology is the first step towards creating a masterpiece.
Revolutionising the design process is the ability to create physical prototypes rapidly. Within days, a ceramic example of the design can be produced, allowing the team to make any necessary adjustments and discuss the final product before moving into full-scale production. This rapid prototyping process ensures that every piece of Finesse hardware is crafted to perfection.
As the pewter flows, it takes on a life of its own, twisting and turning into new forms.
Handcrafted Quality: The Commitment to Excellence
At Finesse's purpose-built factory in Consett County Durham, skilled craftsmen dedicate themselves to creating each piece of hardware by hand. The manufacturing process begins with casting the products in silicone moulds, followed by pouring molten pewter by hand before spinning it centrifugally. This delicate and time-honored process requires great precision and attention to detail, ensuring that every piece meets the highest standards of quality.
During production, each piece undergoes individual inspection at every stage, guaranteeing that only the finest hardware leaves the factory. Pewter, with its main component being the element tin, allows for any rejected items to be quickly and easily recycled. This commitment to sustainability is a testament to Finesse's dedication to both quality and environmental responsibility.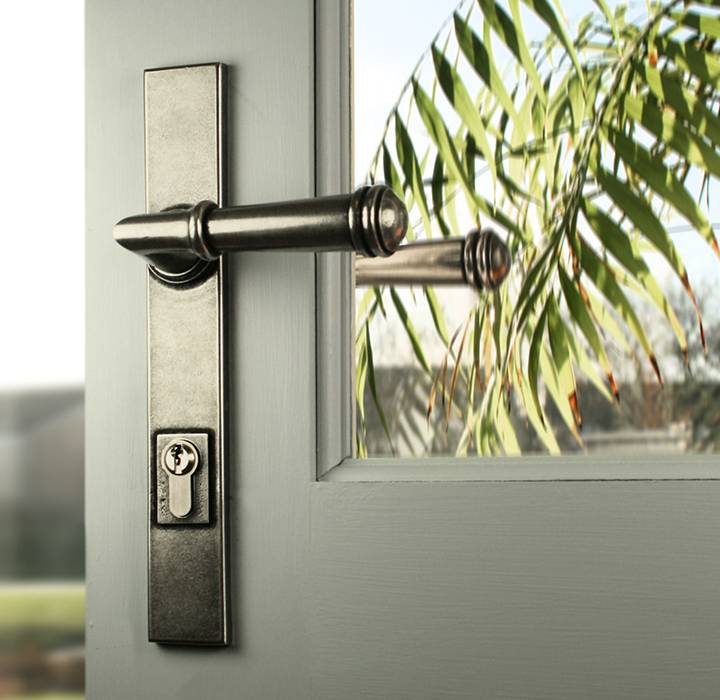 Durham Multipoint Handle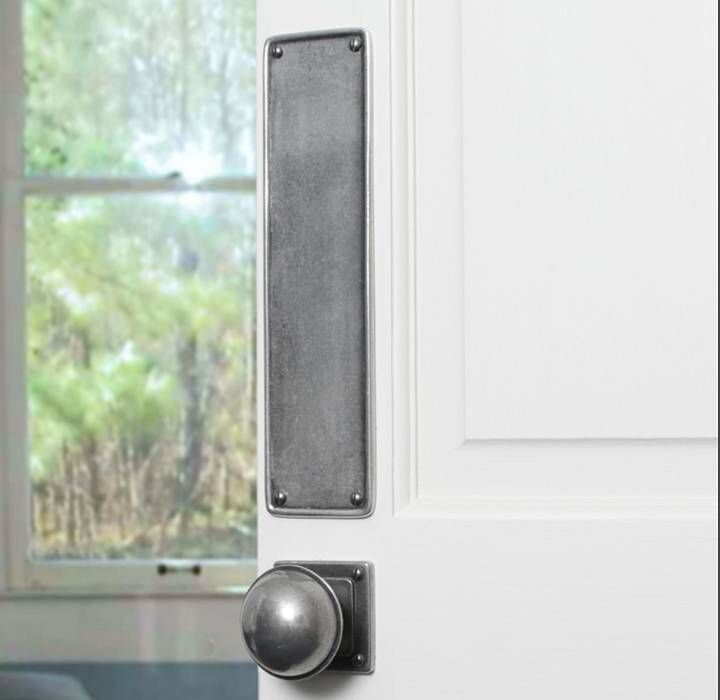 Finger Plate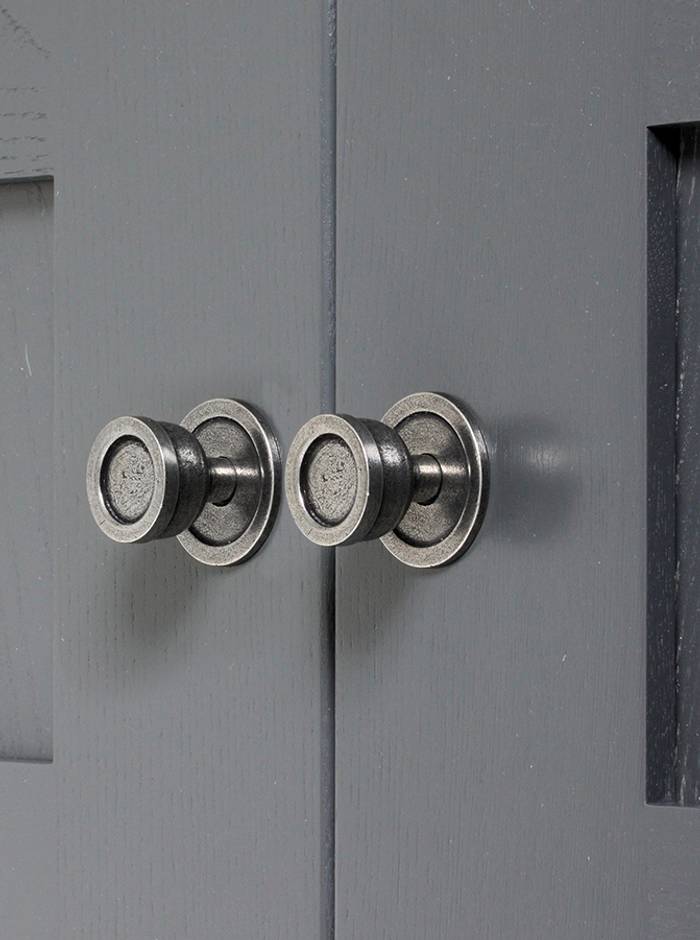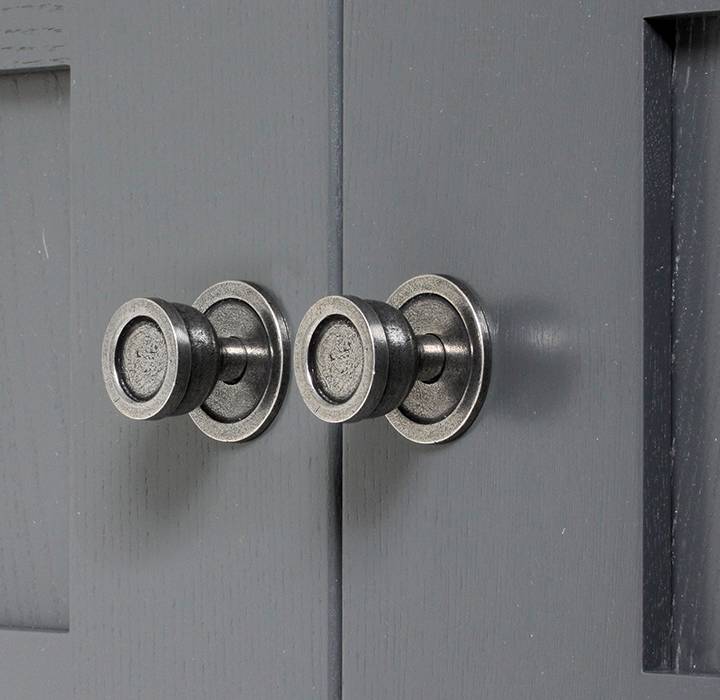 Quebec Cabinet Knob
The Unmistakable Warmth and Lustre of Genuine Pewter: A Unique Aesthetic
Finesse's mastery of manufacturing pewter hardware sets the company apart from competitors who merely attempt to imitate the effect. The warmth and lustre of genuine pewter are nearly impossible to reproduce, and the difference becomes very apparent when comparing imitation products to the real thing.
Pewter hardware is timeless, evergreen, and will never date. It transcends fleeting design trends and offers exceptional beauty and durability for those who value quality, craftsmanship, and a lasting aesthetic. For homeowners with a passion for enduring elegance and the budget to invest in the finest hardware, Finesse's pewter products are an unparalleled choice.
The warm, earthy tones of pewter hardware can add a rustic or vintage feel to your kitchen cabinets
An Extensive Range of Versatile and Durable Pewter Hardware: Form Meets Function
Finesse offers a comprehensive selection of pewter hardware to suit a variety of applications. The collection includes lever handles in both lever-on-rose and lever-on-plate designs, which are suitable for harsh external coastal environments and highly corrosive effects of Accoya woods due to their high tin content.
To complement the range of levers, Finesse also provides matching kitchen pulls and cabinet knobs, allowing homeowners to create a cohesive and sophisticated aesthetic throughout their living spaces.
For those seeking to enhance their front door's appearance, Finesse offers a complete range of door hardware, including door knockers and electric bell presses, all crafted with the same meticulous attention to detail and quality.
In addition, Finesse has introduced a comprehensive range of electrical faceplates in pewter. These stylish and functional components are supplied with the highest quality Crabtree electrical components and back boxes, ensuring both aesthetics and performance are never compromised.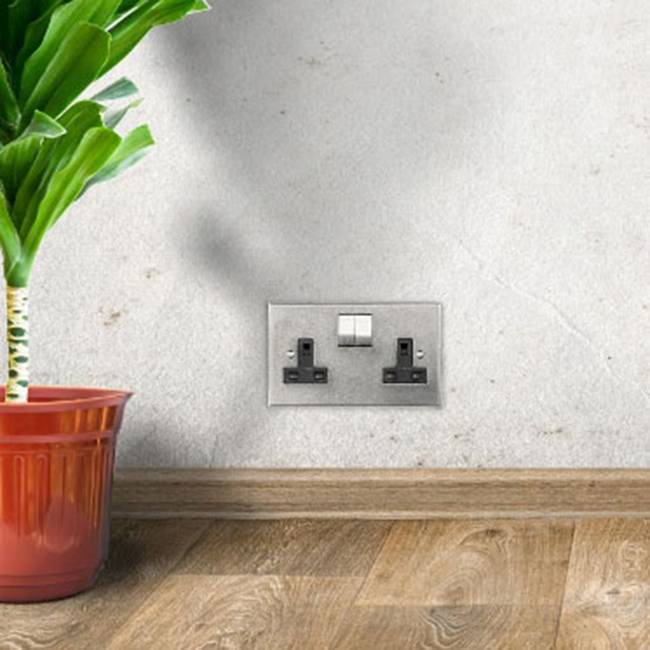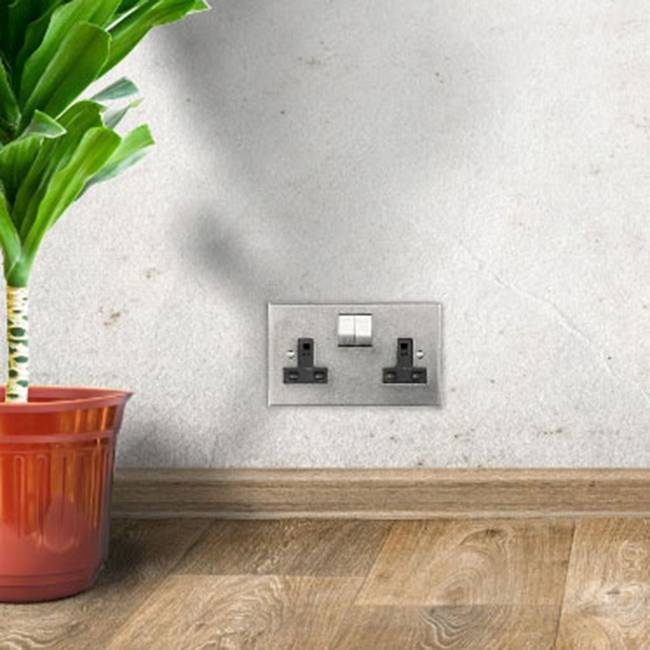 2 Gang Switched Socket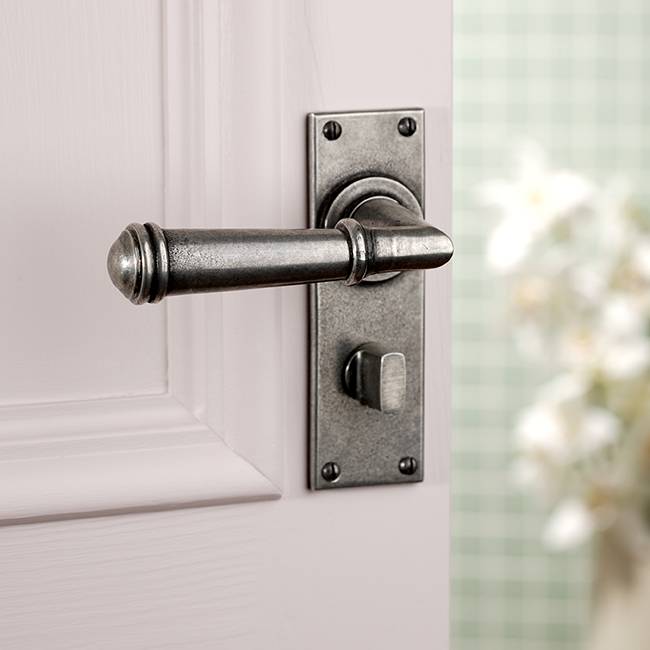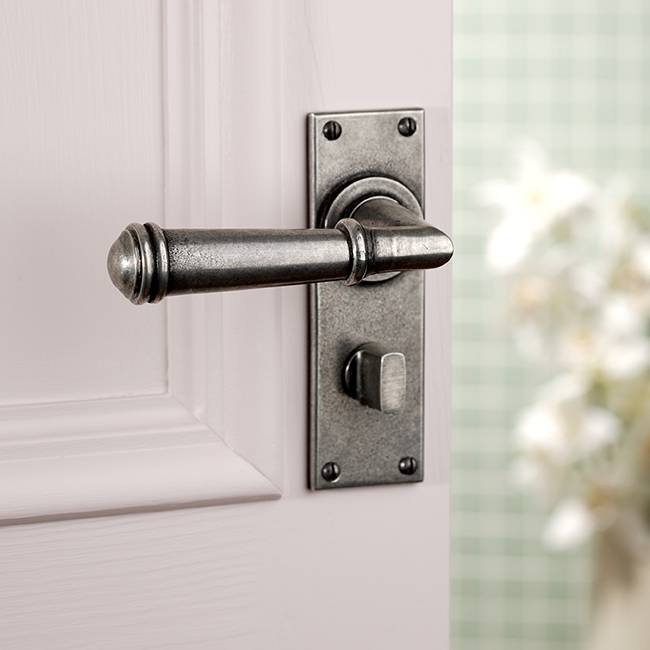 Durham Bathroom Door Handle
Conclusion
When it comes to choosing hardware for your home, few materials can compare to the timeless elegance and durability of pewter. DJH and Finesse have established themselves as the premier manufacturers of handcrafted pewter hardware in the United Kingdom, providing an unparalleled range of exquisite products that are not only functional but also serve as works of art. Whether you're looking to enhance your kitchen, front door, or light switches, Finesse's pewter hardware offers a touch of sophistication and enduring beauty that will never go out of style.
---
More House Tours & Product News
Follow us for House Tours updates, How To Guides, and details of all the latest new products 🏡
Instagram @suffolklatchcompany
Facebook @suffolk.latch
Comments