House Tours: Peak District Cottage Renovation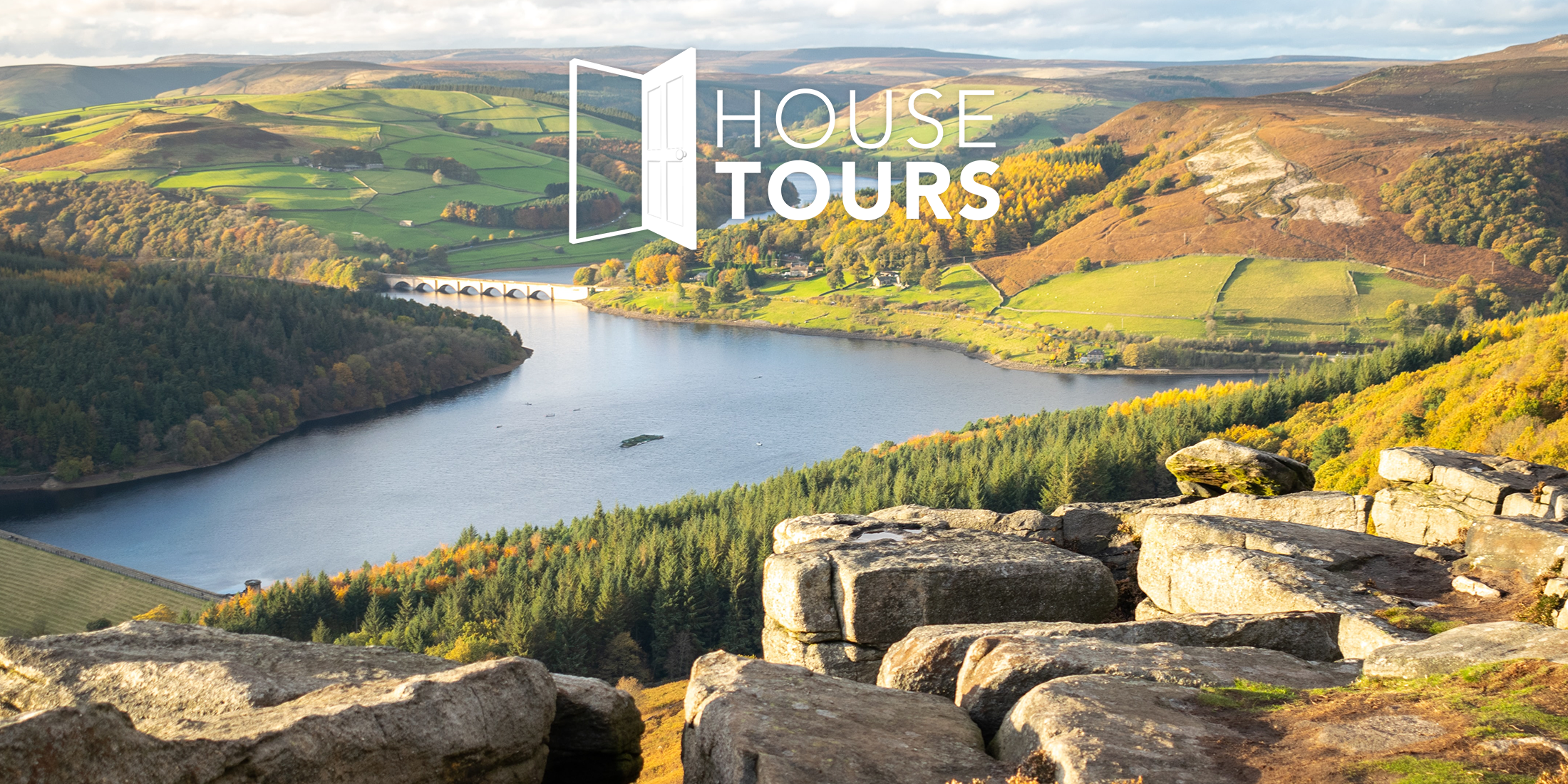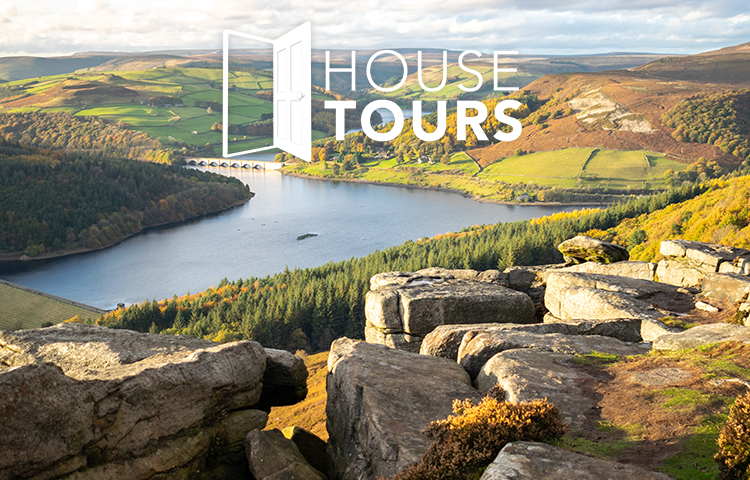 06 October 2021
Karen Angelico
Traditional stone cottage sympathetically renovated to combine modern living with period character.
This month, we are taking a behind the scenes look at this gorgeous Peak District Cottage Renovation. 
The Peak District is one of the most beautiful areas of England, with picturesque rural villages and stunning views. An inspiring place for exploring and getting back to nature. Houses are traditionally stone built with slate or clay tiled roofs which blend with the rugged rolling landscape.
Katherine and James bought their cottage in 2019 and spent lockdown knocking down walls, changing the layout and giving it a complete makeover. Read on to see the transformation and find out how they made the modernisations while retaining the charming period character.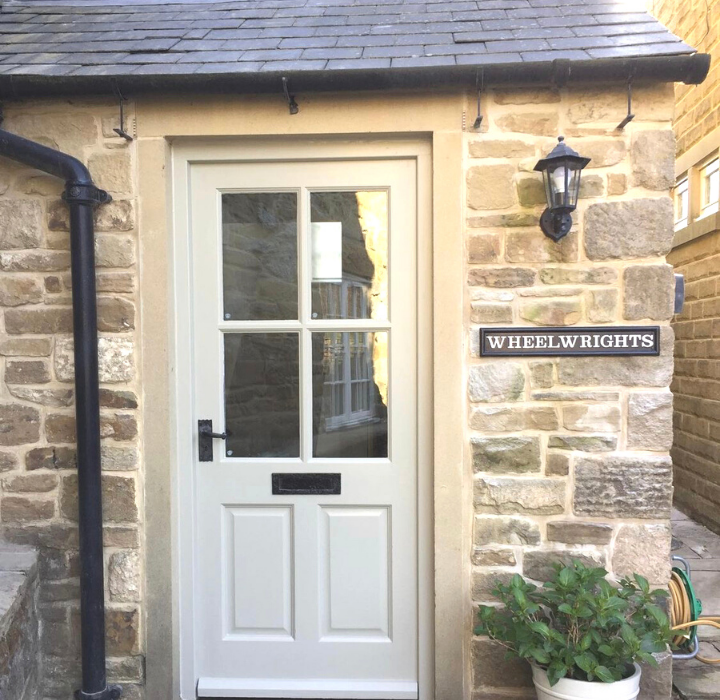 Period stone cottage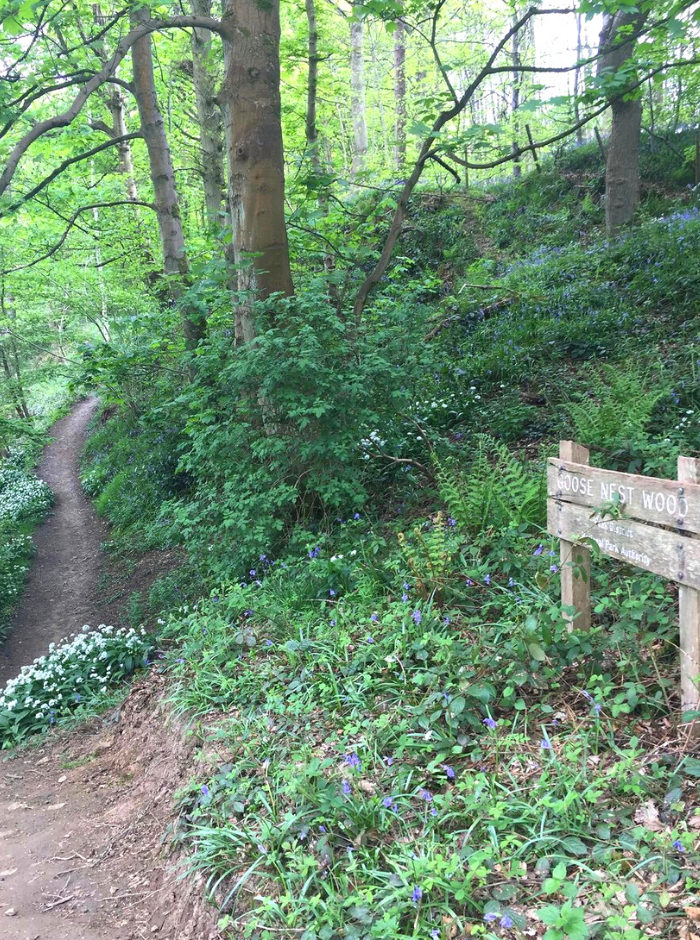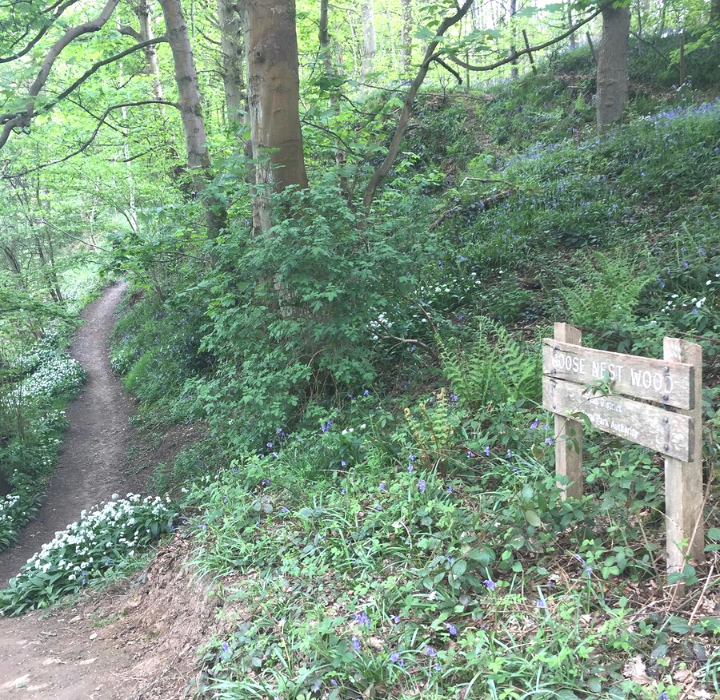 Peak District National Park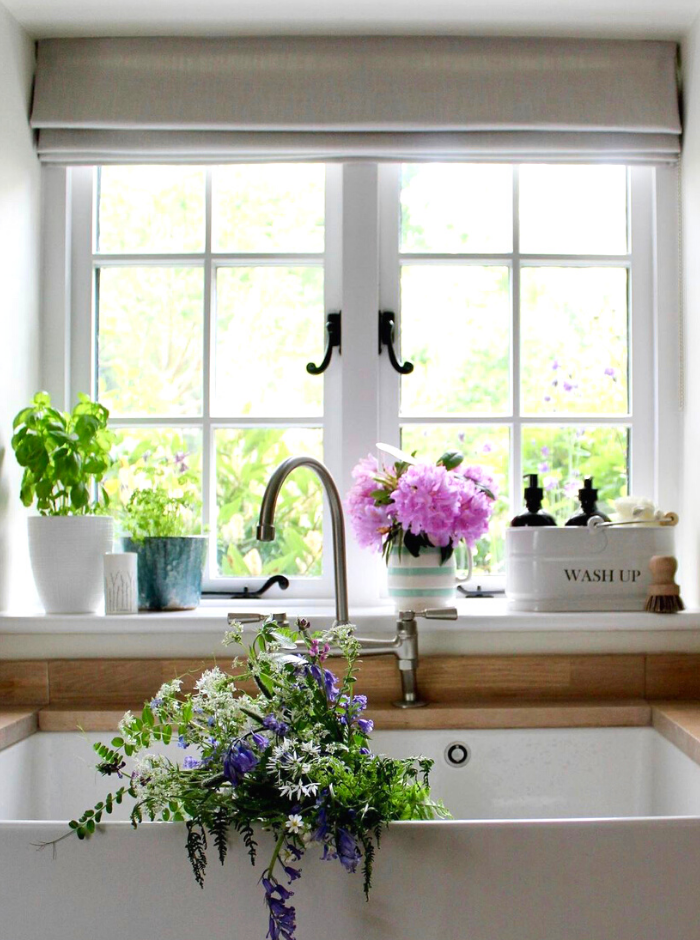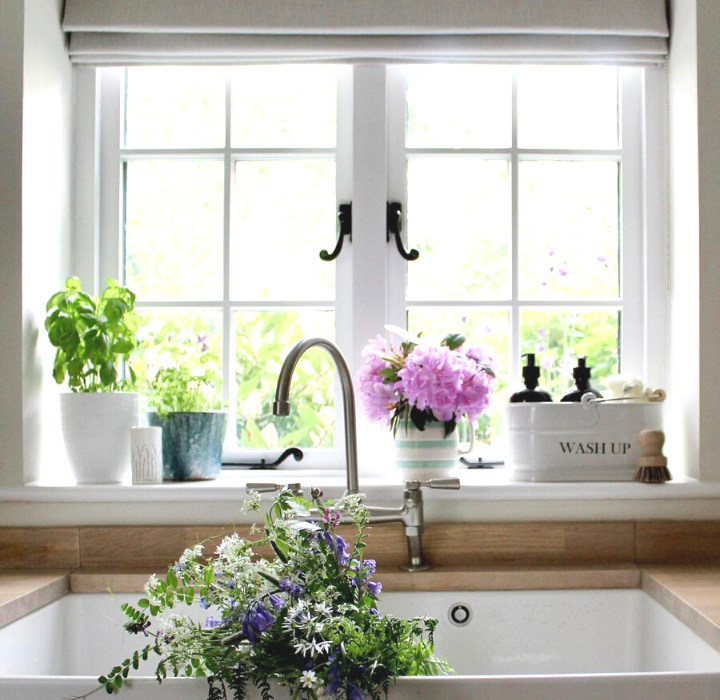 Traditional window fasteners
"We thought the house would be a five year project but it has only taken two. Lockdown has given us time to completely focus on getting everything finished."
Cottage History
Wheelwrights cottage is a classic stone built property with a wealth of history,  dating back to the 1800s.
Originally, it was the place in the village where the wheelwright made and repaired wooden wheels. In more recent decades, the cottage was the undertakers. Local residents and neighbours told Katherine and James how they used to peep through the windows as children to try and see bodies and ghosts. Thankfully, the cottage is now completely ghost free! 
Renovation Plans
Even before viewing the property, Katherine and James knew they would need to reconfigure the downstairs layout of the cottage. There was a huge 7.5 metre lounge area and a small kitchen which cried out for modernisation. They studied the floor plans and decided to change it around to have a smaller, cosier living room and a large, open plan kitchen dining area. The results are fabulous and James deserves a round of applause for this brilliant DIY project.
As a finishing touch, James added some faux stone wall sections to the kitchen/diner area. Inspired by the local Peak District setting, and to match the exterior walls, he used sandstone cladding. Such a great idea, and really enhances the cottage atmosphere and complements the limestone floor.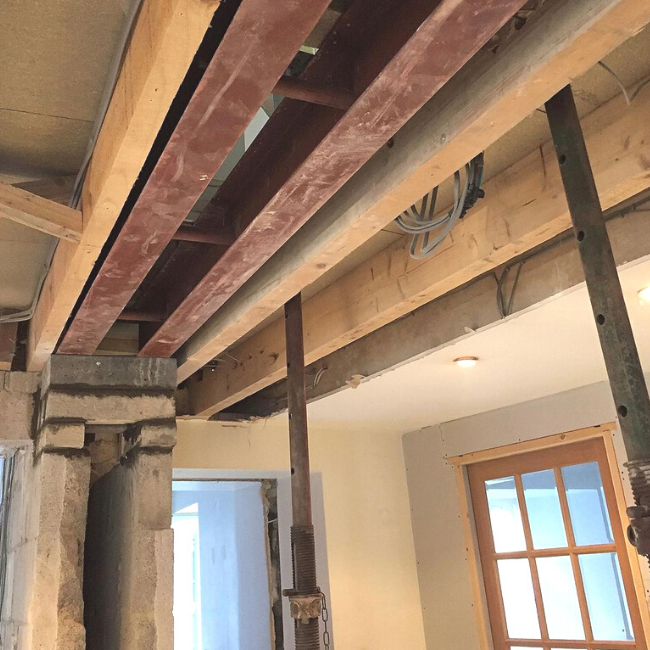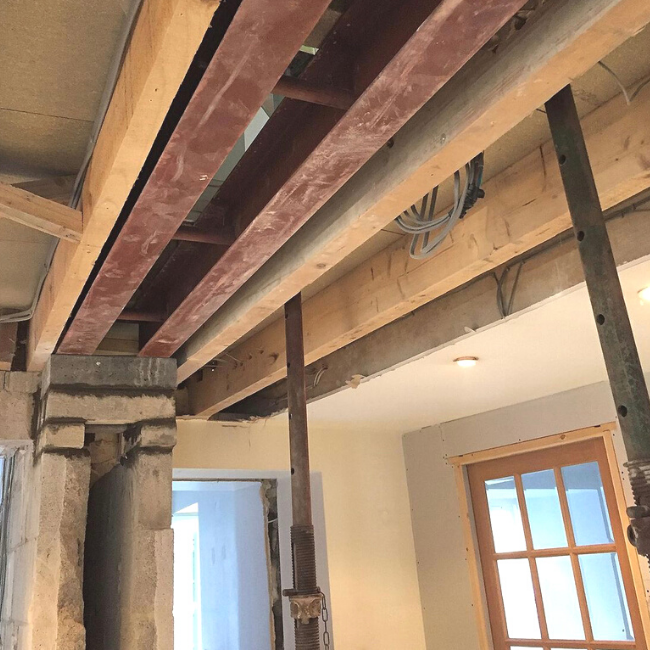 Knocking through the kitchen wall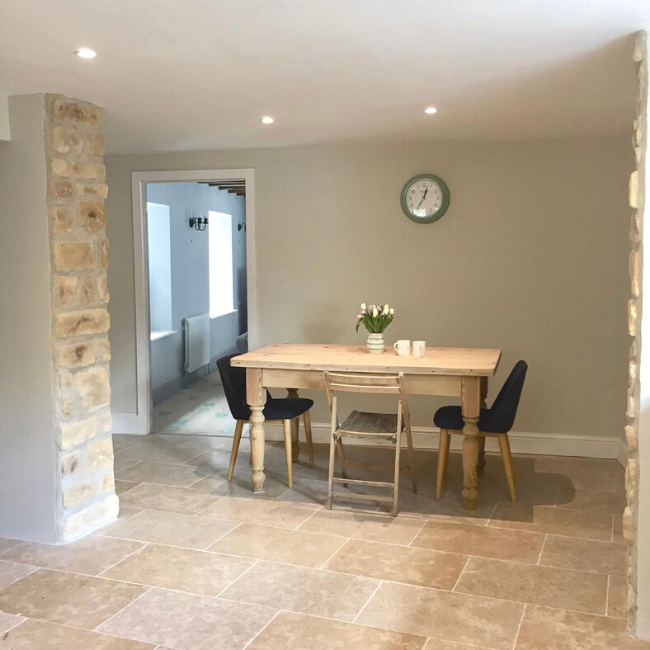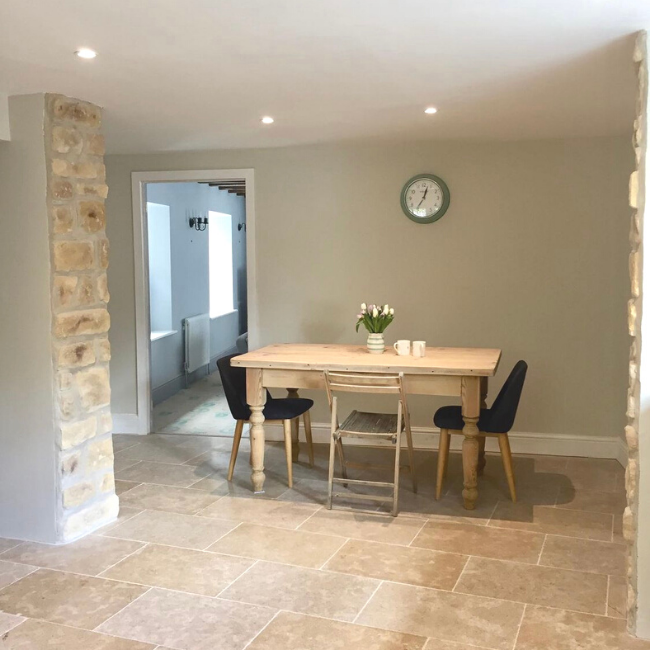 New open plan kitchen diner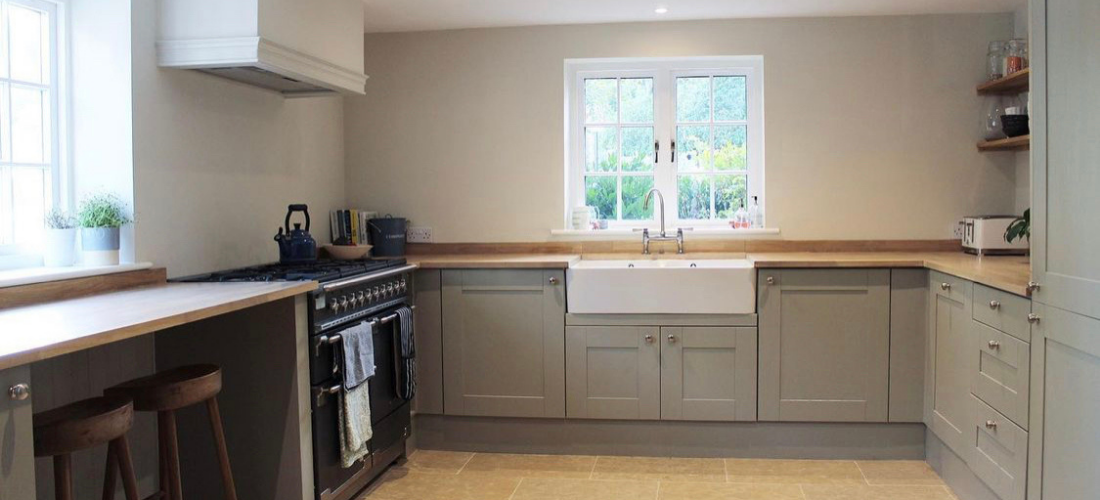 "I'm really proud of how we renovated the kitchen. James fitted the supporting steel himself so we could open up the room and create a sociable kitchen diner."
Cottage Style
When first viewing the property, Katherine and James fell in love with the original cottage features, especially the traditional casement windows and the exposed beams.
"Seeing that beautiful 200 year old beam, we just knew it had to be in our bedroom."
Their plans revolved around making the layout of the property better organised for modern living, while retaining character aspects. It was important that the renovations were sympathetic to the history of the property.
A quirky outcome of the project is the freestanding bath in the main bedroom. The idea for this came about after completing the upstairs layout changes. The main bedroom ensuite was reduced to make the third bedroom a more practical and usable size. As the main bedroom is a large double room, Katherine and James decided to fit the bath in there.
The only complication they came up against was getting the new bath up the stairs! Due to Covid, the bath could only be delivered downstairs. Thankfully, James and his friend managed to manoeuvre all 85kg of the heavy bath into place. It was well worth the extra work, and Katherine is thrilled with the results.
"People said we were mad to have a bath in the bedroom but we use it all the time. It makes us feel like we're in a hotel."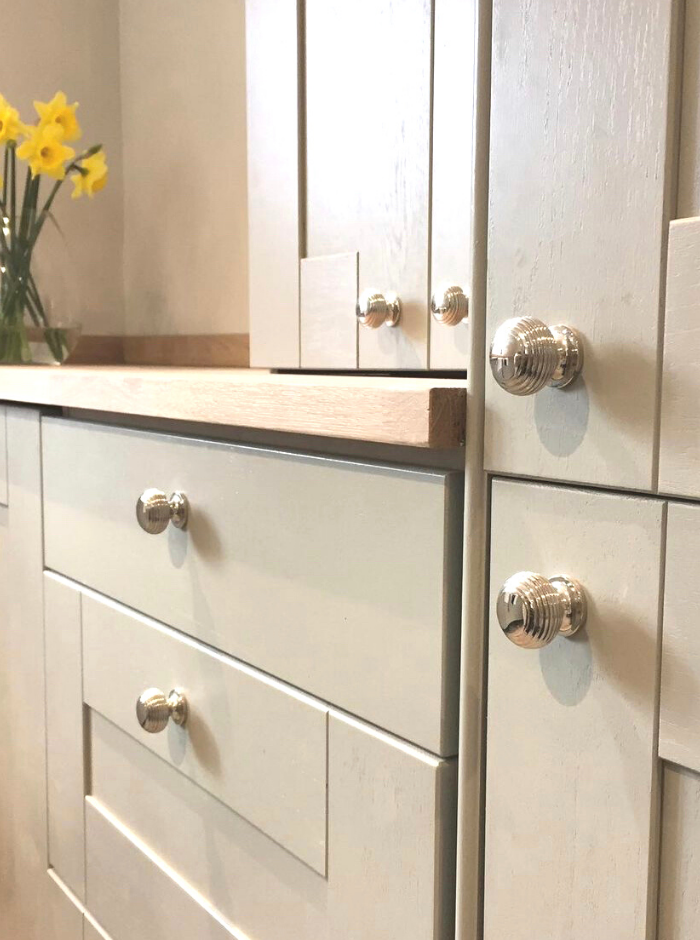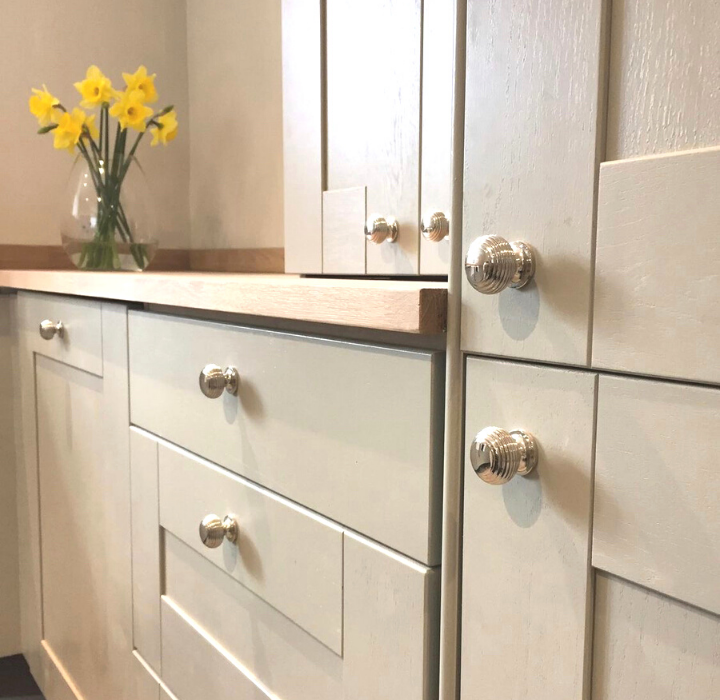 Liquid error (snippets/article-triple-promotion line 40): product form must be given a product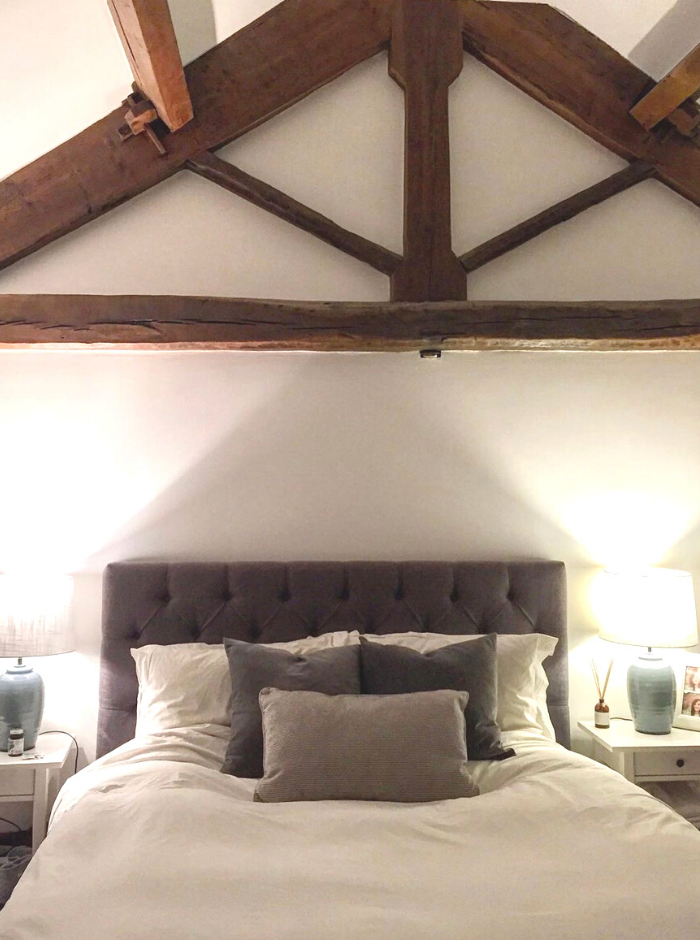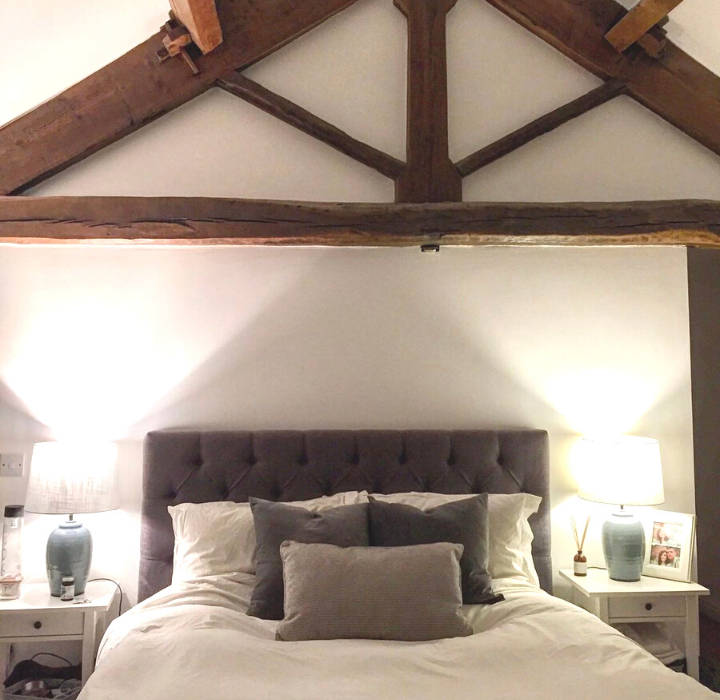 Original exposed beams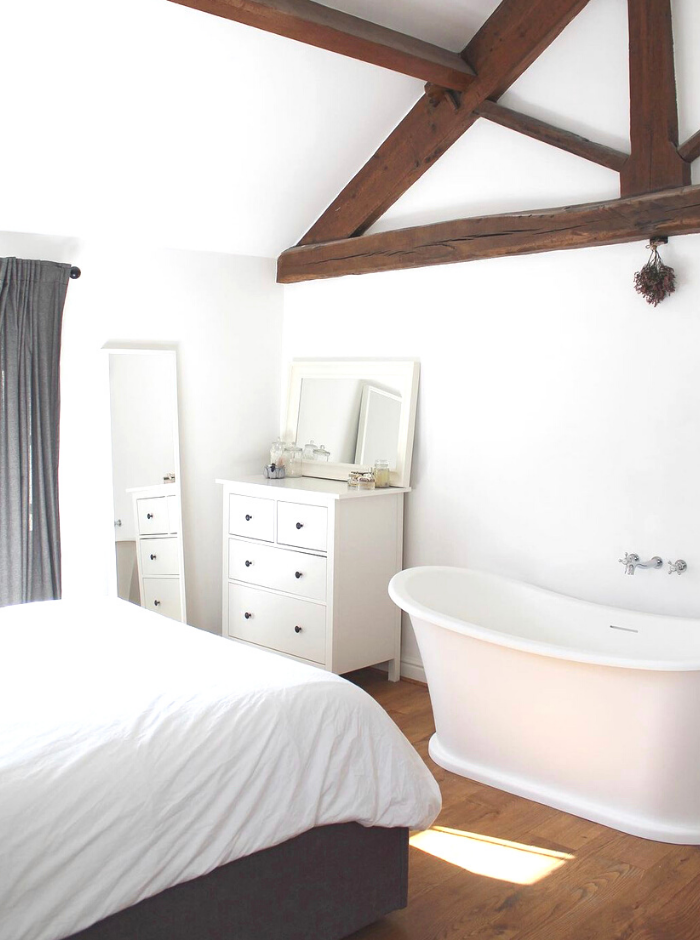 Bedroom bath feature
Try these interior design features to create classic cottage style:
stone features
exposing original beams
adding faux beams/natural wood
installing ledge & brace doors
traditional ironmongery
classic shaker kitchen
Traditional Ironmongery
Black hand forged ironmongery is the quintessential look for a cottage and is the perfect choice for Wheelwrights cottage. 
Cast iron and hand forged window and door furniture is based on authentic period designs and gives that all important finishing touch to a project.  
For the downstairs ledge and brace doors, Katherine and James have fitted Suffolk latches and traditional T hinges. Upstairs, the look is a little different. Katherine felt wooden doors would be too much against the wooden flooring, and decided instead to go for painted panelled doors and classic antique brass beehive door knobs. The brass knobs complement the nickel beehive cabinet knobs in the kitchen. The whole look works really well, giving a rustic feel to the downstairs rooms and a more of a sophisticated cottage style to the upstairs.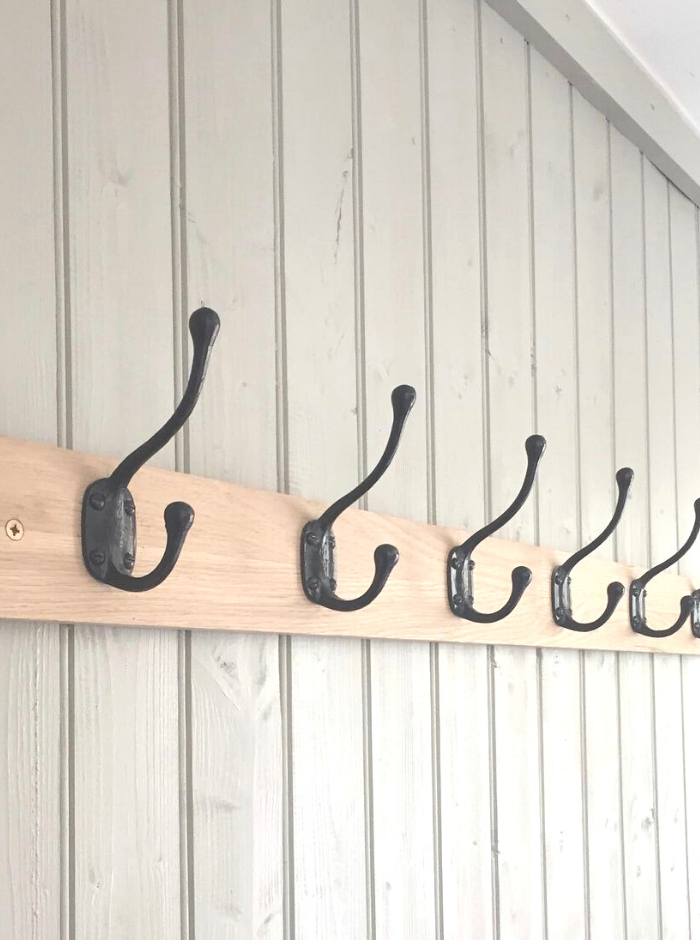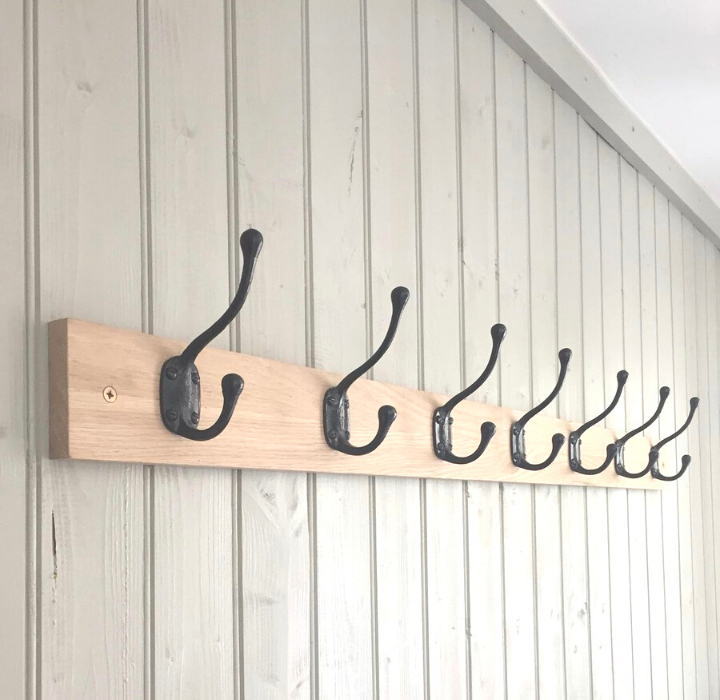 Classic cast iron coat hooks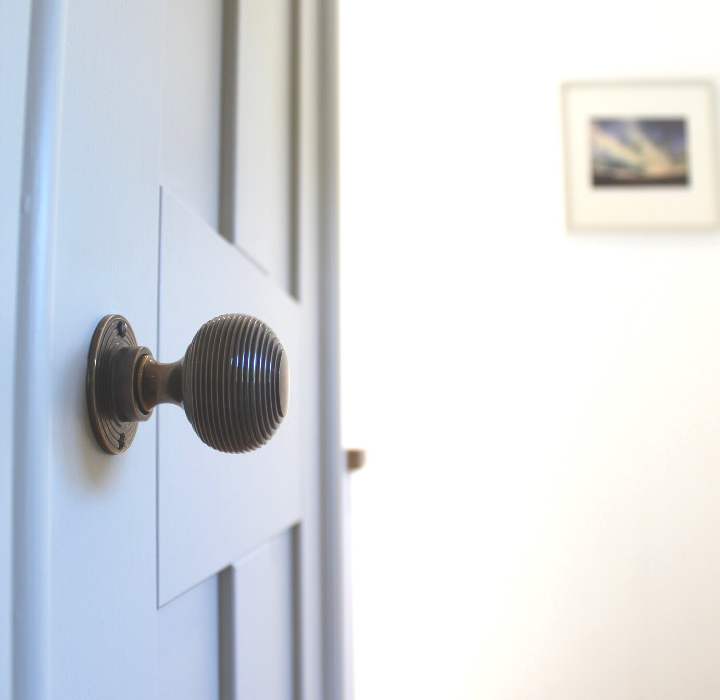 Antique Brass Beehive Door Knob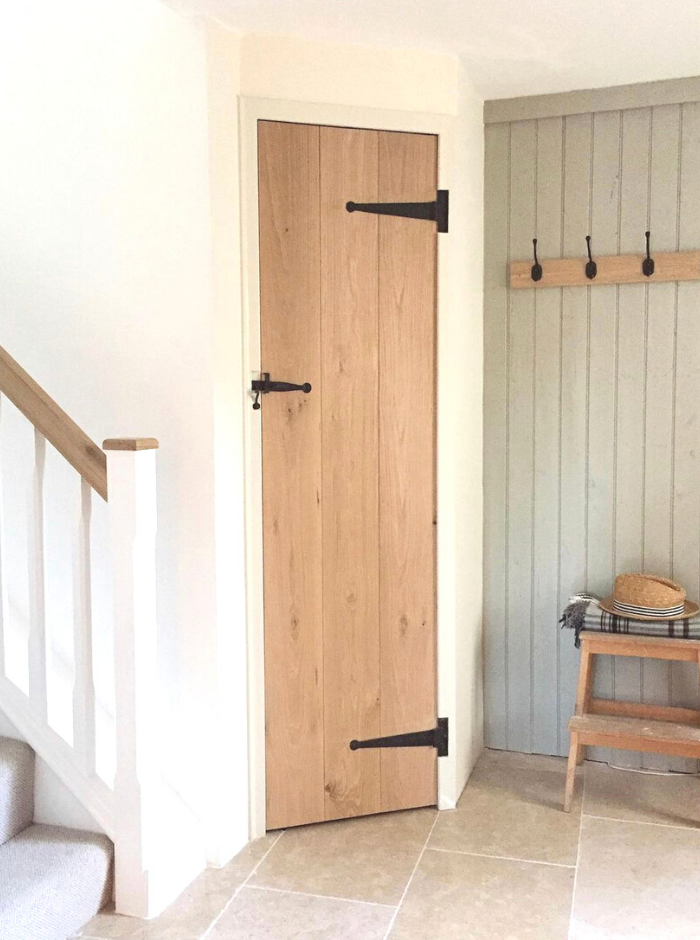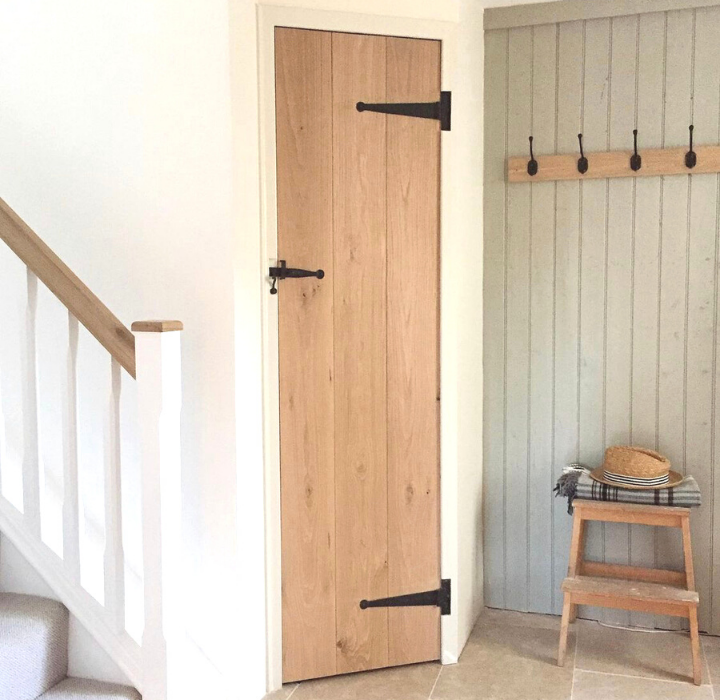 Hand Forged Latch & Hinges
Renovation Tips & Advice
Katherine and James completed most of the renovation work themselves and spent a long time pouring over plans and designs. They have some great tips for anyone who is thinking of embarking upon a similar project:
Don't try to cut corners.
Reuse where possible - for example the carcasses of a kitchen can be fitted with new doors and cupboard hardware, which will give the appearance of a whole new kitchen at a fraction of the cost. 
Spend money on quality items where the luxury can be seen and felt.
Plan to fit essentials as soon as you can - Katherine and James decided to fit the log burner later on, and after spending a chilly winter without it, they regretted making that decision!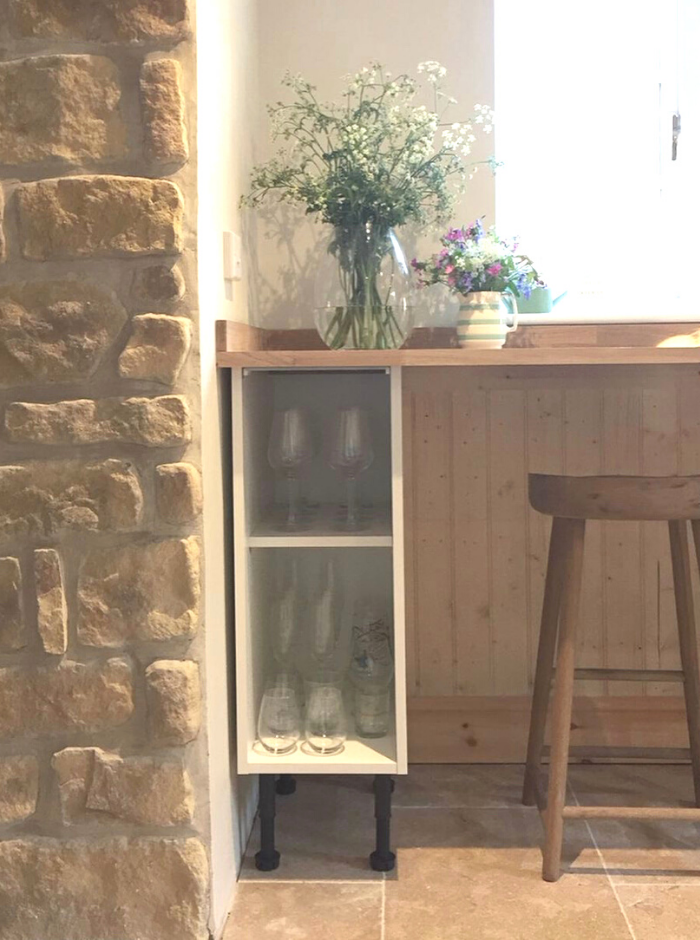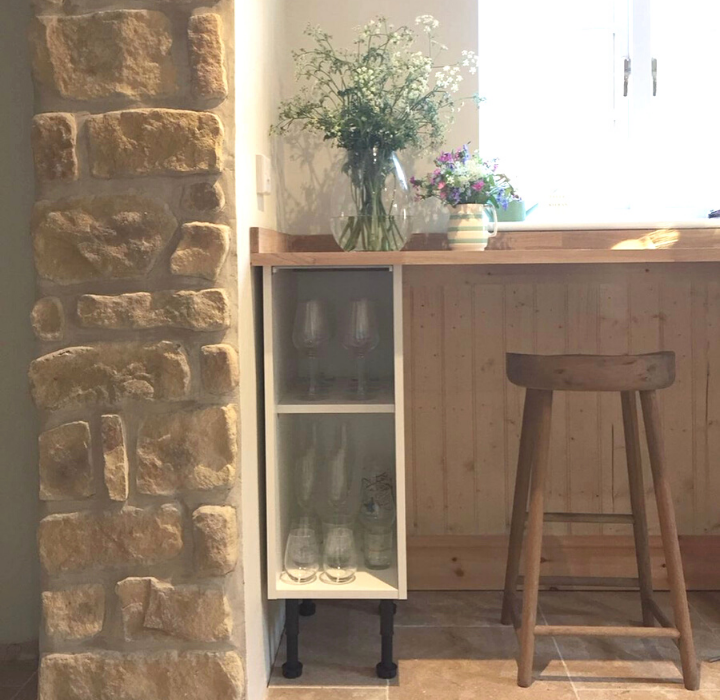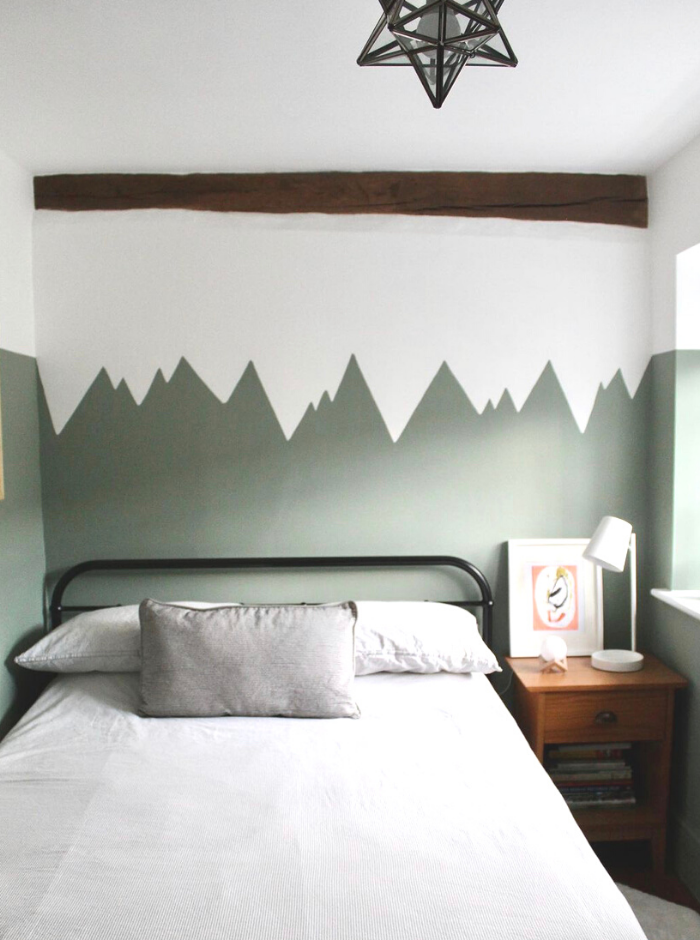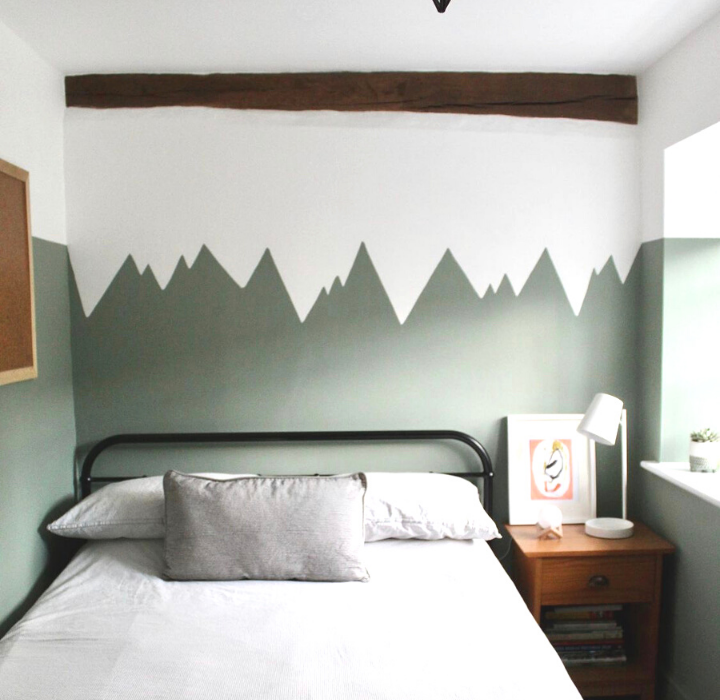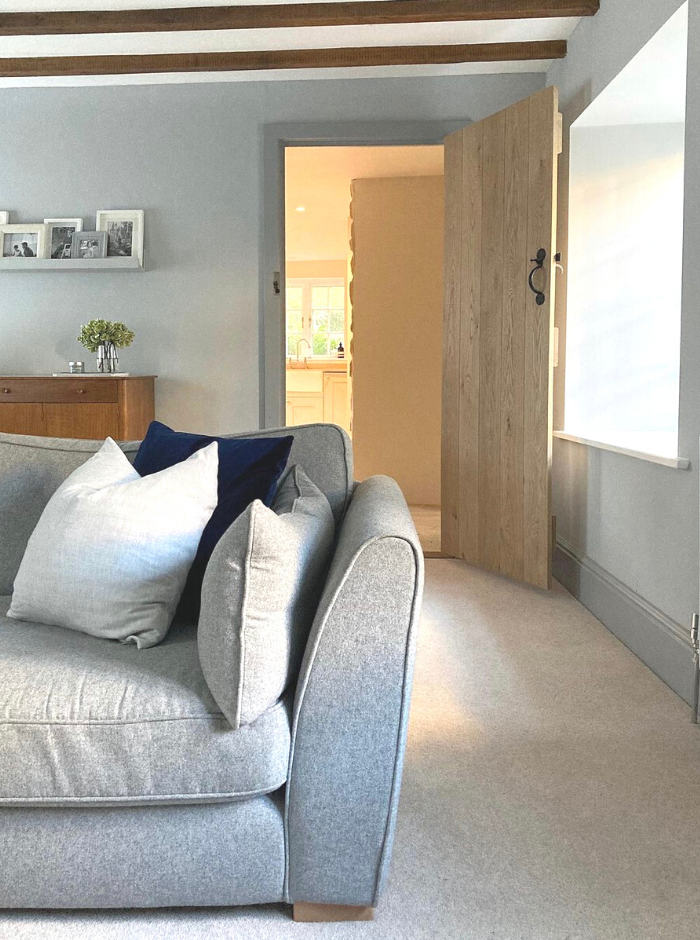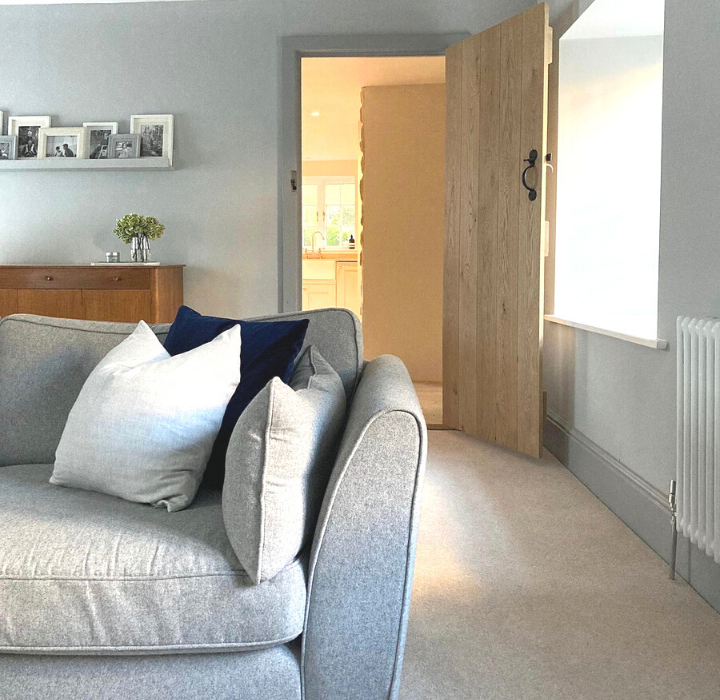 Suffolk Latch Black - £18.00
Thank You!
Thanks for joining us on this month's House Tours. And a big thank you to Katherine and James for sharing their gorgeous home. Follow them on their instagram account @at_our_peak to see more photos and behind the scenes updates 🏡
Look out for next month's House Tours when we will be visiting a fabulous modern makeover in an urban setting...
---
*Please note prices of products quoted are accurate at the time of the article publication but may be subject to change*
Comments