Spotlight On...New Brass Front Door Furniture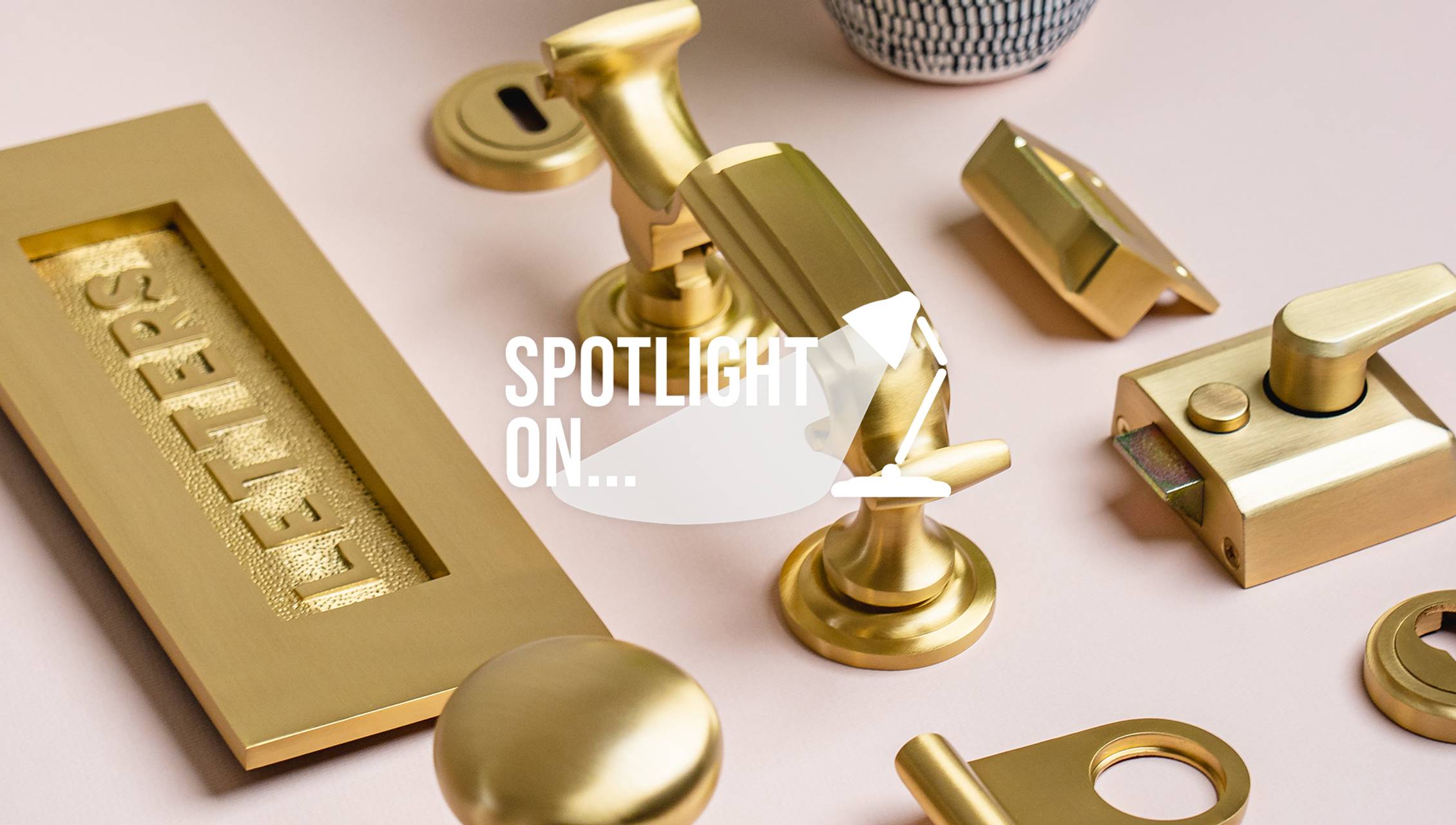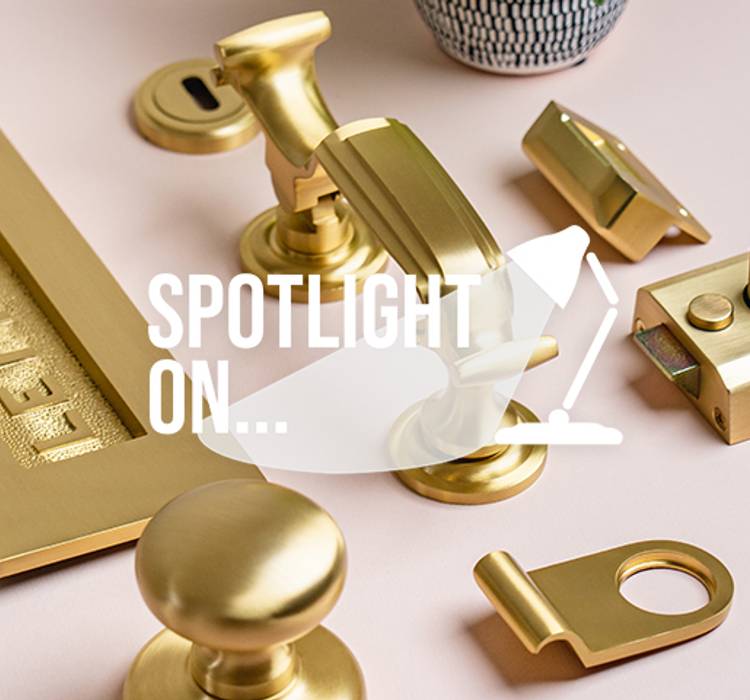 Everything you need for your front door in a choice of five distinctive finishes. A gorgeous new range of door hardware for period properties & modern homes.
Five Distinct Brass Finishes
Choosing the right hardware for your front door can seem like a daunting task. Should you have brass or chrome, something shiny or matt? It can be hard to know where to start.
Our new range of brass front door furniture makes shopping easy. We offer a co-ordinated look in five stunning finishes. Whether your home is a traditional period property or more modern, we have the perfect look for your home.
Low maintenance
Stylish co-ordinated range
Quality solid brass
Hard-wearing finishes
Brushed Brass
Our brushed brass range has a rich antique tone and is the ideal choice for classic period style. Brushed brass has a darker, matt appearance when compared to untreated brass. This lacquer finish has beautiful brush marks, offering timeless character. The darker, antique colour has a wonderful mellow tone and provides a sophisticated appearance for a front door.
Another benefit of brushed brass is that it requires less maintenance than a polished finish and will not tarnish. Marks such as water spots and finger smudges will be less visible on your letter plate and door knocker. An elegant and durable choice for your home.
Polished Chrome
Polished chrome has a clean, contemporary look that is ideal for modern homes or for properties wanting to a sleek first impression. With a striking reflective surface, chrome is a bold choice for your front door. The silver colour of chrome works particularly well against a painted front door and provides a great contrast for darker shades.
Solid chrome hardware does not exist and is achieved by plating over a base metal. Our polished chrome front door furniture is made from solid brass with a premium quality chrome coating.
Chrome front door furniture is easy to maintain and any water or finger marks can be removed by polishing with a soft cloth. Do not use metal cleaners or sprays as these will damage the lacquer.
Matt Bronze
Bronze is a popular choice for door hardware and offers a vintage look that is ideal for modern and period properties alike. The rich chocolate colour co-ordinates with any colour scheme. These bronze front door furniture pieces are made from solid brass and have a beautiful matt bronze lacquer coating. This finish is hard-wearing and will not tarnish and is easily maintained by removing dirt with a soft cloth.
Matt bronze front door furniture is something different and gives a unique look for your home.
Satin Brass
Satin finishes are favoured for their low maintenance. With more of a contemporary feel than polished or brushed brass, satin brass has become a popular choice for all types of homes. 
With a soft matt tone, satin brass has the benefit of not showing finger marks or scratches as much as a polished metal. Satin brass has a golden yellow colour that will not tarnish or patina in the same way as untreated brass. This brass finish only requires an ocassional clean with a soft cloth to remove dirt. There is no need for polishing with a metal cleaner as this will damage the satin lacquer.
Satin Brass is a popular choice , offering the benefits of a bright metal without the upkeep or gaudyness of polished brass.
Satin Nickel
As with the satin brass finish, satin nickel has a soft, matt effect. A versatile choice that is popular for contemporary homes. The nickel finish has a warmer tone when compared to chrome and it is similar in appearance to stainless steel, with a matt metalic sheen.
Satin Nickel is a low maintenance choice and only requires an ocassional clean with a soft cloth. As with all of the finishes in this range, do not use metal cleaners as these will damage the lacquer.
Choose satin nickel front door furniture for classic contemporary style.
Classic front door furniture is a timeless choice and gives an instant facelift to a home.
What Do You Need For Your Front Door?
The traditional products needed for a front door are letter plates, door knockers, centre door knobs and door numbers. For a fully furnished door, you also need to think about how locks and latches, and if you need co-ordinating items for the interior side of the door.
We offer everything you need, whether you are furnishing a new door, or giving a makeover to an existing door.
Brass Letter Plates
The new range of brass letter plates are available in four striking designs. Choose from a simple letter plate with a sprung flap in a range of sizes; a letterplate with integrated door knocker; a gravity letter flap that opens outward, and a letter plate with 'LETTERS' embossed in the metal.
Co-ordinate with a letter plate tidy for the interior side of your door - the perfect finishing touch.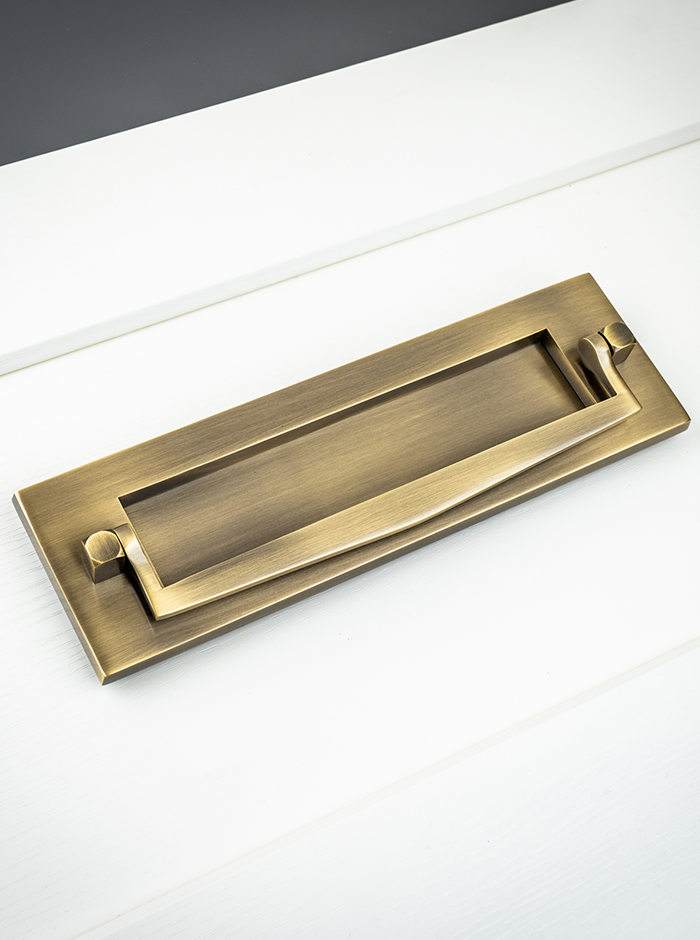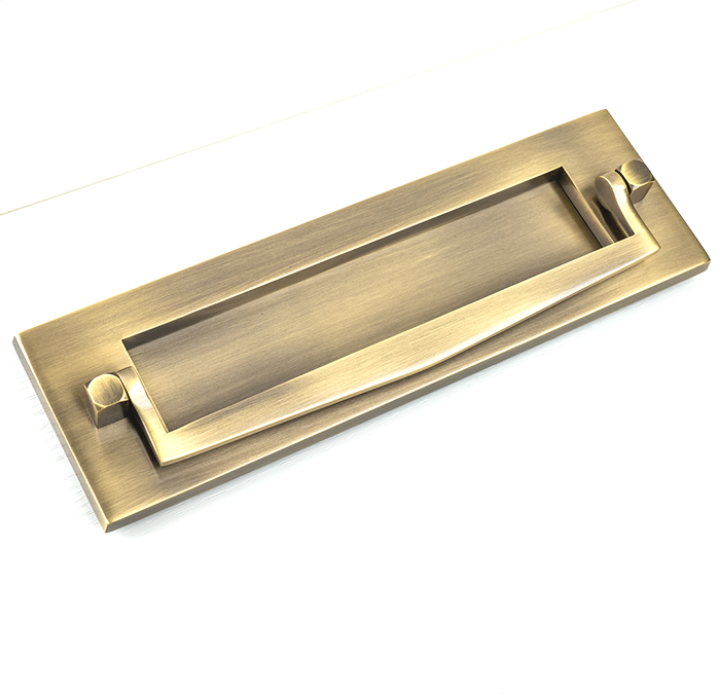 Letter Plate With Knocker Aged Brass - £42.50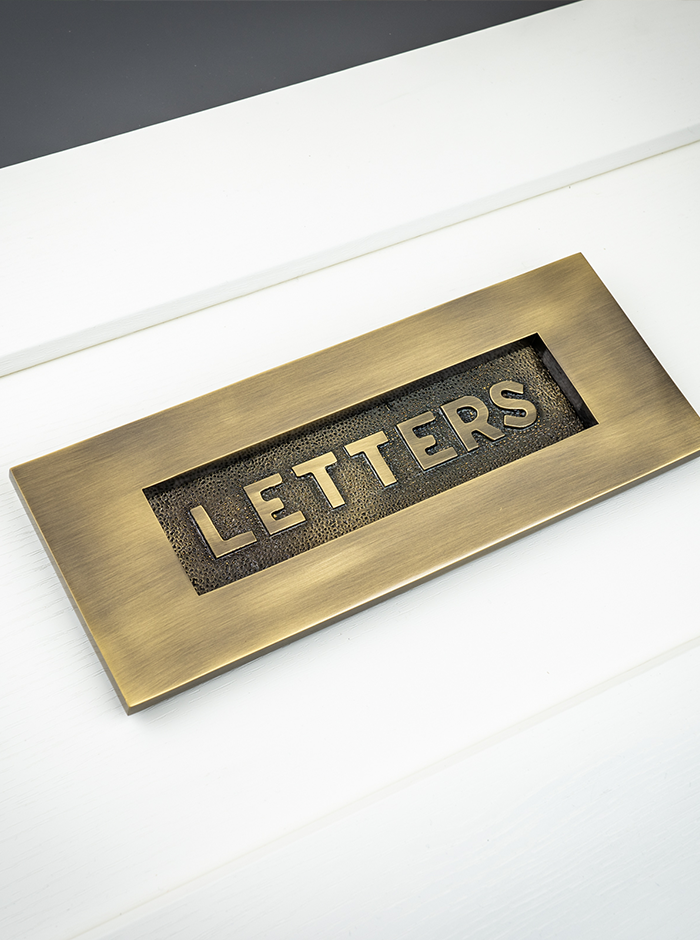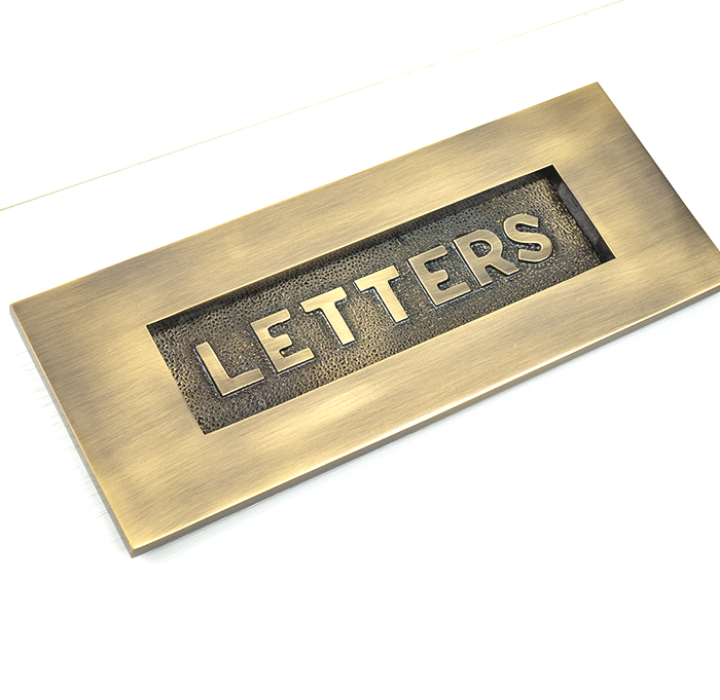 Embossed Letter Plate Aged Brass - £57.00
Brass Door Knockers
Door knockers are an optional choice but can make a real feature statement as well as providing a functional purpose. Knockers are one of the oldest pieces of front door furniture and their usage dates back to the Roman era.
Our range of brass door knockers offers something for every style of home - from the traditional Lion door knocker; the classic urn shaped knocker, the sophisticated Doctor's Knocker and the contemporary Slim Knocker.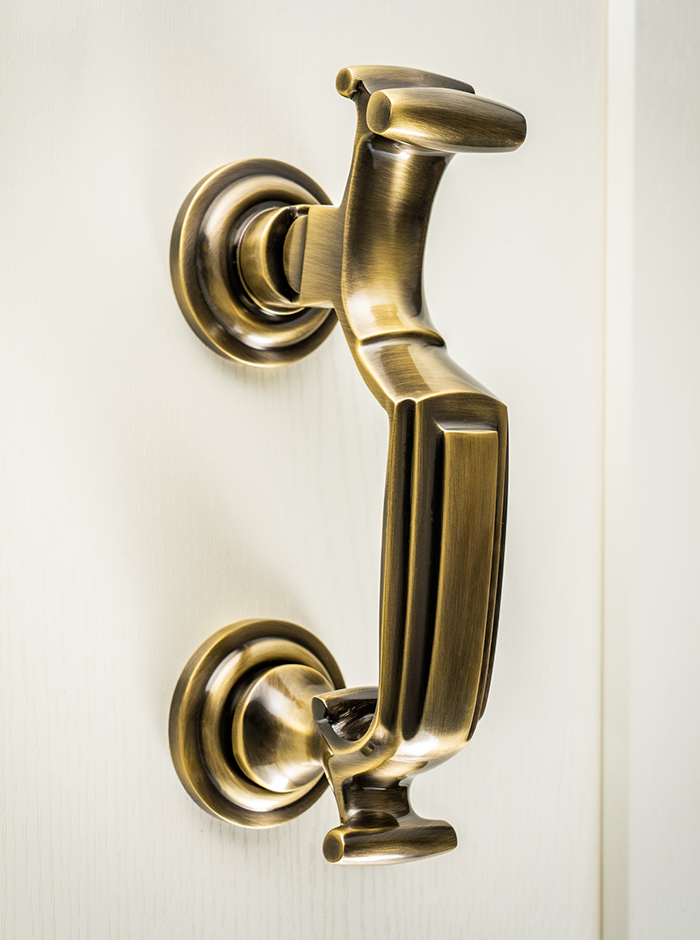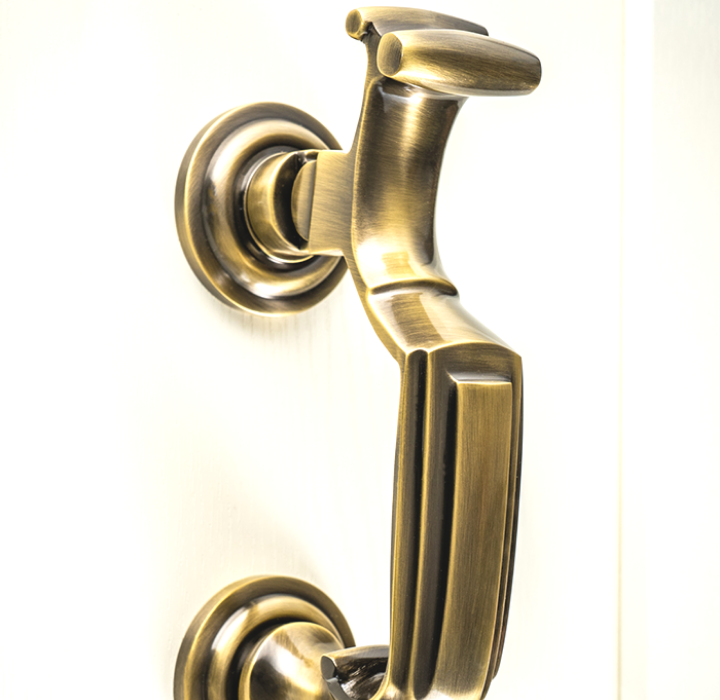 Doctor's Door Knocker Aged Brass - £73.50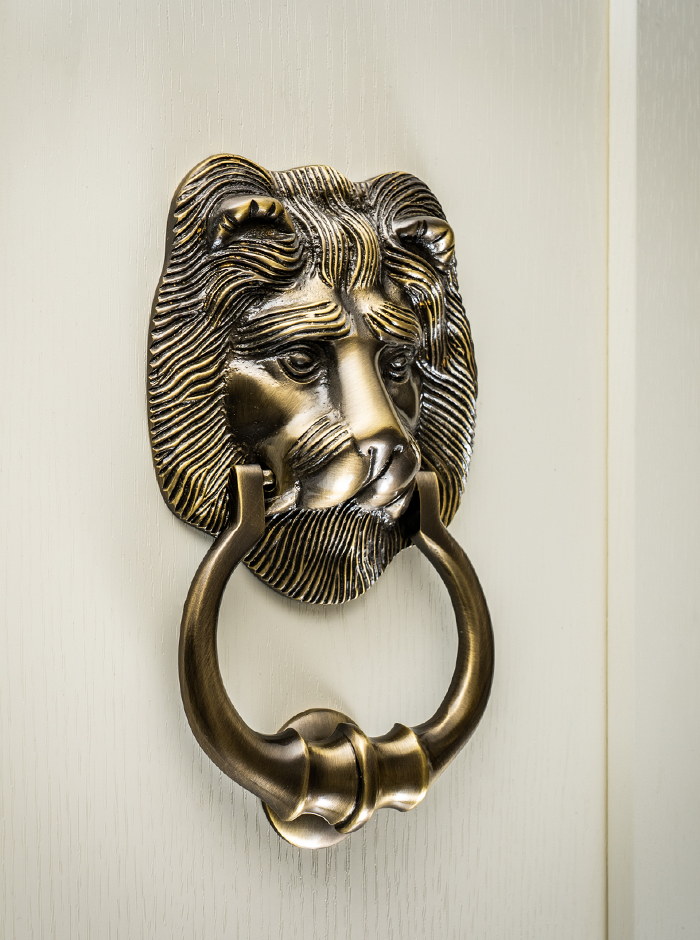 Lion Door Knocker Aged Brass - £45.00
Brass Centre Door Knobs
Centre door knobs are a common feature for period properties. Also called a centre door pull, this is the most traditional item for a front door. The octagonal shape, seen on front doors from the 1800s, is the quintessential choice for an older house.
Fitted to the middle of the door, a centre knob is a stylish feature that also offers practical assistance for shutting the door. The Art Deco, Octagonal and Ringed designs are a great choice for an older style property, whereas the round centre door knob offers more of a modern style for a newer home.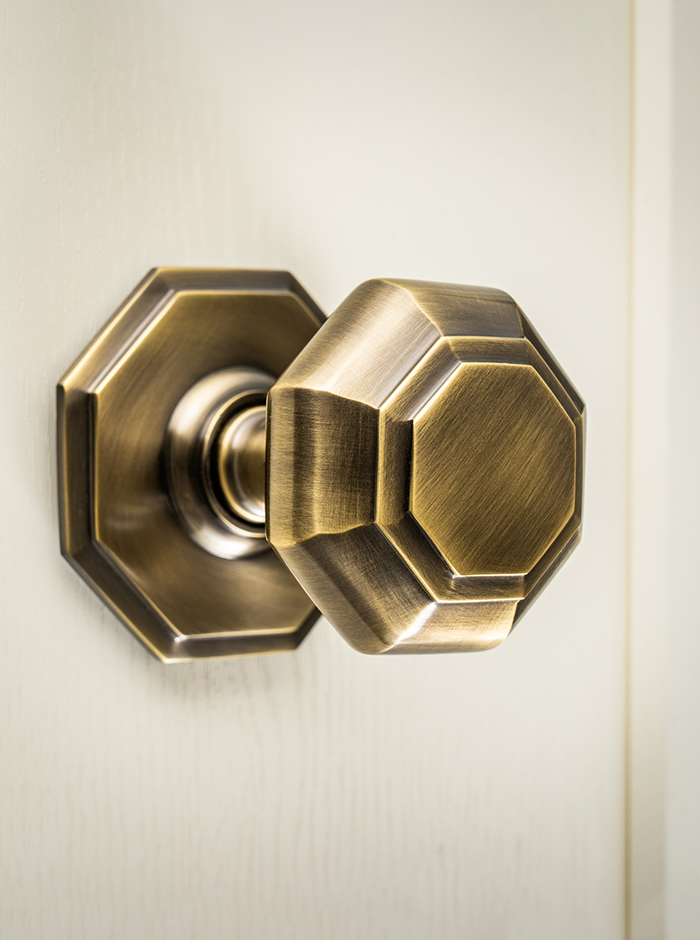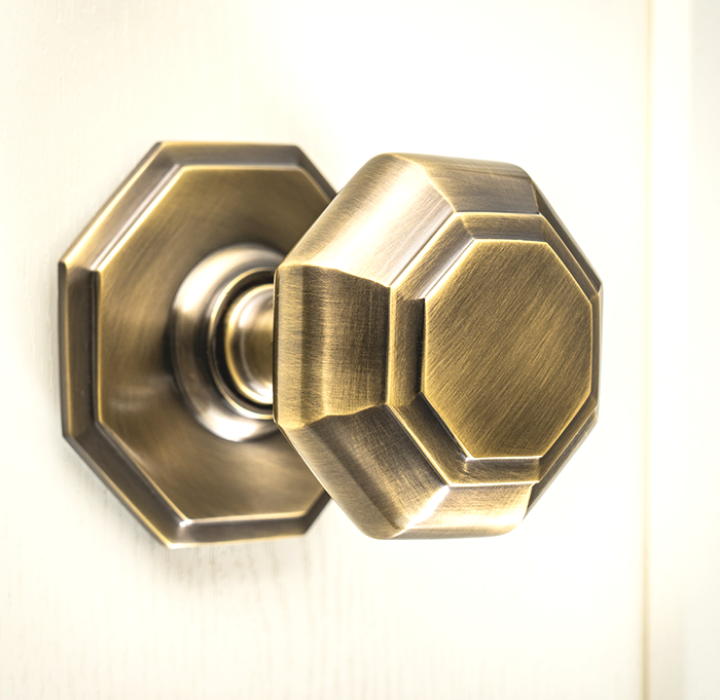 Art Deco Centre Door Knob Aged Brass - £50.00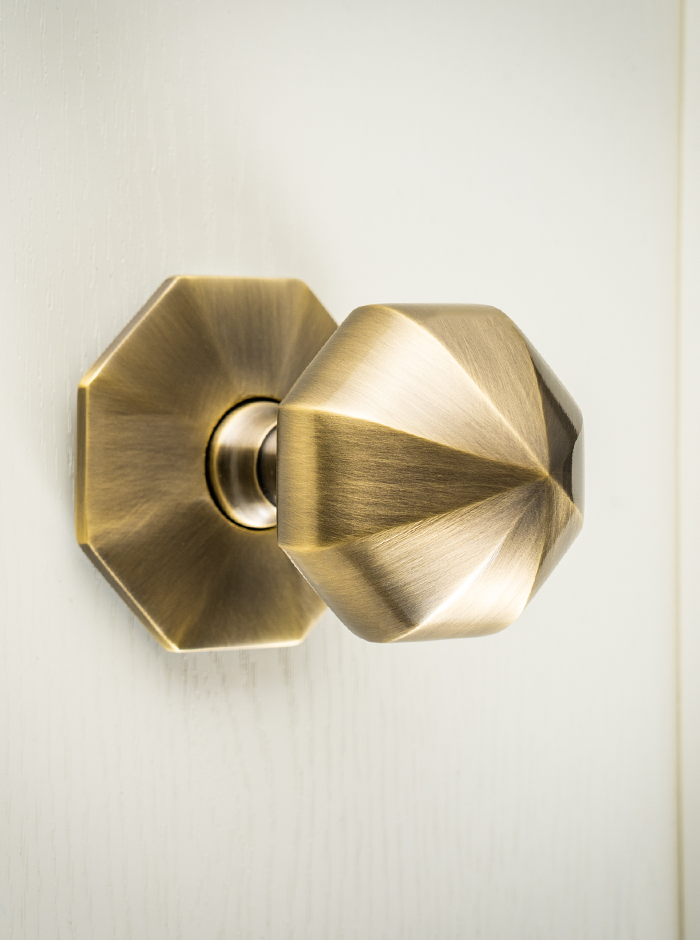 Octagonal Centre Door Knob Aged Brass - £32.00
Night Latches
Night Latches are a new addition to our exterior door lock range and are available in all five finishes to co-ordinate with the brass front door furniture. 
A night latch is a rim cylinder lock/latch which is fitted to the surface of the interior of a front door. It is operated by a key from the outside and a small lever turn handle on the inside. There is a small internal button on the latch to deadlock the door in an open or shut position.
The nightlatch can be co-ordinated with a brass cylinder pull, which is fitted to the exterior side of the door.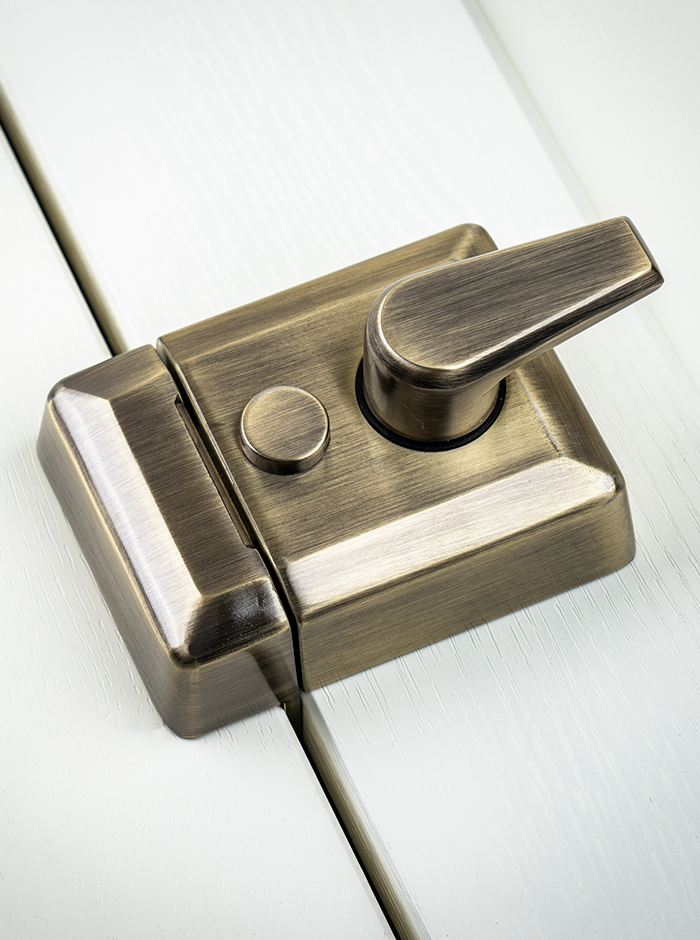 Night Latches 40mm / Aged Brass - £41.00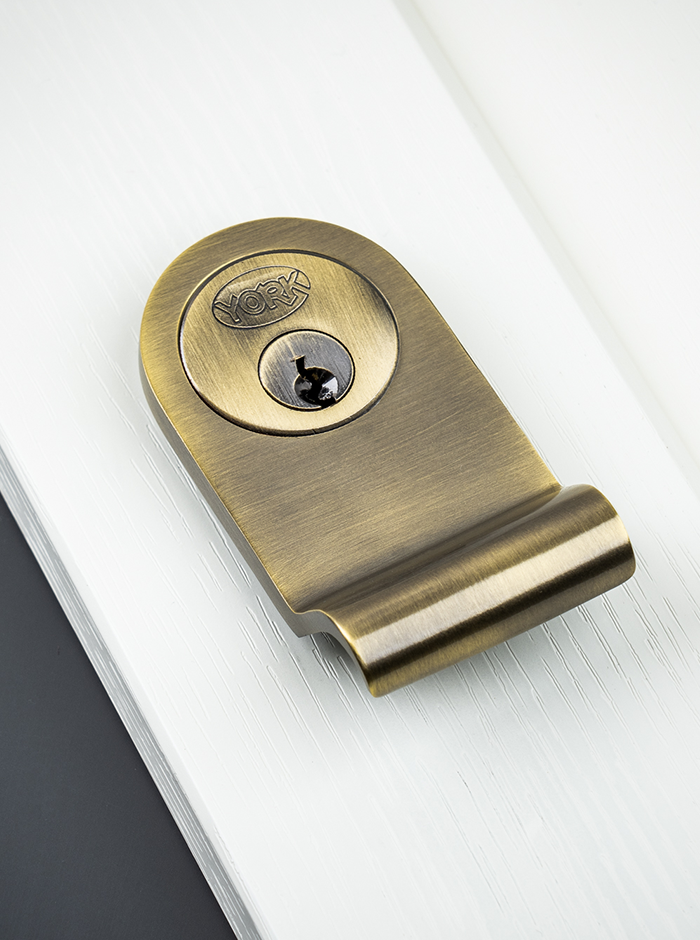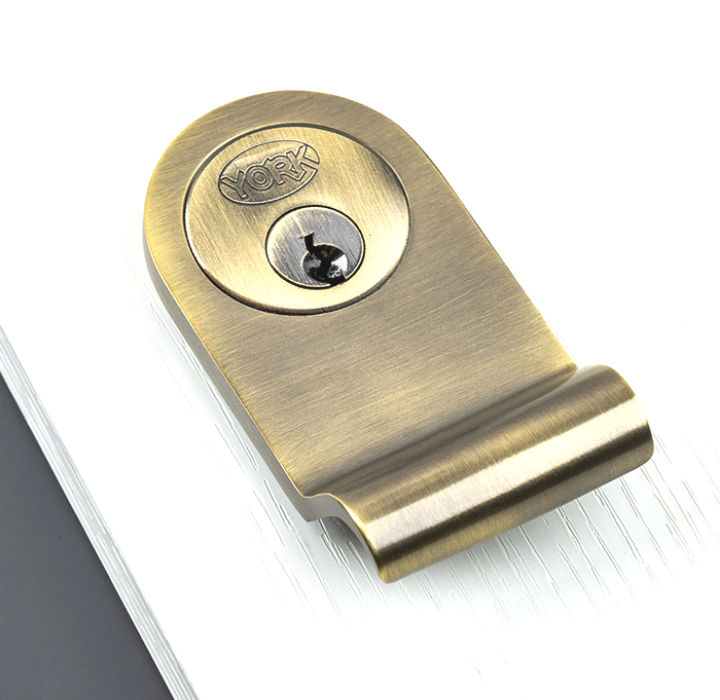 Brass Cylinder Pull Aged Brass - £9.00
Brass Front Door Accessories
The rest of our new range includes essential items such as brass door numbers; door bell push; escutcheons; security door chains; butt hinges and finger plates. Everything you need to give your front door a truly co-ordinated look.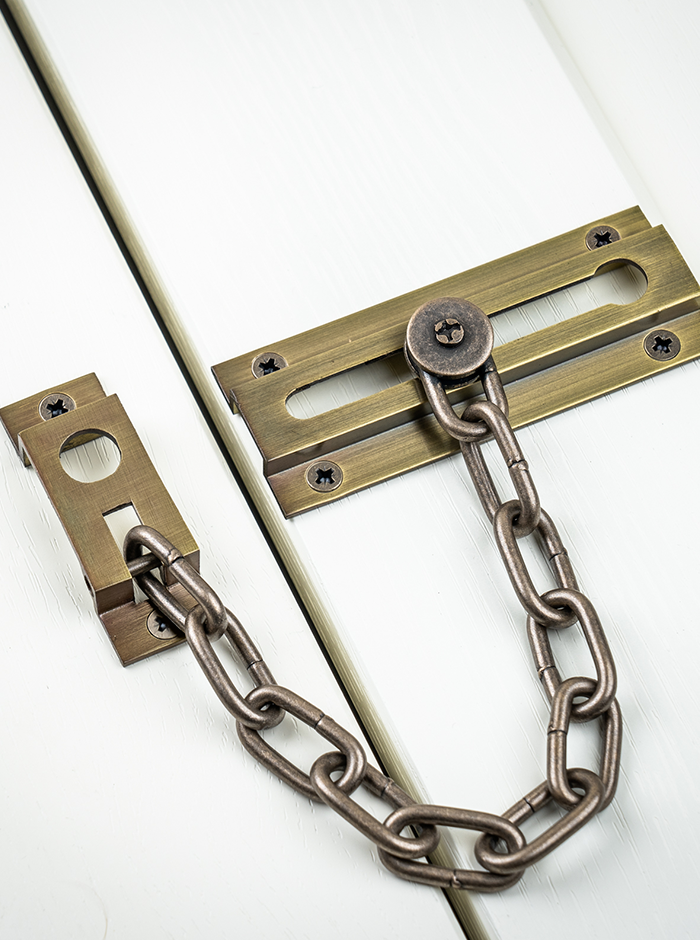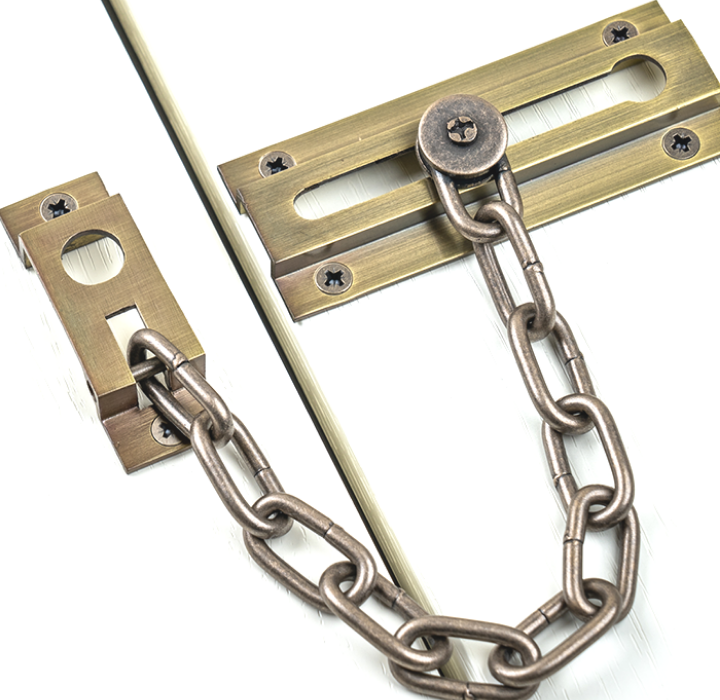 Brass Door Chains Aged Brass - £11.50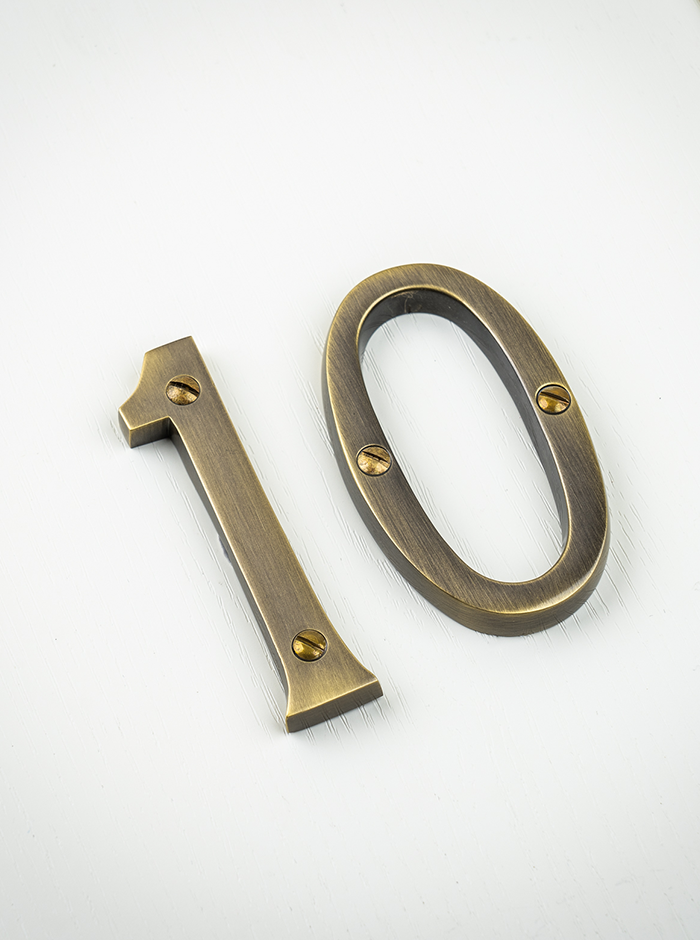 Brass Door Numbers 1 / Aged Brass - £6.50
Comments
Liquid error (snippets/article-product-card line 11): product form must be given a product