House Tours: Stunning First Home Renovation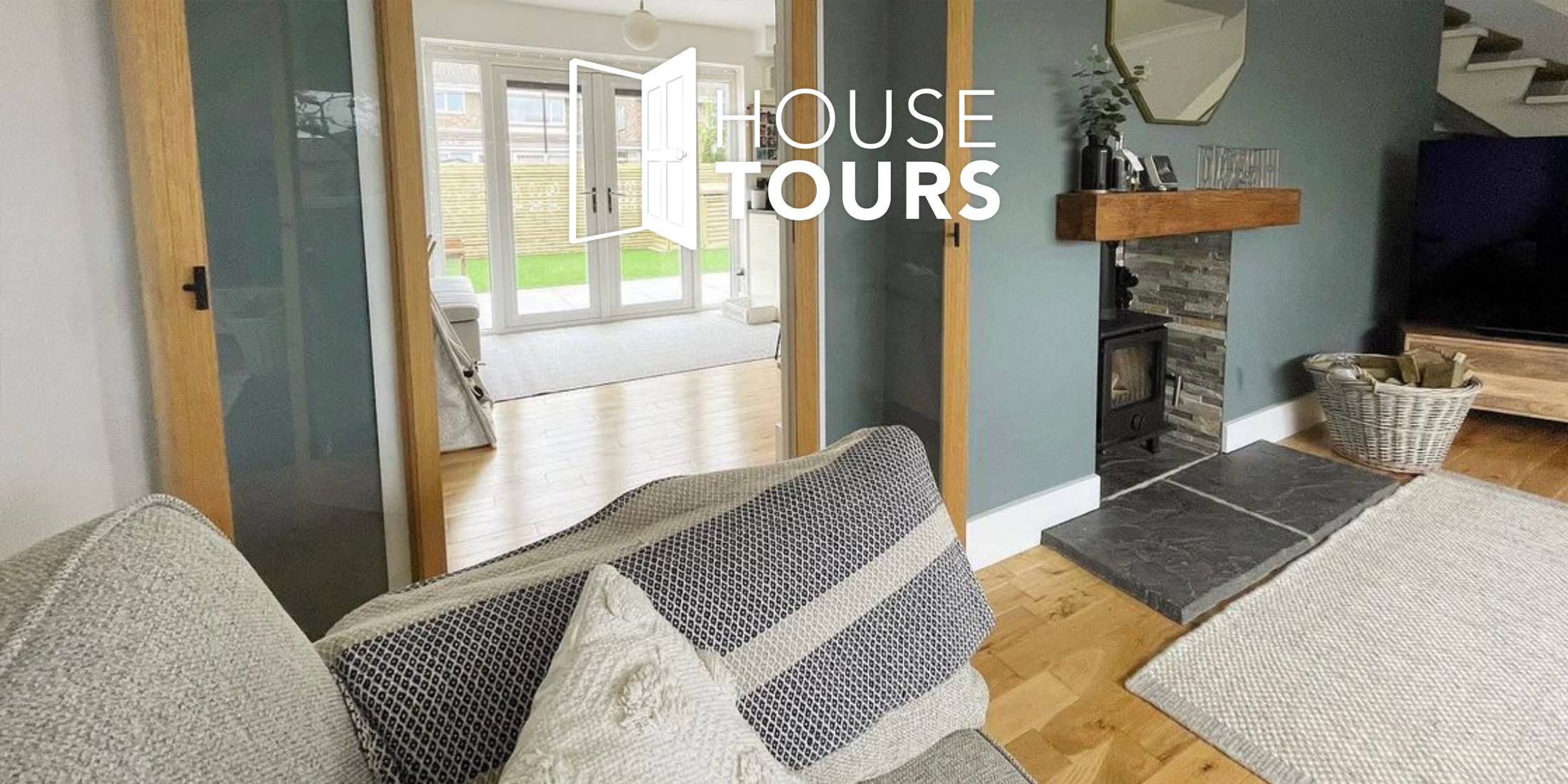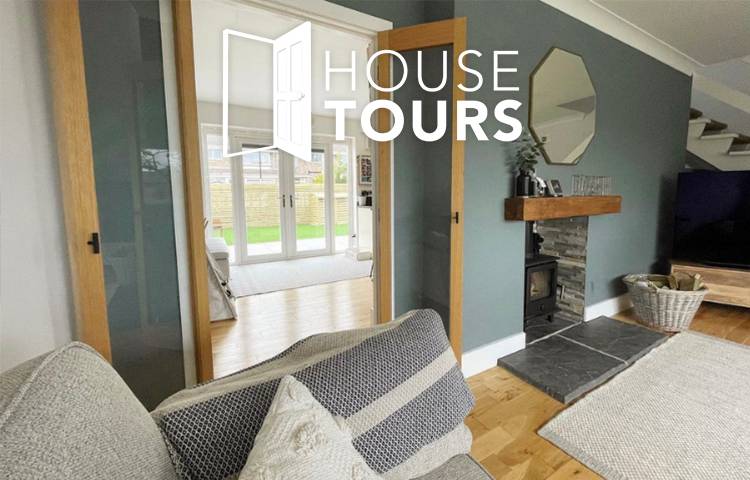 23 February 2022
Karen Angelico
Hannah and David moved into their first home in 2020, just as the pandemic was gripping the country during the first wave. A 1970's home in a North East village, with spacious rooms and a lovely kitchen with light streaming in from bifold doors. They were fortunate that the house was in a wonderful condition to begin with, which meant they could focus on changing the decor and furnishings to their taste without worrying about mess from extensive building works.
Join us as we tour this beautiful home, and discover how geometric designs can be used to create a unique contemporary look with timeless appeal.
Traditional & Modern Fusion
Interior design is constantly evolving. A popular trend is to mix old and new styles together. By combining different designs and using inspiration from across the decades, you can produce a truly unique look.
In Hannah and David's home, they have brought together a wonderful fusion of modern and classic. There are hints of art deco, elements of MCM (Mid Century Modern), tactile fabrics, clean lines and rich colours. A contemporary feel with traditional elements.
The kitchen has been one of the biggest projects so far and was also an unexpected part of the renovations. Hannah and David's five year plan didn't budget for a new kitchen, but the stars aligned and they were able to fund it, along with the refurbishment of the adjoining dining room. The finished project is gorgeous! We love the pink art deco inspired bar stools, which contrast beautifully with the navy central island. The hexagonal light feature is also a great addition and creates the perfect focal point.
A wonderful mix of traditional and vintage designs to give a stunning contemporary space.
Ledge & Brace Doors
The house originally had white painted panelled doors with old brass handles. Hannah & David wanted to find doors with more of a contemporary look while retaining that all important timeless appeal. They decided to go with cottage style ledge and brace doors with beehive door knobs – a really fabulous eclectic look that works surprisingly well with the modern decor and wooden flooring.
Between the living room and kitchen, the double doors were originally traditional, multi-paned with brass knobs. These have now been replaced with beautiful oak frame glazed doors with a modern t bar black pull handle. Simple and modern. The single panes bring more light into the room, making it feel more spacious and brighter.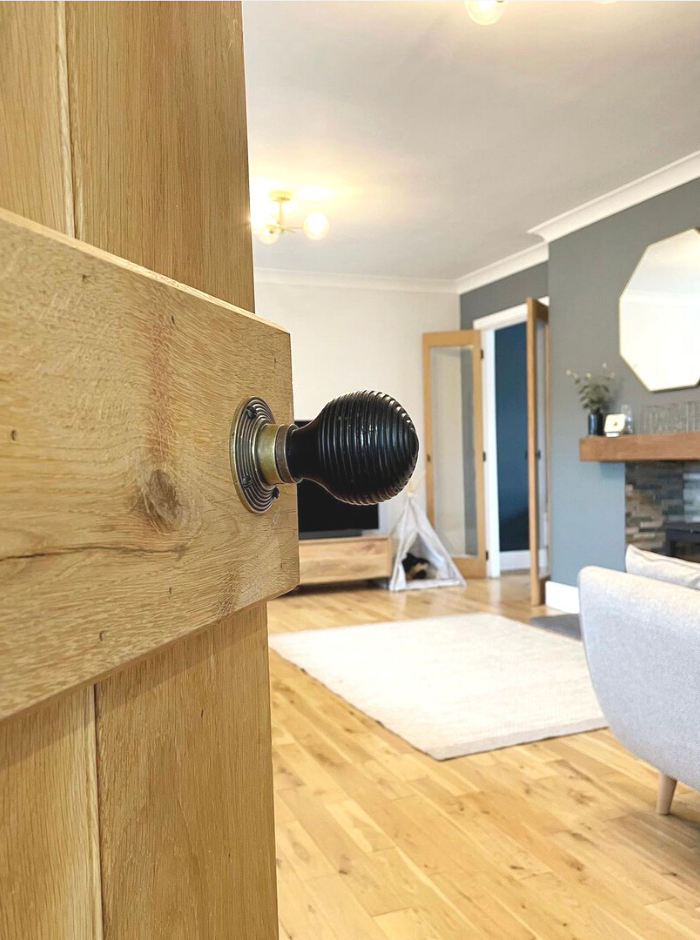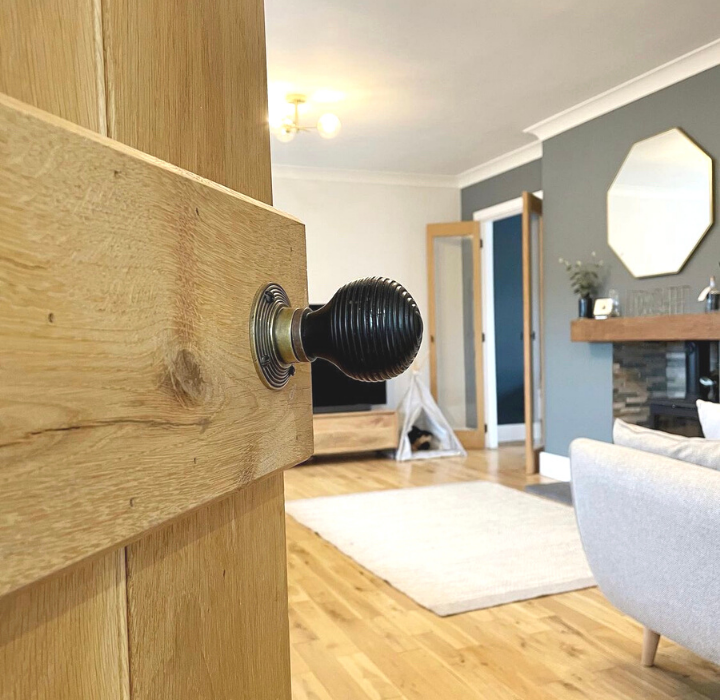 Classic Beehive Door Knobs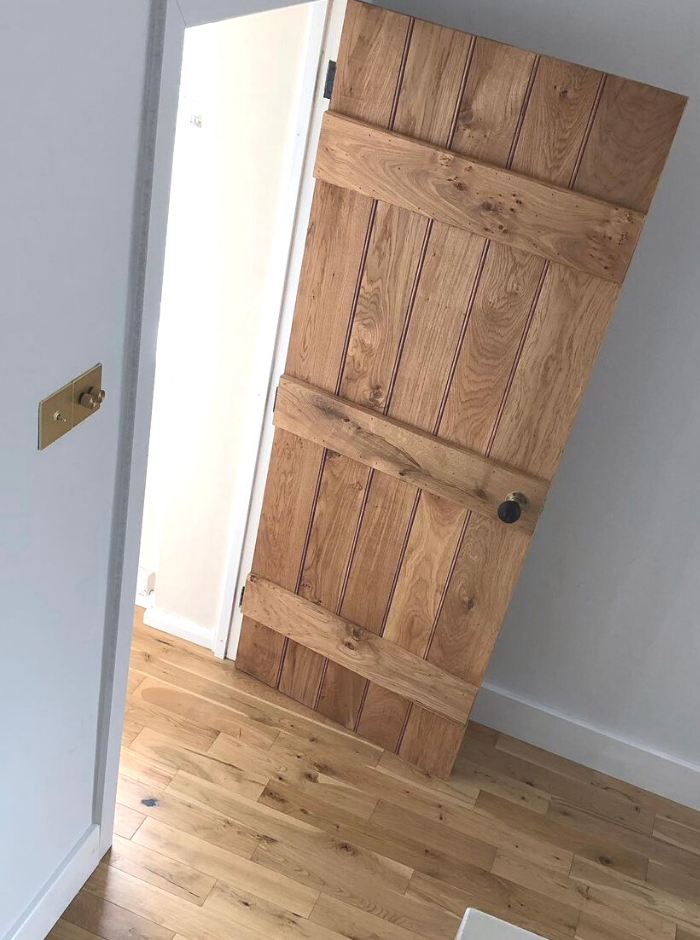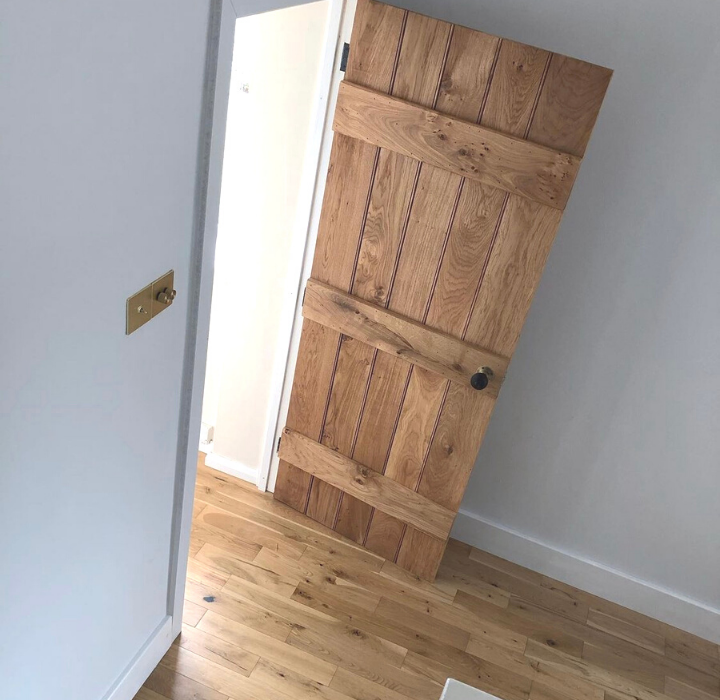 Cottage Style Ledge & Brace Doors with Beehive Door Knobs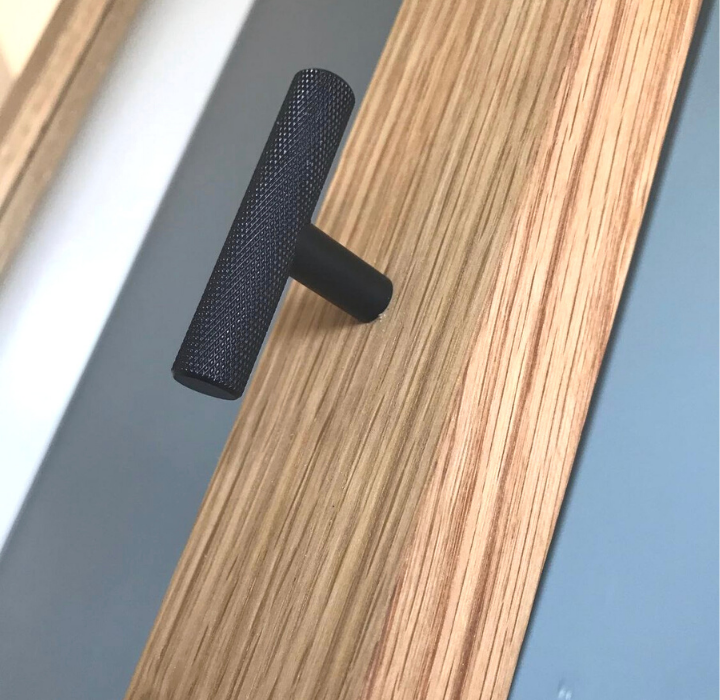 Modern T Bar Pull Handle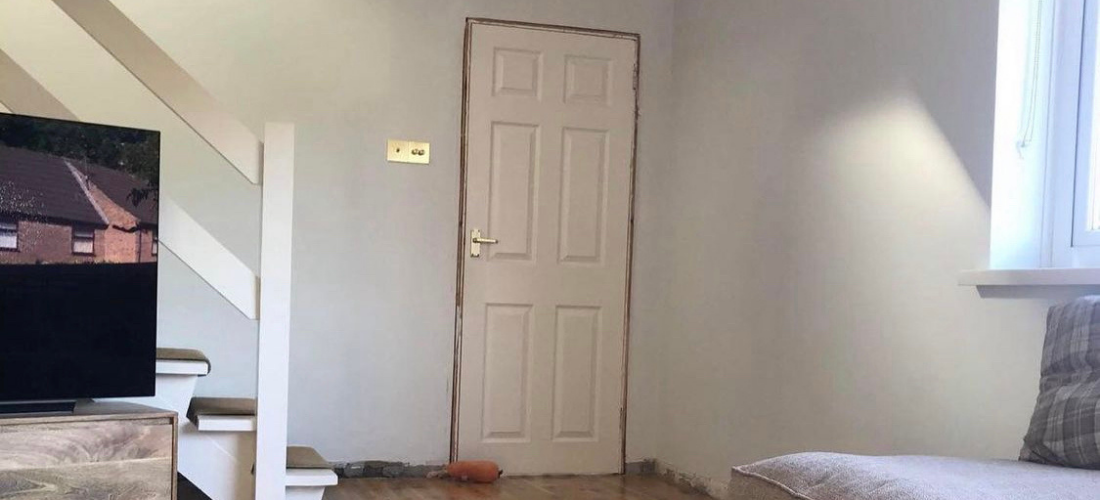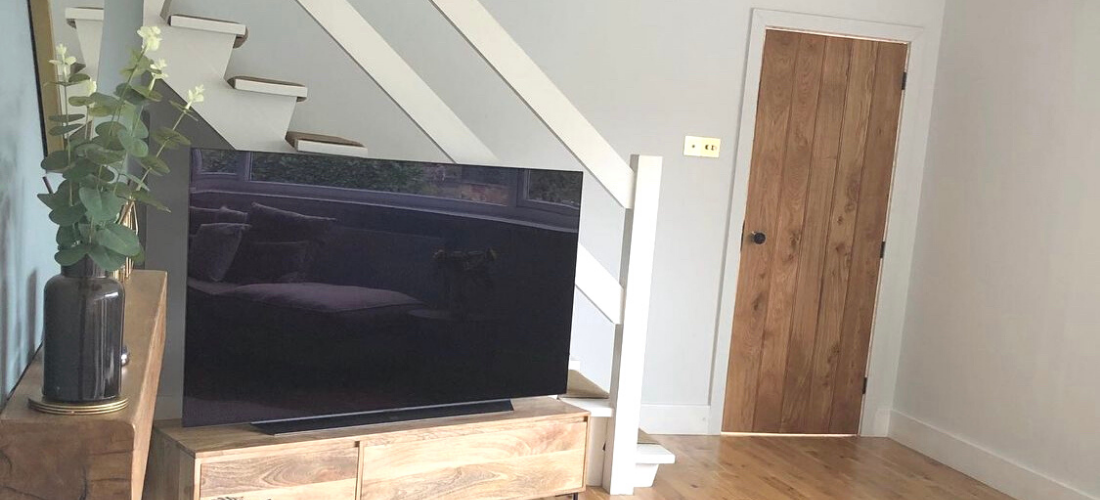 "The doors were a gamble as we bought them during lockdown without actually seeing them. We wanted something different to the usual panelled doors found in this style of house."
Details Matter
Details really do matter when it comes to putting the finishing touches to any interior design project. Hannah and David found the renovation really started to come together when they found some unique feature pieces. Quirky finds and accessories can transform a room.
In the living room, there is an unusual art deco style octagonal mirror and a modern light fitting with angular shaped gold fittings and circular glass shades. These work so well together and also pick up on the geometric theme in the kitchen, with the stunning hexagonal feature light and art deco bar stools.
Personal touches can make a real difference to the feel of a home. Mirrors, unusual light fittings, art, stand out pieces of furniture - all of these can be found for any budget. Markets are a good place to pick up eclectic finds as well as online stores selling home accessories and furnishings.
"Small details definitely matter and can make such a massive difference."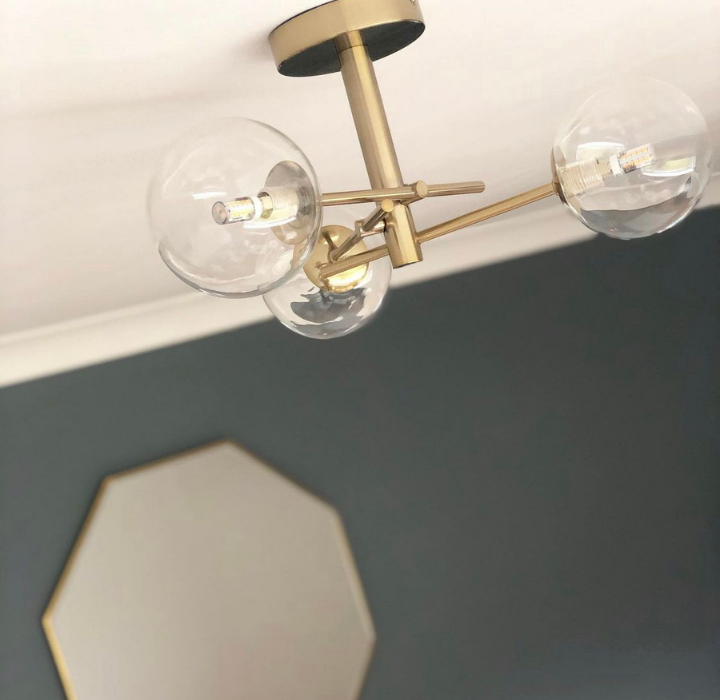 Geometric designs for a modern look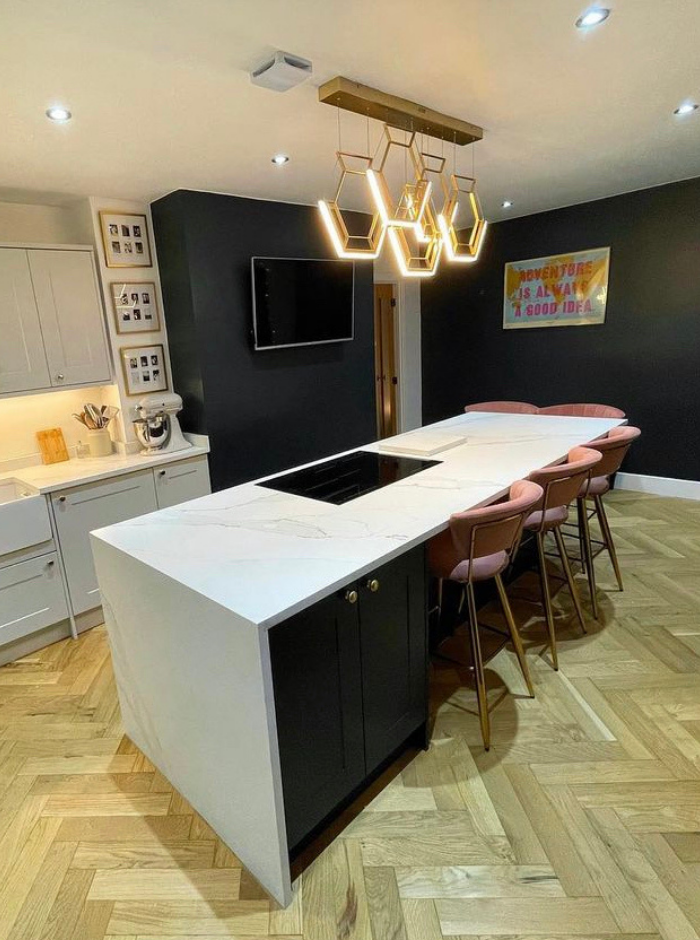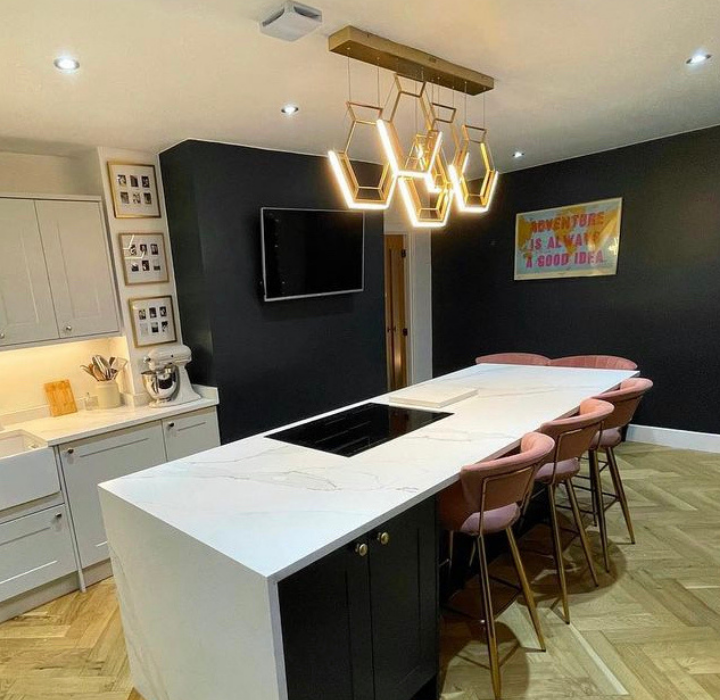 Feature light above kitchen island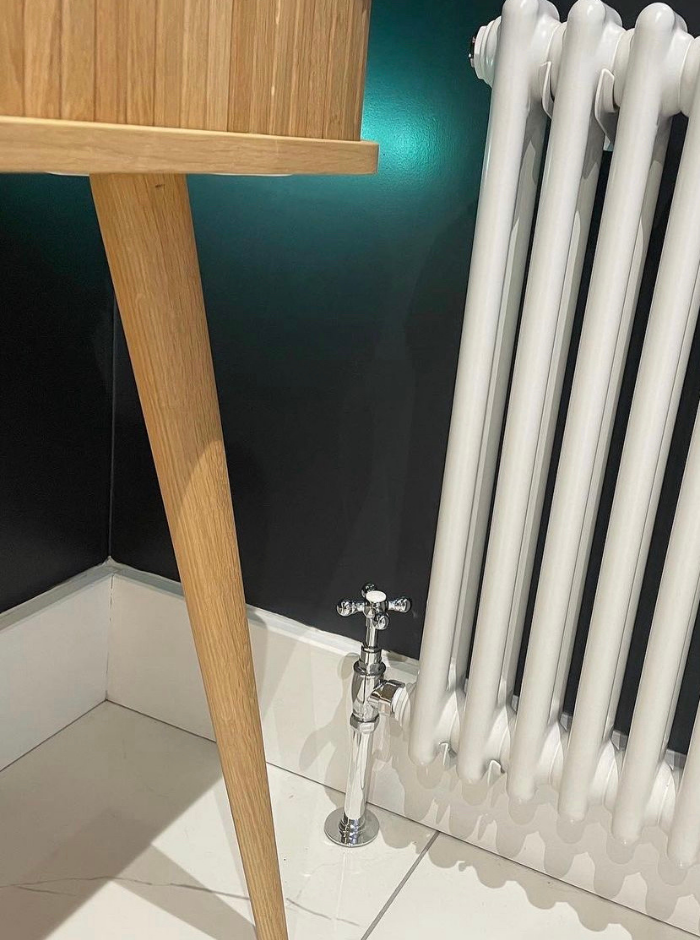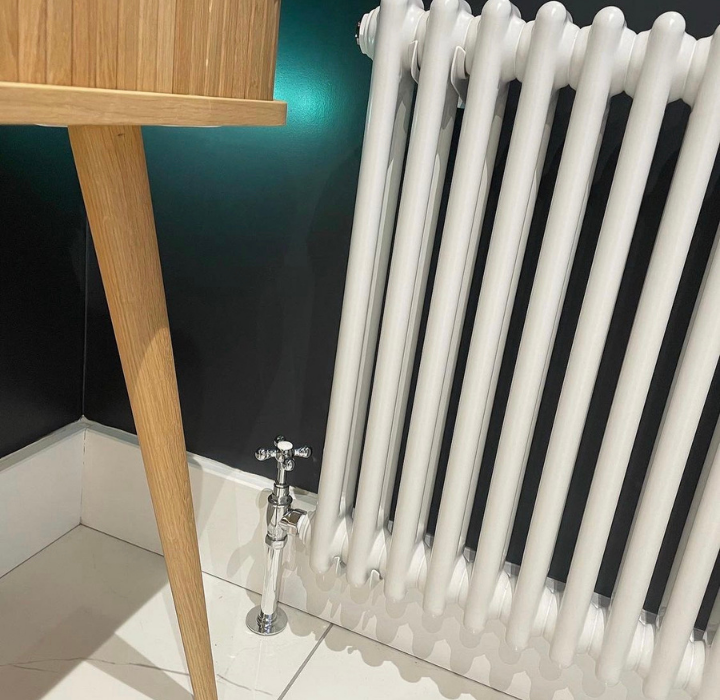 Clean Lines with contrasting colours
Renovation Tips:
For bigger projects, consider using spreadsheets to track work progress and costs.
Don't be afraid to negotiate.
Think beyond trends – find things you really love and will be durable and practical for your lifestyle.
It will cost more and take more time that you anticipate so make sure you enjoy the process!
Thanks to Hannah and David for inviting us into their beautiful home and telling us about their renovation journey. If you would like to see more photos and updates, please follow them on instagram @ourfirsthouse2home
---
More House Tours
For House Tours updates, competitions, and the latest news for all of our products, please follow us:
Instagram @suffolklatchcompany
Facebook @suffolk.latch
And we love hearing from you - do leave us a comment and let us know what you enjoyed most about this month's House Tours 🏡
Comments