Spotlight On...Luxury Pewter Hardware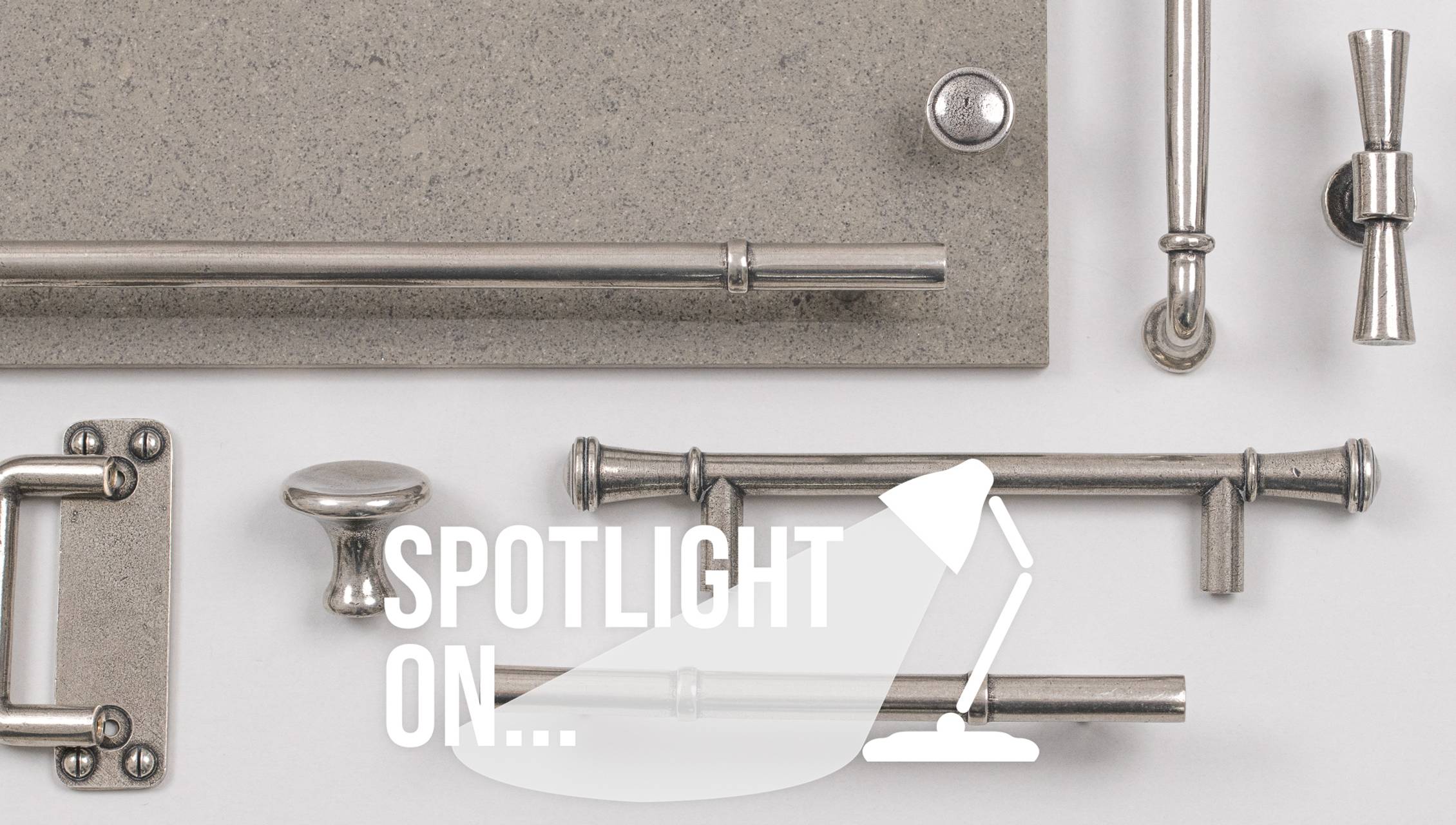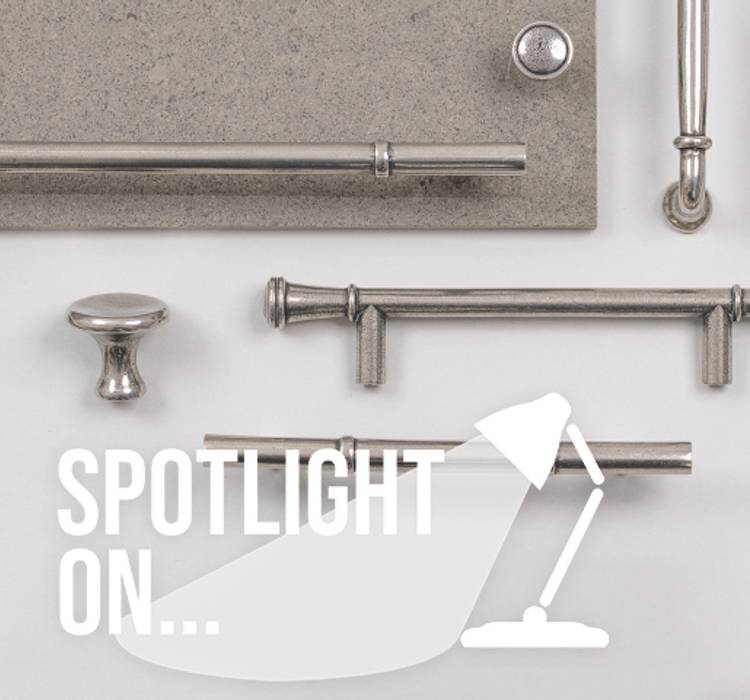 Award-winning natural pewter designs, made in Britain.
We are delighted to be turning the spotlight on this stunning range of luxury pewter hardware from Finesse Design. A complete range for internal and external doors, cupboards, cabinet furniture. An inspirational collection made from genuine natural pewter. A handcrafted range of products with a wonderful, bespoke feel.
Pewter is prized for being an attractive metal with a warm, lustrous appearance. A timeless choice, epitomising real English style. Finesse Pewter is an award-winning range, designed and manufactured in the Durham based U.K. foundry. The pewter is lead-free, with a guaranteed minimum 90% tin. Truly the best in quality design.
If you are looking for longlasting hardware with elegant character, Finesse Pewter offers everything you need for your home. The products are designed to complement each other and can be used in every room. An added benefit is pewter's extreme anti-corrosion properties, making the range suitable for exterior use, even in coastal areas. All products are tested to BS EN 1670:2007 Grade 5, providing the highest level of corrosion resistance.
The pewter door knobs are available in four unique designs. Choose from Swirl, Beamish, Pelton and Lincoln. Each is available with round and square rose plates, narrow backplate and wide blackplate styles. Sold as pairs, the door knobs are supplied with a standard 8mm spindle and matching traditional slotted dome-headed fixings screws.
Whether you choose the classic round Beamish knob, the oval Lincoln or the unusual Swirl, these designs offer timeless character for your home. The warm lustre of pewter complements every interior colour scheme.
he door knobs can be used in every room of your home, with lock and bathroom versions for rooms needing privacy. Sets are also available and include matching tubular latches and sash locks. Please see the listings for more details.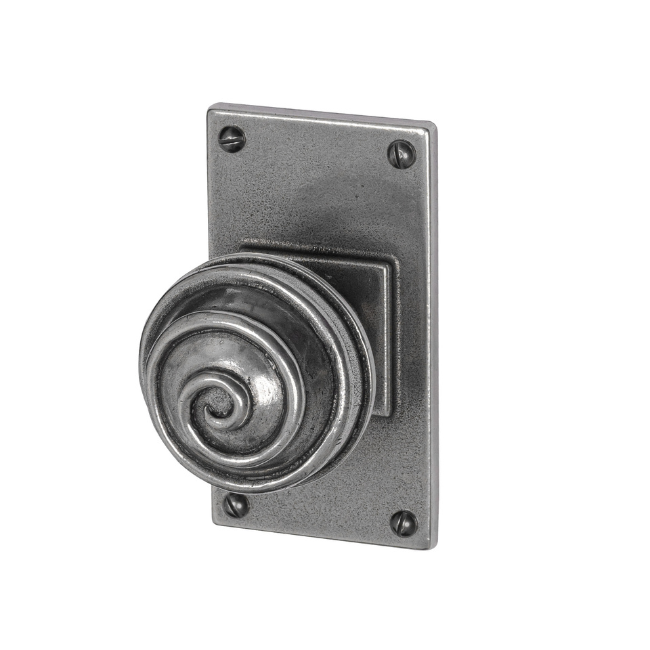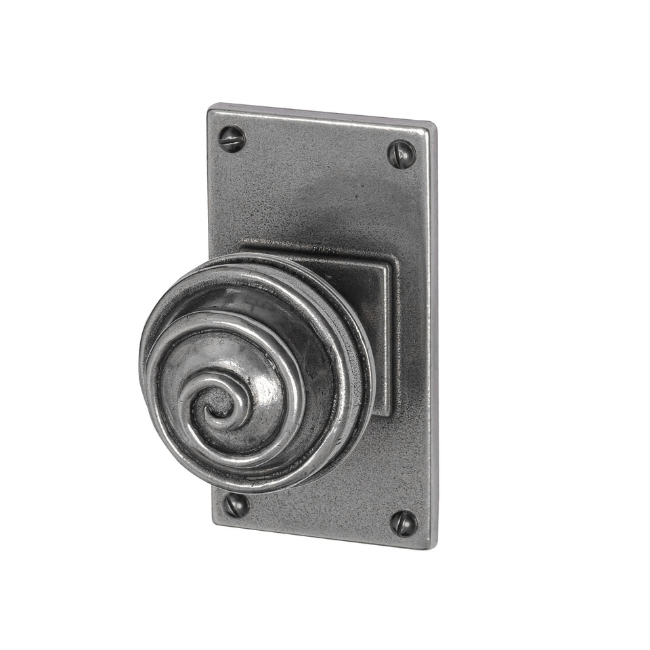 Swirl Pewter Door Knobs - Short Backplate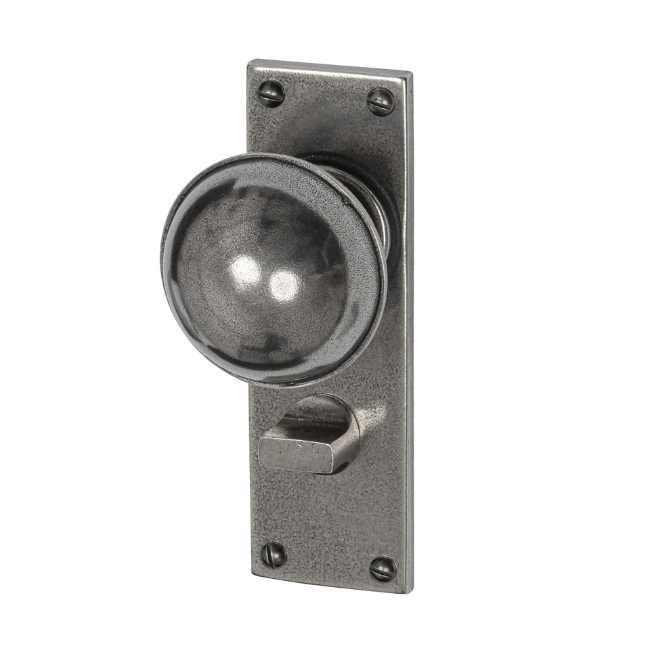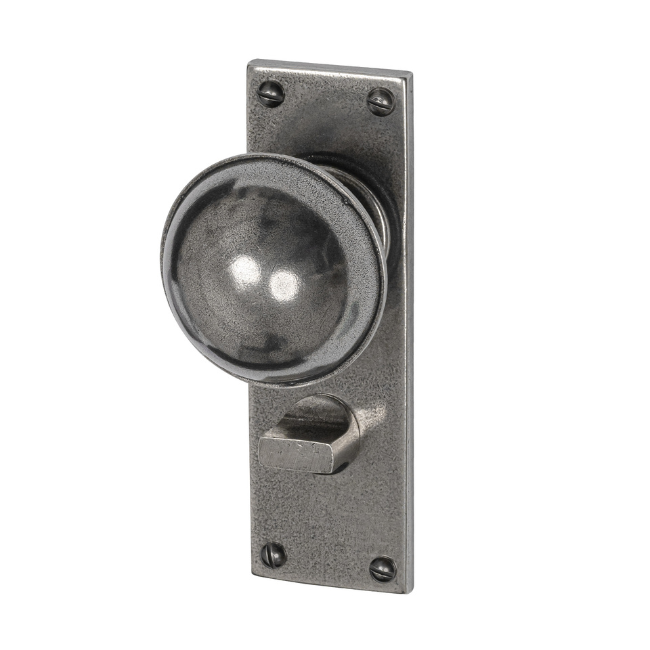 Beamish Pewter Door Knobs - Bathroom
Finesse lever handles offer the best in functionality and design. The handles are all sprung and made from 100% natural pewter. Choose from handles on rose, narrow backplate and wide backplate options. Mix and match for a truly unique and co-ordinated look.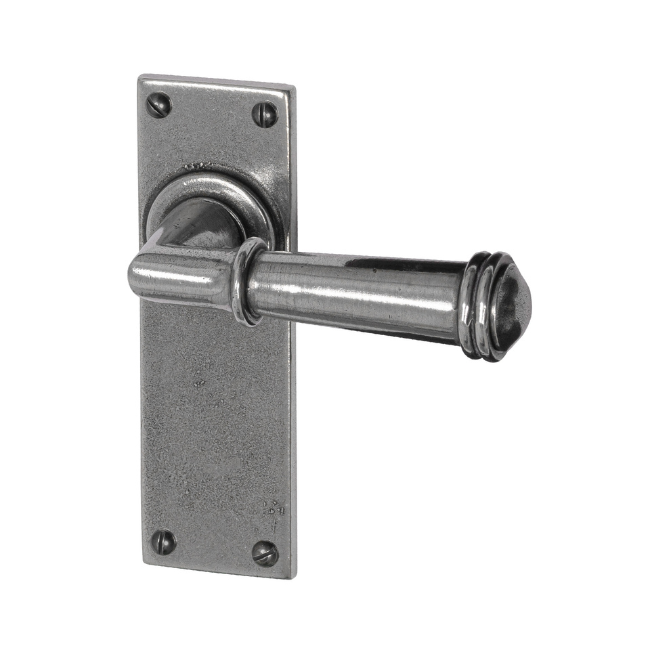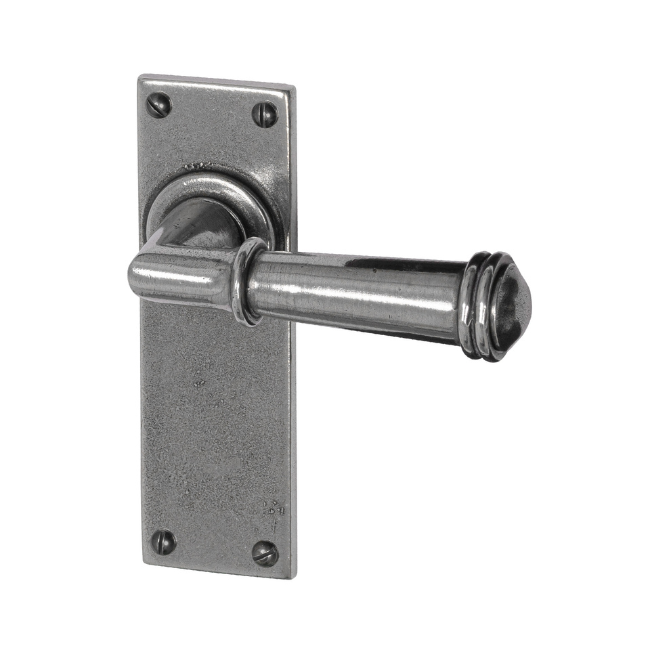 Durham Pewter Door Handles On Narrow Backplate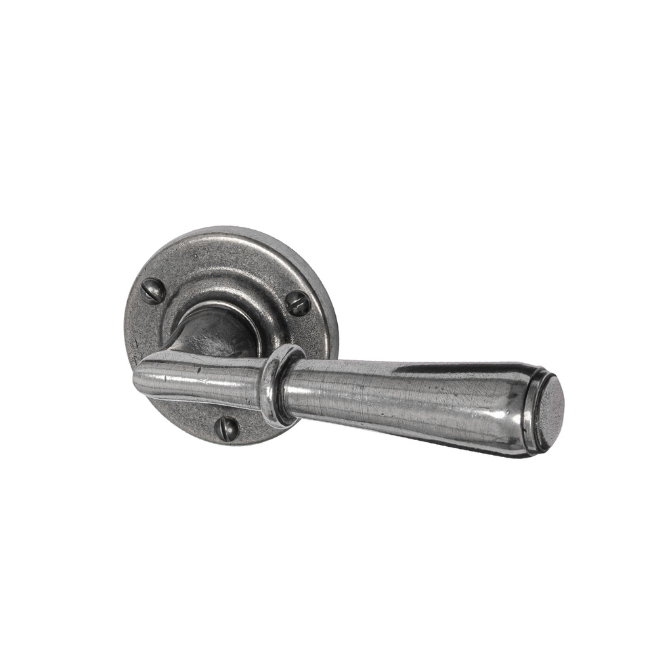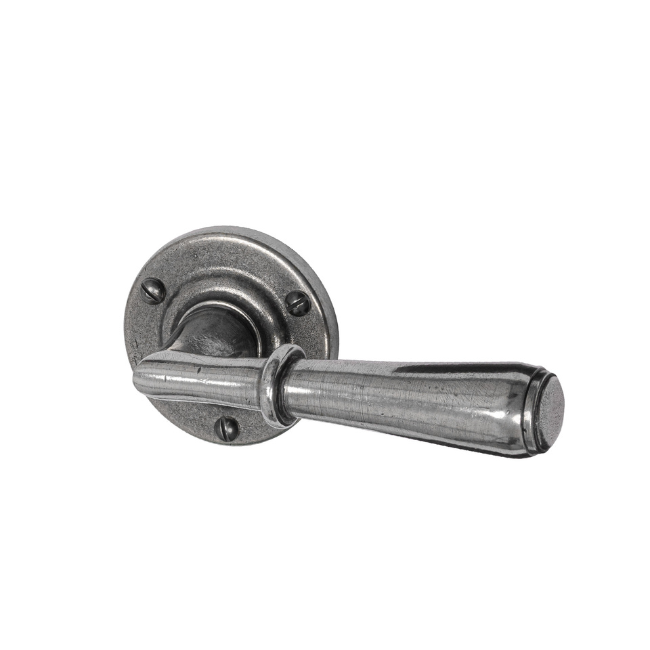 Fenwick Pewter Door Handles On Round Rose
The handles have been designed with modern living in mind and are suitable for period properties and contemporary homes alike. Choose from the solid pewter handles of the Derwent, Durham, Fenwick and Tunstall ranges. Or if you are looking for something a little different, see the Milton range, which offers a beautiful pewter and wood lever handle in a choice of oak and American black walnut.
Solid, unlacquered pewter handles.
Sprung handles.
Tubular latch & sash lock sets available.
Made in Britain.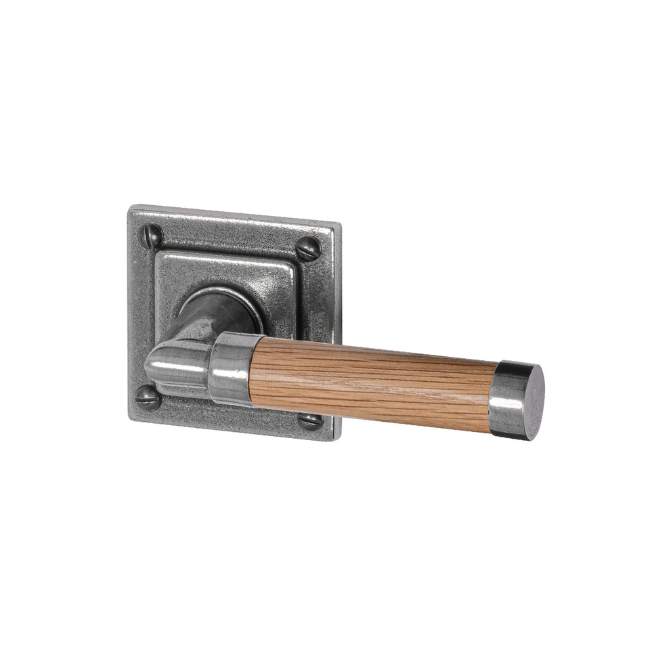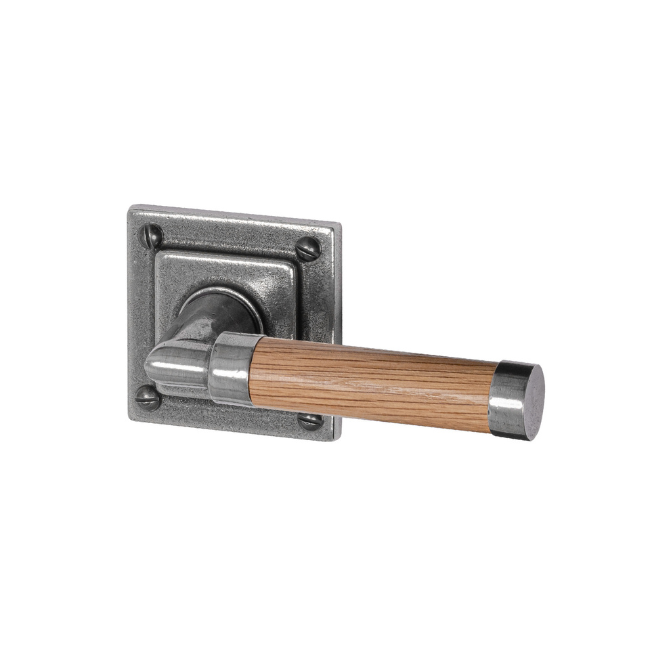 Milton Pewter & Oak Door Handles On Square Rose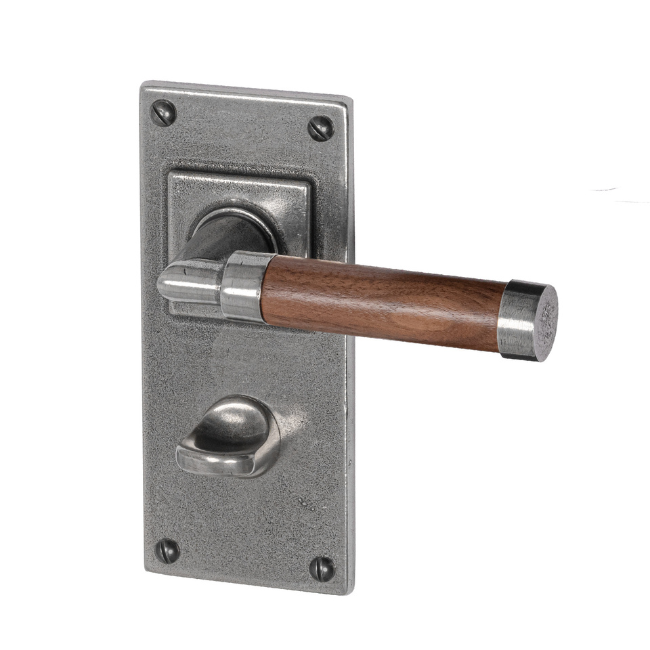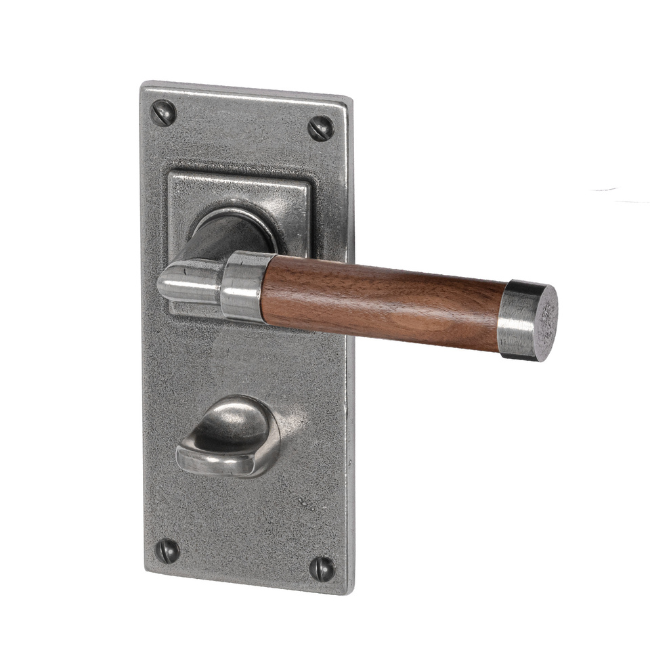 Milton Pewter & Walnut Bathroom Door Handles
Multipoint Handles
Finesse Multipoint Handles are available in sprung and unsprung options with entry, patio and passage configurations. All handles are tested to BS EN 1670:2007 Grade 5, making them ideal for coastal areas. Pewter has extreme corrosion resistant qualities and will not tarnish.
Multipoint locks have enhanced security features compared to standard deadbolt locks. Deemed to be the best for exterior doors, they are a great choice for external doors with better insurance options. Multipoint locks can only be fitted with specialist handles.
These Pewter Multipoint Handles are ideal for wooden and metal doors. Choose from four classic designs: Derwent, Durham, Fenwick and Tunsall. Something for every home, whether modern or traditional.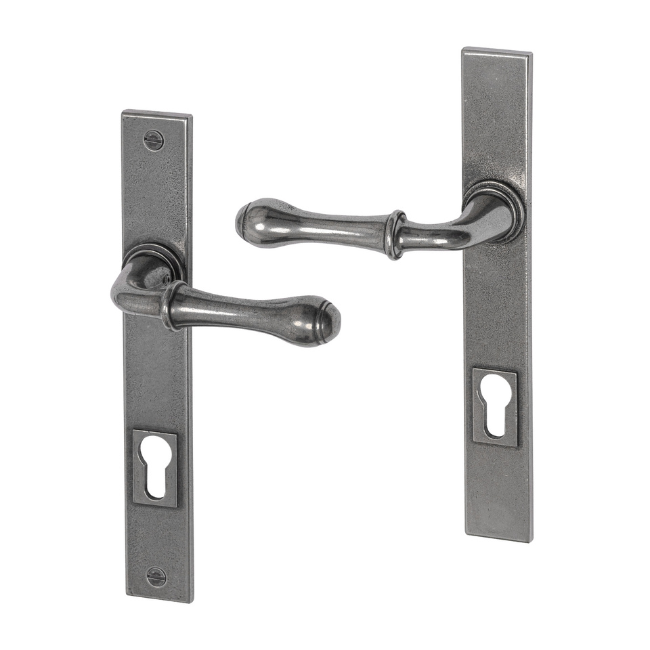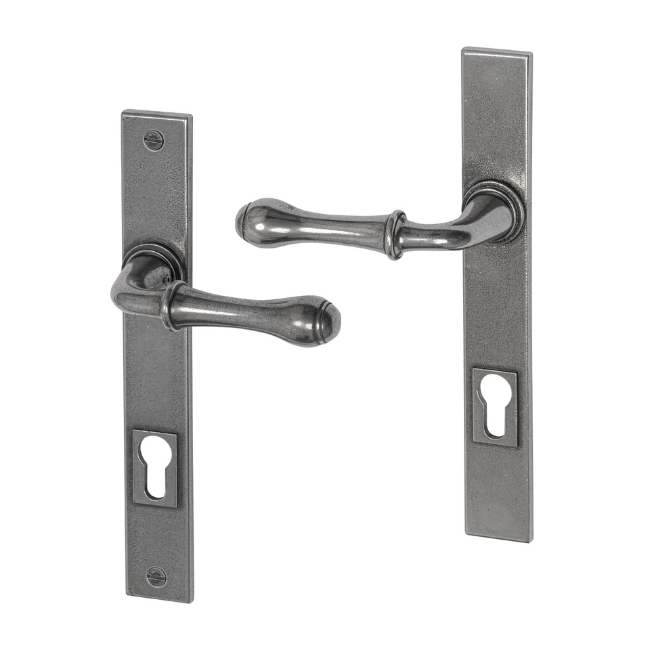 Derwent Pewter Multipoint Door Handles - Entry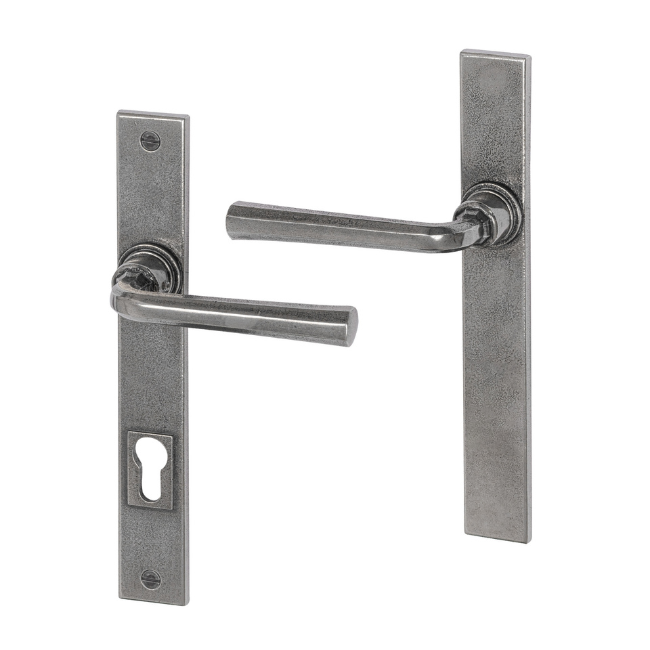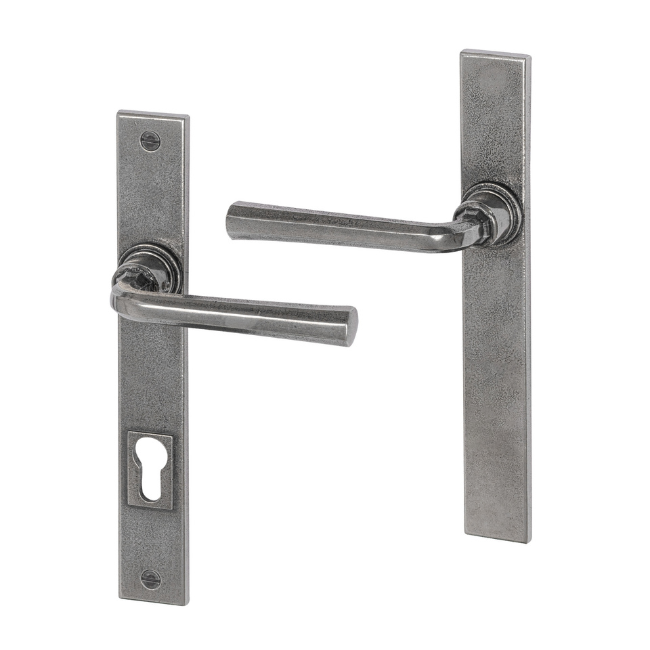 Tunstall Pewter Multipoint Door Handles - Patio
3. Pewter Cabinet Hardware
A comprehensive range of solid pewter cupboard knobs, pull handles and cup handles for kitchens and cabinetry. The natural finish of pewter is perfectly suited for cupboards and drawers, offering traditional, rustic charm.
Choose from a wide range of timeless designs, all made from authentic, solid pewter. suitable for kitchens, bedrooms, bathrooms and offices. The tarnish free quality of pewter means that it is easy to maintain and provides a durable solution for home hardware needs.
See the full range of cabinet handles in our Finesse Hardware range and upgrade your cupboards today.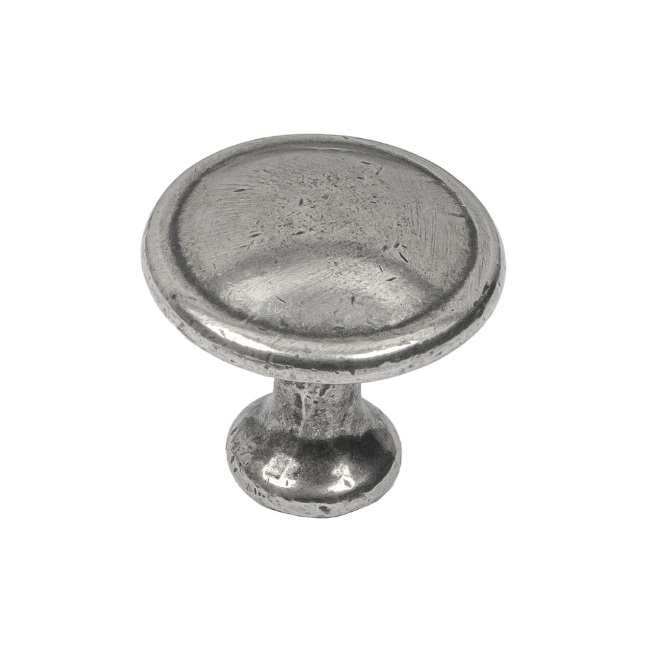 Chester Pewter Cabinet Knob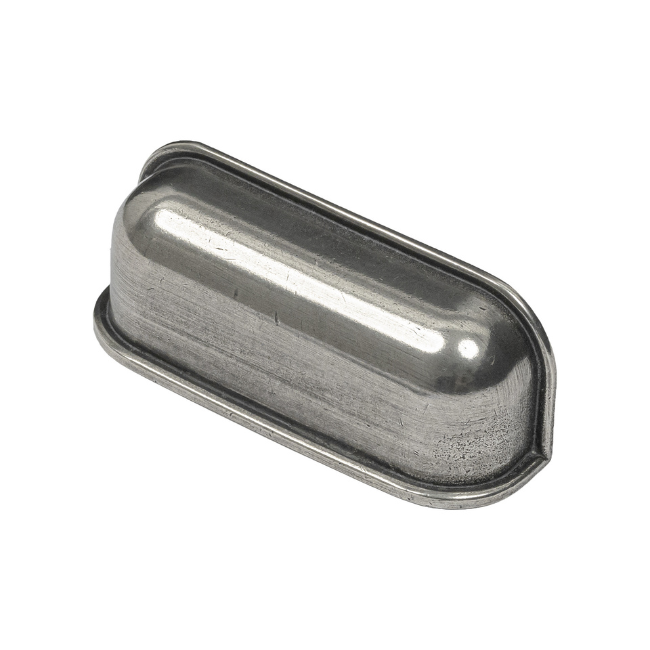 Hendon Pewter Cup Handle
4. Pewter Sockets & Switches
A range of electrical accessories made from solid pewter, designed to match the pewter door and cabinet hardware. The Finesse pewter sockets and switch plates come complete with Crabtree Platinum electrical components, with satin chrome rocker switches and black trim.
The benefit in choosing these solid pewter wall plates is to provide a unified interior with a real designer feel. Small details are so important when it comes to home projects and these matching electrical accessories give the perfect finishing touch.
Pewter Electrical Sockets
A range of sockets providing everything you need for your home, from blanking plates to 2 gang sockets and specialist cooker control units. The Crabtree electrical component parts are made to the highest standards and meet all necessary regulations.
1 & 2 gang switched & unswitched sockets.
Shaver socket.
Cooker control sockets.
Communication sockets.
Pewter Electrical Switches
Solid pewter wall plates with satin chrome rocker switches for a sleek and stylish look. The Crabtree switch components come supplied as standard with all necessary fixings.
1-4 gang light switches.
Fan isolator switch.
Double pole switches.
To give your home a harmonious feel, revamp your front door with matching pewter front door furniture. Pewter is a beautiful metal that will not tarnish, making it the ideal choice for front door accessories.
The classic designs have a simple yet elegant look, and are perfect for both period properties and modern homes. Choose a matching door knocker, letter plate, door bells, house numbers and more. A complete range in solid, unlacquered pewter.
Easy to maintain.
Extremely rust resistant.
Made in Britain.
Quality designs.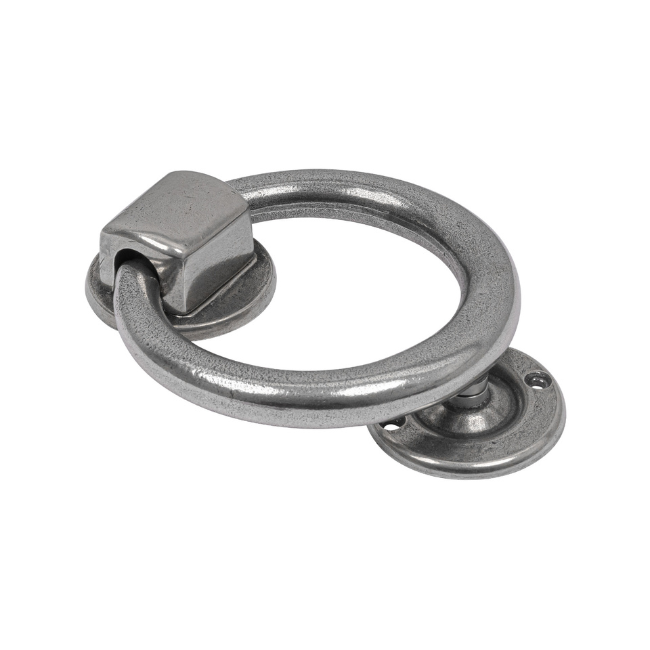 Pewter Door Knocker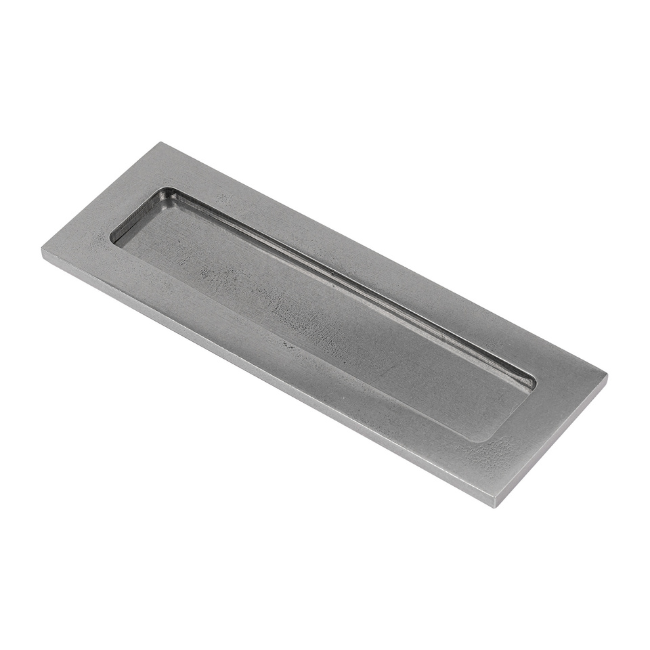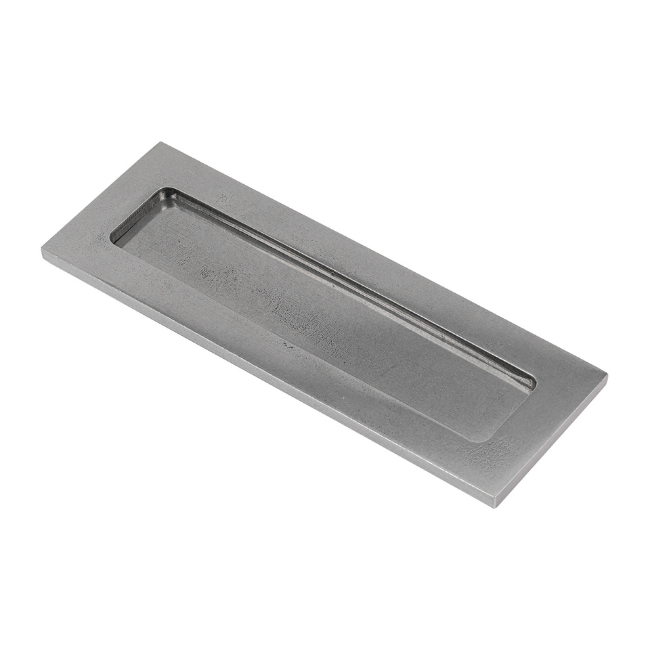 Pewter Letter Plate
---
Comments