Spotlight On...New Door Handles On Backplate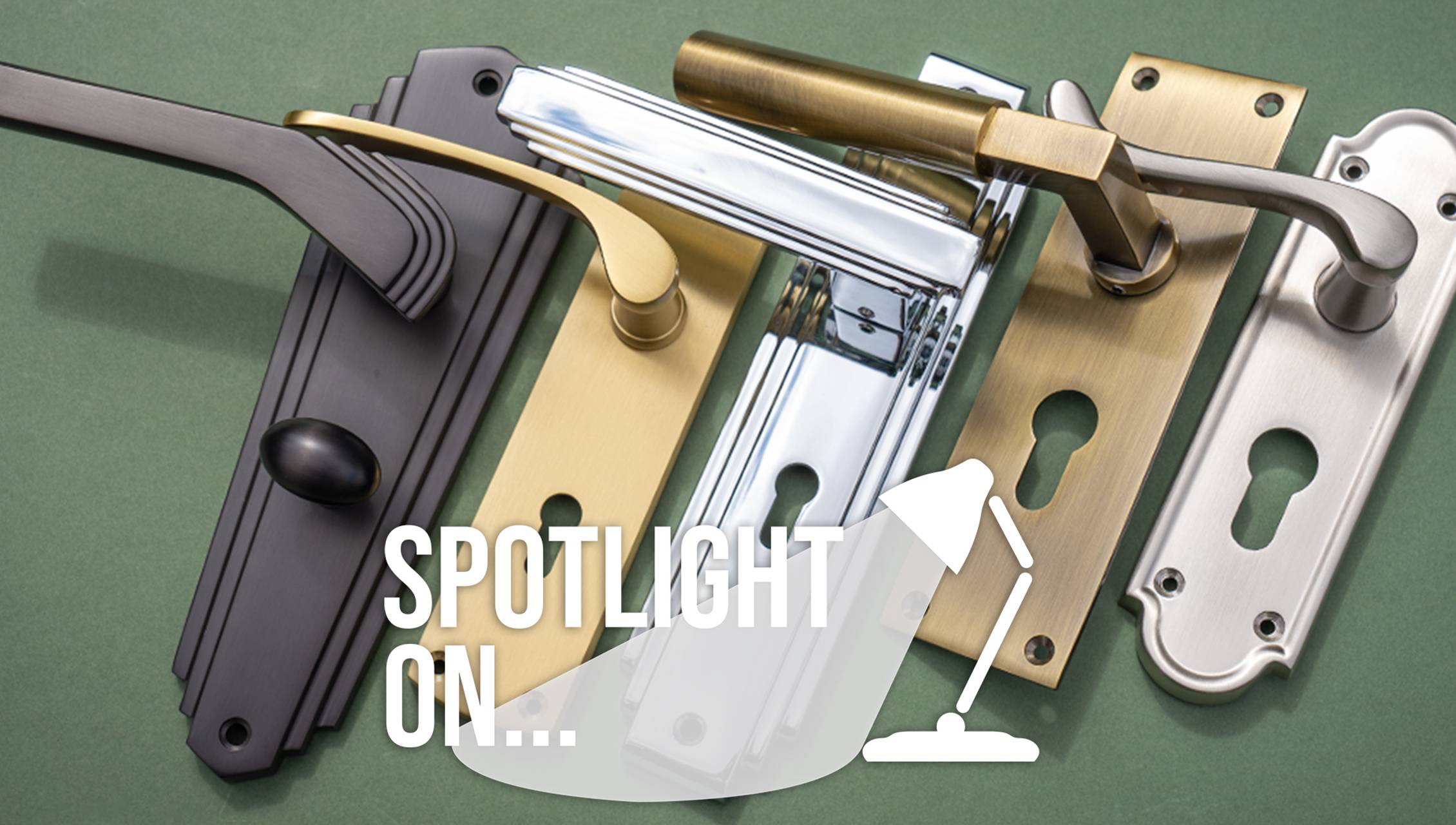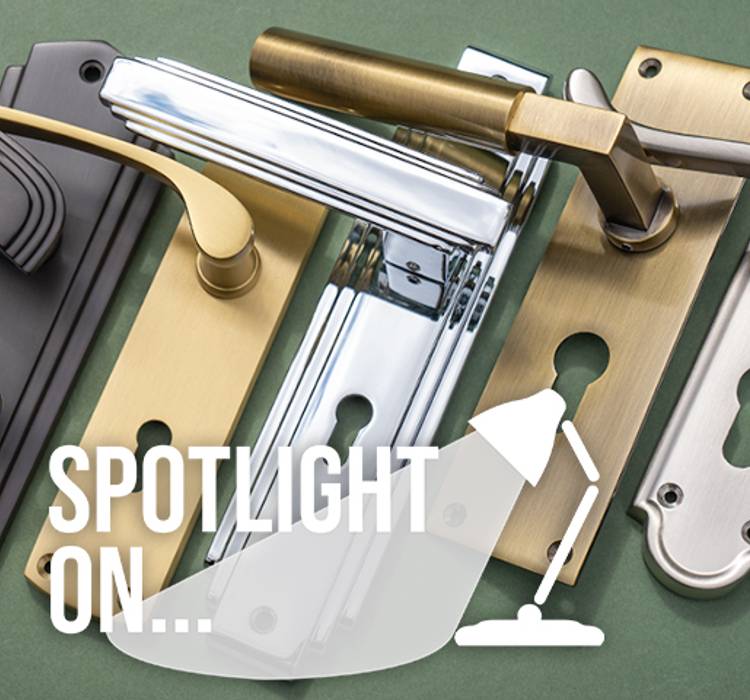 Introducing our latest collection of new Door Handles On Backplate. This fantastic range of handles offer something for every home, from traditional to modern. Made from solid brass, the handles are available in five stunning finishes to co-ordinate with your interior design. Choose from Matt Bronze, Aged Brass, Satin Brass, Satin Nickel and Polished Chrome. With a 10 year mechanical warranty, these are premium quality handles suitable for internal and external doors.
Here at Suffolk Latch Company, we carefully choose our hardware products to provide the highest quality materials in a wide range of styles to suit every home. If you are looking for a professional designer look, we have everything you need. Choose matching handles, door stops, butt hinges and more.
Co-ordinated finishes to suit every interior made from the highest quality materials
Art Deco Door Handles
The Art Deco movement originated in Paris after the First World War. This decorative style movement embraced machine made modernity and focussed on simple clean lines, geometric shapes, aerodynamic curves and symmetry.
These Art Deco Handles are available in four unique styles: Astoria, Atlantis, Tiffany and Waldorf. If you are looking for a matching Art Deco door knob see also the striking Charlston design - a rectangular shaped door knob on a long back plate with the classic Art Deco stepped pattern.
Art Deco handles are ideal for period properties, especially those built in the 1920s and 1930s. These authentic designs give the finishing touch to vintage style interiors and make a statement feature for your doors.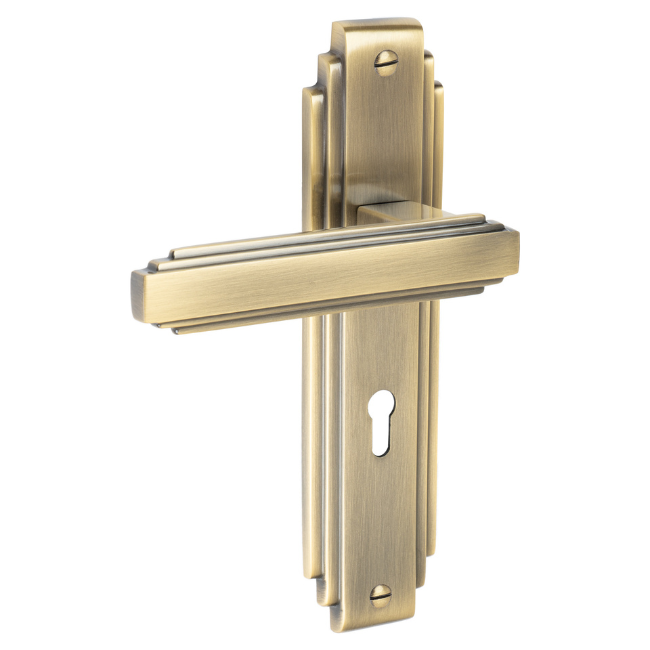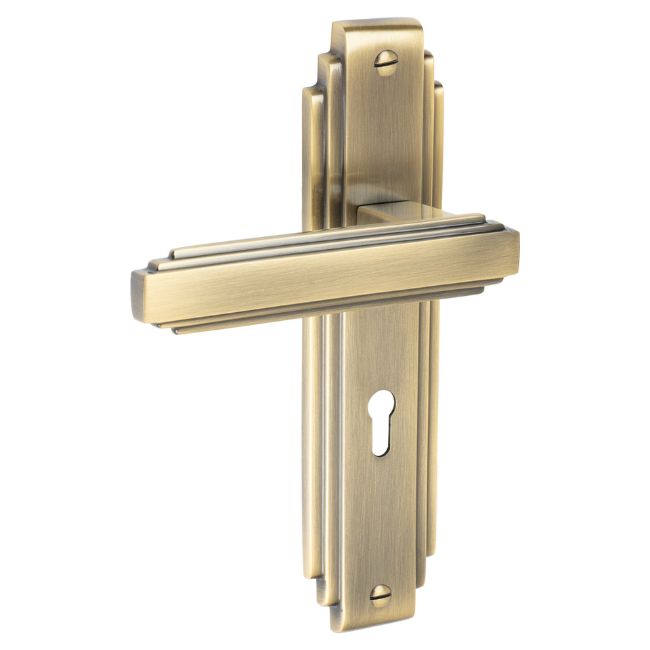 Astoria Lock Handles In Aged Brass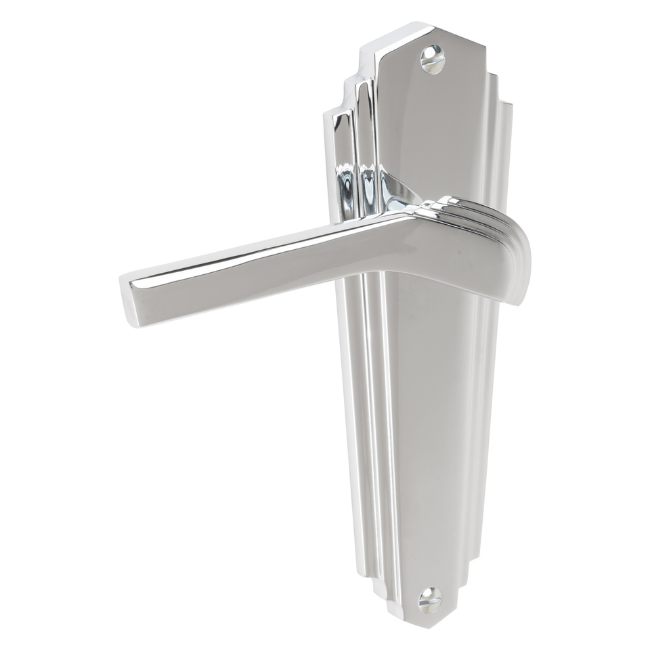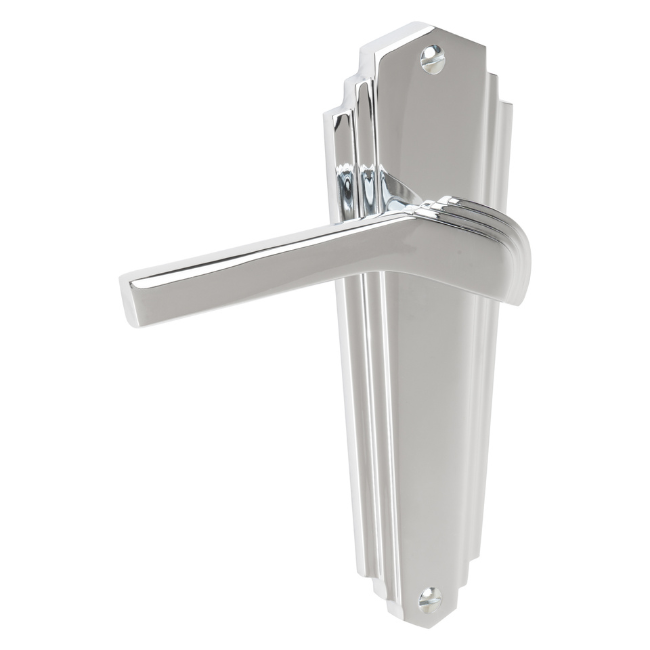 Waldrof Latch Handles In Polished Chrome
Victorian Scroll Door Handles
The Victorian scroll door handle design was popularised during the 1800s. As the Industrial Revolution gripped the modern world, commercial, factory-made goods allowed for more affordable pricing and accessibilty. The general population were able to buy the latest door hardware designs and update their homes in a way that had not previously been possible.
The handles in this new collection, are based on authentic Victorian designs with a pleasing scroll shaped lever. There are five door handle styles: Edwardian, Bedford, Meridian, Buckingham and Savoy. These offer different backplate choices from plain rectangular to the more elaborate oval and curved patterns.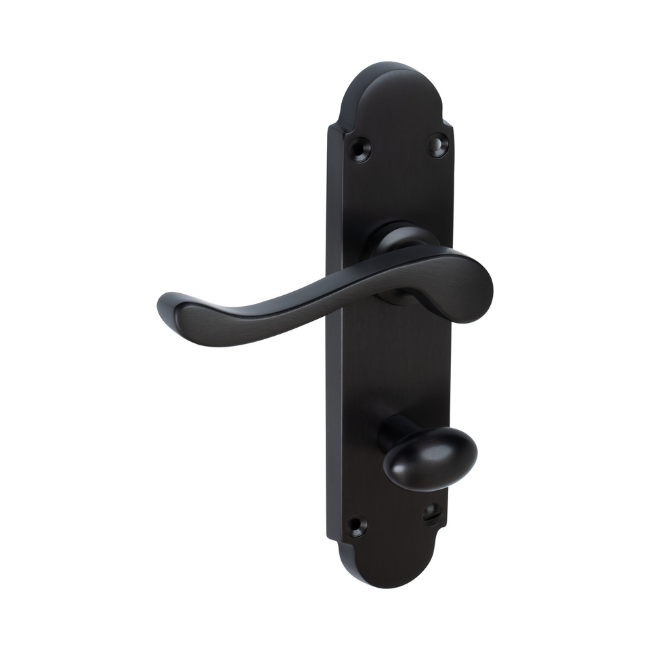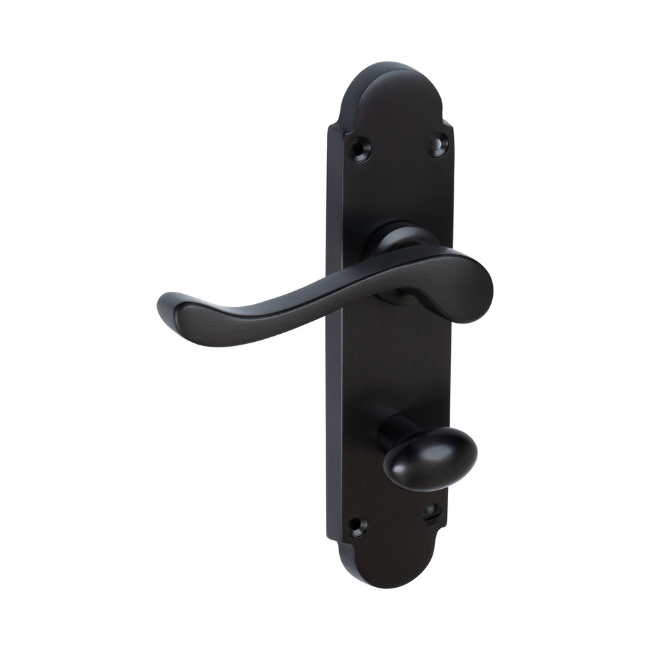 Savoy Bathroom Handles In Matt Bronze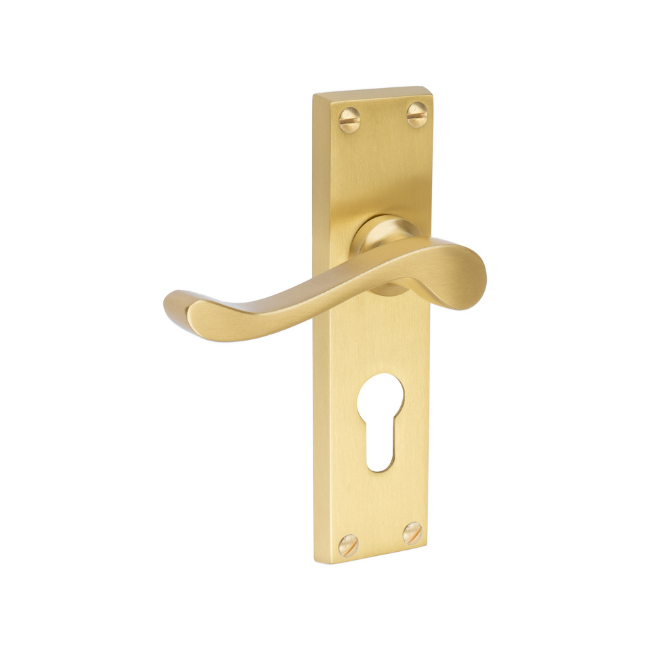 Bedford Euro Handles In Satin Brass
Modern Door Handles
Modern door handles focus on funtionality with simple designs and clean lines. Minimalist interiors are still a popular choice for many homes. The hallmarks of minimalism are:
Streamlined look
Linear designs
Angular shapes
Ease of use
Simple colour palette with neutral tones
These modern handles offer timeless designs for contemporary homes. Choose from sleek low profile handles and classic styles for modern living.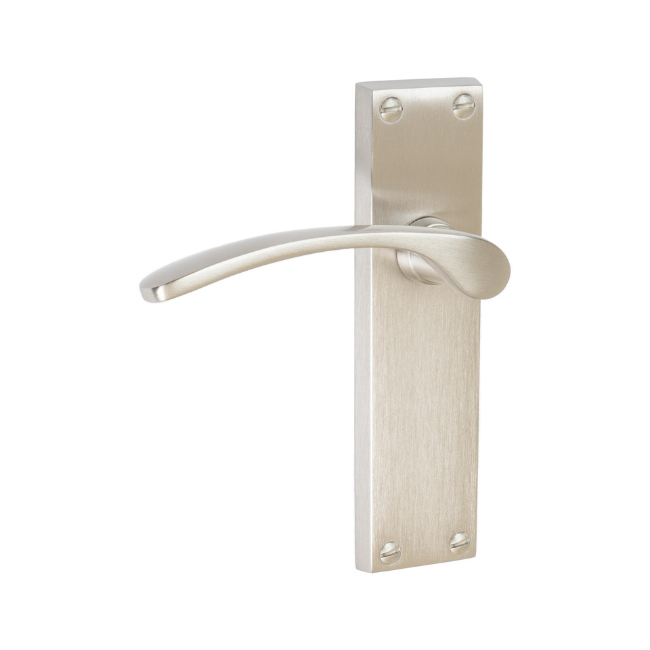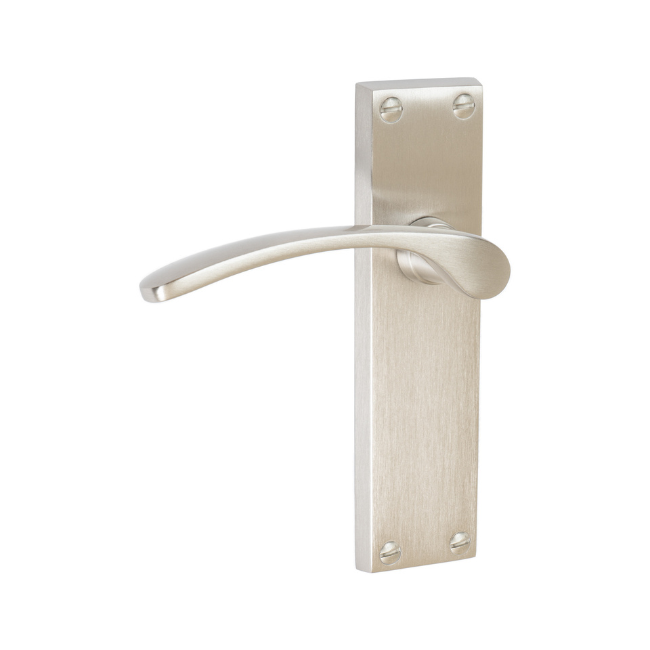 Sophia Latch Handles In Satin Nickel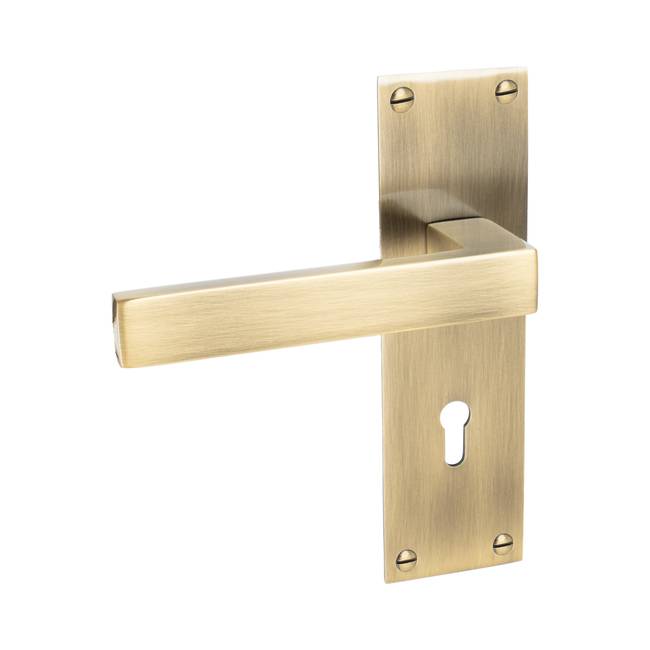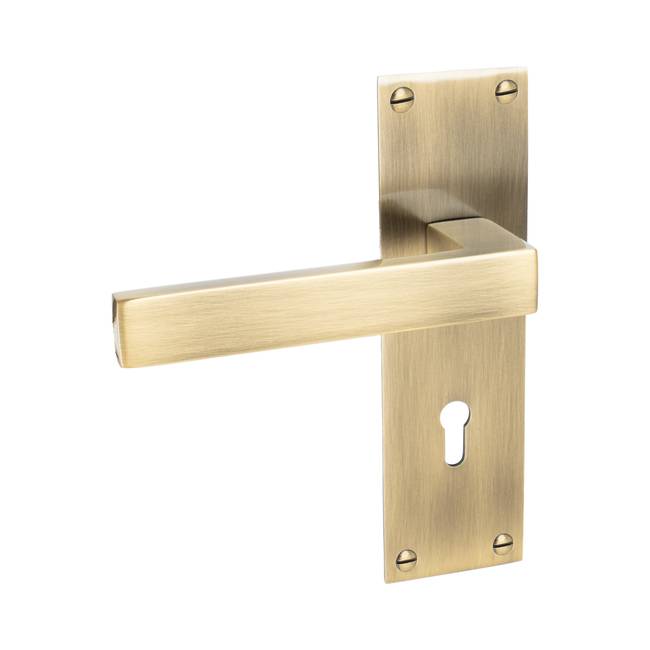 Metro Lock Handles In Aged Brass
Bathroom, Lock & Latch Handle Sets
All handles in our new range are available in Latch, Bathroom, British Standard Lock and Euro Lock versions. Whether you have newly fitted doors or need to replace a handle on an existing door, we offer styles to suit. There are handles for bathroom doors with an in-built thumb turn lock, as well as front door handles with a Euro cylinder lock keyhole profile.
To make shopping easy, these handle sets include everything you need:
Latch Set (for internal doors): Handles + 2.5 inch standard tubular latch
Bathroom Set (for bathroom doors): Handles + 2.5 inch bathroom sash lock
3 Lever Lock Set (for internal doors): Handles + 2.5 inch British Standard 3 Lever Sash Lock
5 Lever Lock Set (for external doors): Handles + 2.5 inch British Standard 5 Lever Sash Lock
Euro Lock Set (for external doors): Handles + 2.5 inch Euro Sash Lock with ISEO Euro Cylinder
Solid Brass Handles In Five Finishes
All of the handles in our new range are available in a choice of five distinct finishes, offering something for every home. Whether you are looking for traditional antique brass hardware, or need more of a contemporary look, there is a handle finish to suit every type of interior.
The door handles are made from premium solid brass and have a quality lacquer finish. Regularly removing dirt and watermarks with a non-abrasive cloth will help maintain the life of the finish.
AGED BRASS: Also called antique brass or vintage brass, the aged brass finish is a traditional choice and offers a timeless look for your home. Aged brass has darker tones and a low luster finish compared with polished brasses.
MATT BRONZE: This classic finish continues to be a popular choice for homes and this matt bronze finish offers traditional style with a modern twist. A great alternative to black, the smooth dark colour of matt bronze makes a stunning choice.
POLISHED CHROME: The finish of choice for a bright modern look. Ideal for contemporary interior designs. Polished chrome has a reflective, smooth mirror finish offering the perfect feature detail for doors in a modern style home.
SATIN BRASS: This finish offers the warmth of polished brass but with a mellow, softer tone. The satin brass lacquered finish also has the benefit of not needing to be polished. A contemporary look that works well in both traditional and modern homes.
SATIN NICKEL: A handle finish that is popular with architects. Warm grey in colour, the satin nickel handles have a similar look to brushed steel and aluminium. This is a great handle choice to complement stainless steel appliances and fixtures.
Comments