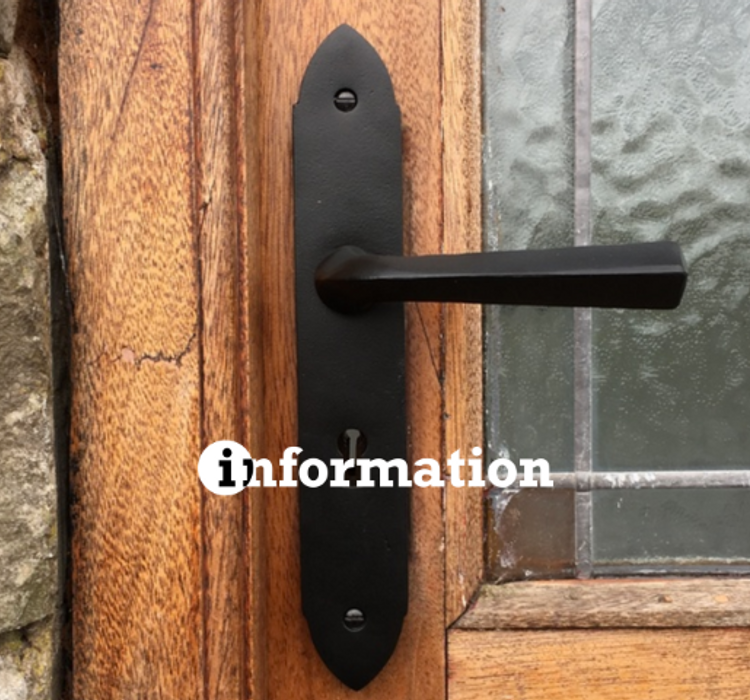 What is the difference between a deadlock, deadbolt and sash lock? If you are fitting a new internal door in your home, and want to have a lock, you will need to choose one of these. It can, however, be confusing to know which type of mortice lock you need. Read on to discover what a deadlock is and if you need one!
Mortice Deadlocks
A mortice deadlock is designed to be fitted into the timber edge of a door and allows the door to be manually locked from both sides with a key. A deadlock is a lock bolt only and does not have a latch/catch section for the operation of a door knob/handle. These types of locks are available as either 3 or 5 lever. When choosing the right deadlock you will also need to make sure you choose the right size for your door. A standard deadlock has 3 inch case with a backset (distance from the edge of the door to the centre of the keyhole) of 57mm.
5 Lever Deadlocks
These deadlocks are commonly fitted in wooden front or back doors. Required by insurance companies, a 5 lever deadlock is suitable for an exterior door and provides security in the form of additional "levers" inside the lock. This makes it more difficult to copy keys or break into. When choosing your 5 lever lock, make sure it has the British Standard BS362 kitemark.
3 Lever Deadlocks
3 lever deadlocks are for internal wooden doors. As the name implies, there are only 3 levers in this type of lock, which makes it unsuitable for external doors. This is a good choice, however, for internal rooms where privacy is required and lockable access is needed from both sides. Deadlocks are usually supplied with two keys, a matching forend and striker in a choice of finishes. The example in the drawing above is a 3 inch deadlock from the Old English collection. See the Old English Collection HERE.
Safety Tip: keep a copy of the key in an easily accessible place in the event of emergency situations such as a house fire.
Mortice Deadbolts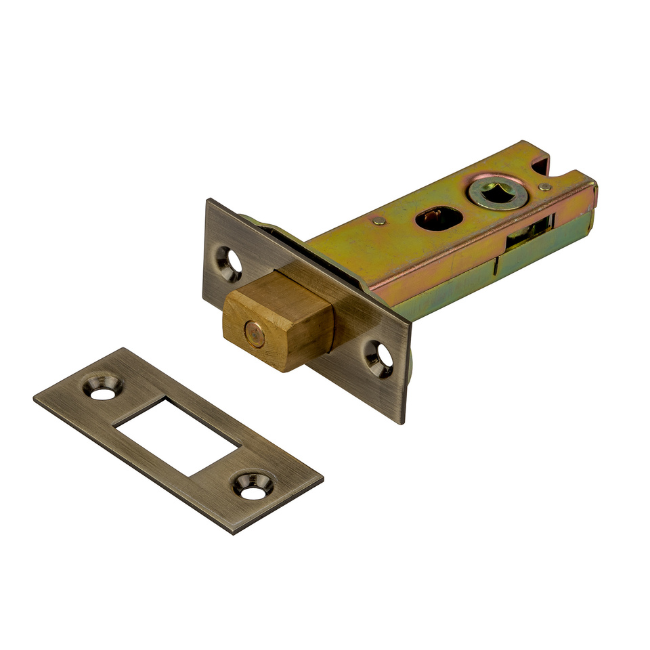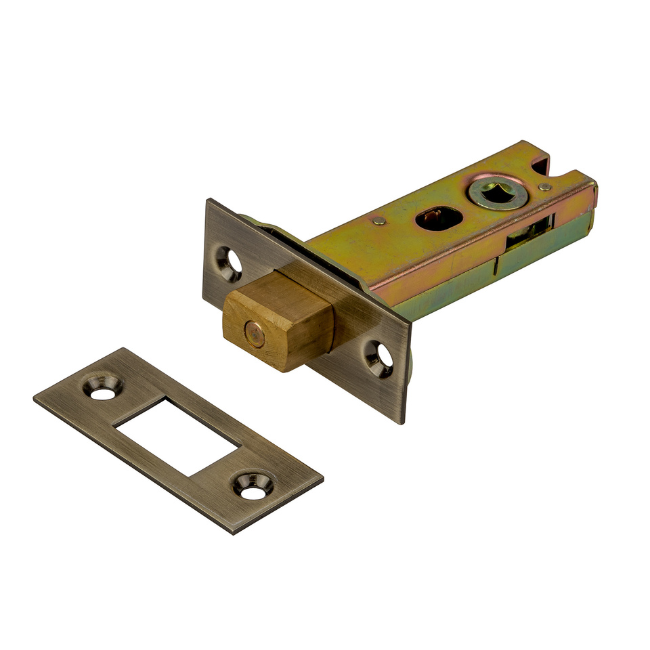 3 inch Bathroom Deadbolt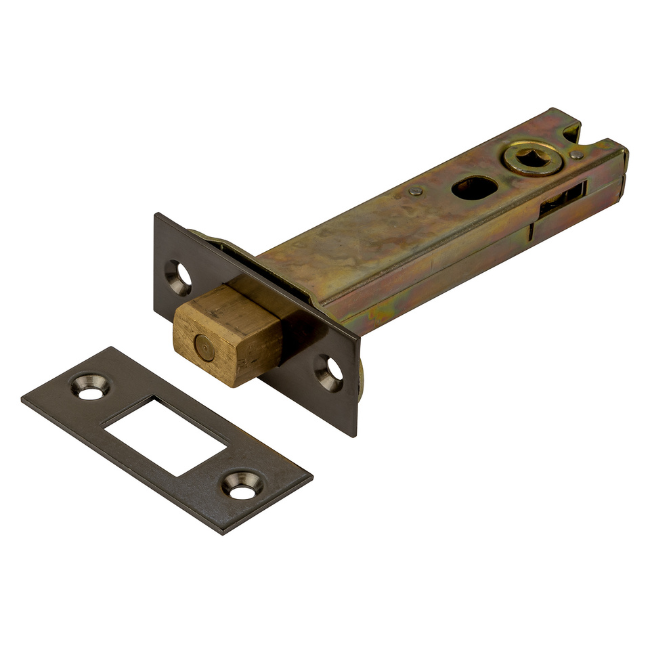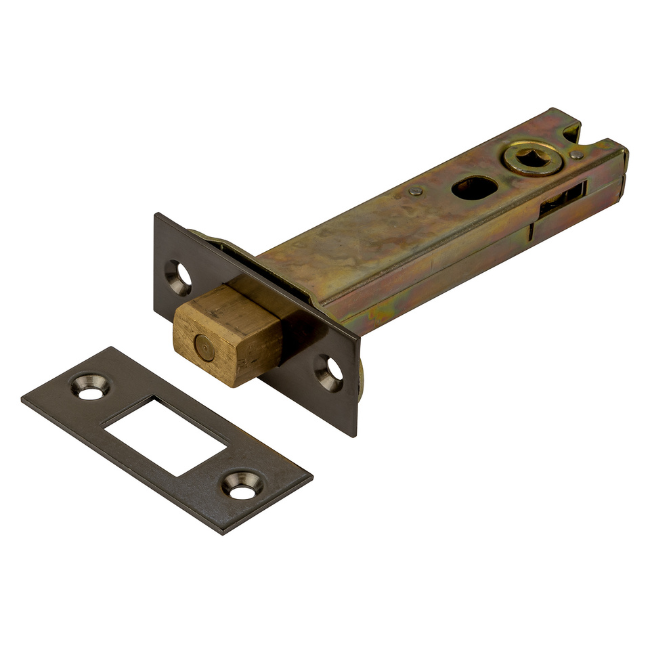 4 inch Bathroom Deadbolt
A deadbolt is usually used for locking bathroom doors and is manually operated with an additional turn & release mechanism. This simple lock bolt is mortice-fitted into the door and has a backset hole for the mortice bar of the turn and release thumbturn. The example shown above is a 3 inch deadbolt.
Mortice Sash Locks
A sash lock has a case body with an integrated latch/catch and lock mechanism for fitting a door handle/door knob to a door. There are different types and sizes of sash lock with 2.5 inch and 3 inch the most commonly used. Please also note the industry standard lock backset measurement of 44mm and 57mm respectively. The centres measurement is also important and this refers to the  distance between the centre of the mortice bar fitting hole and the centre of the keyhole - this is most commonly 57mm.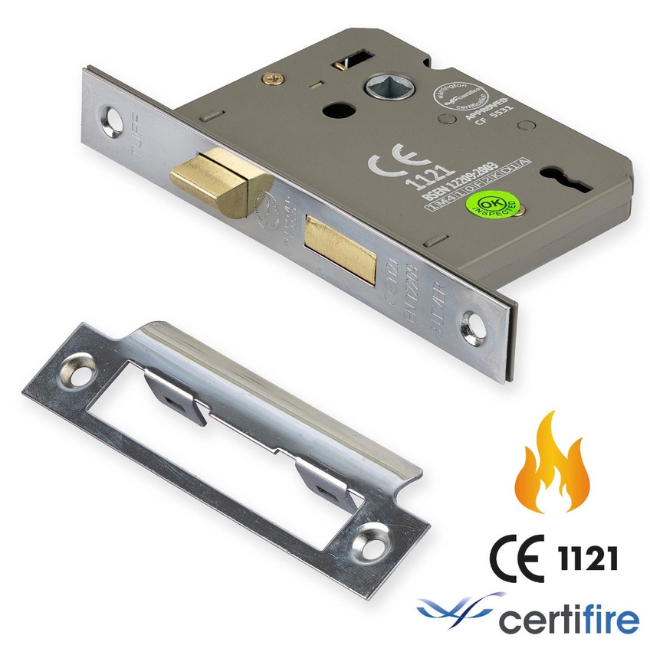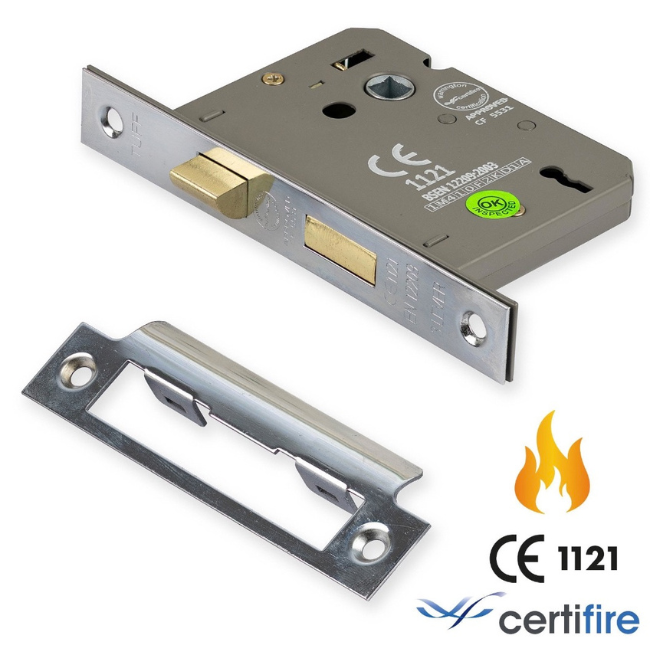 3 Lever Sash Lock Fire Rated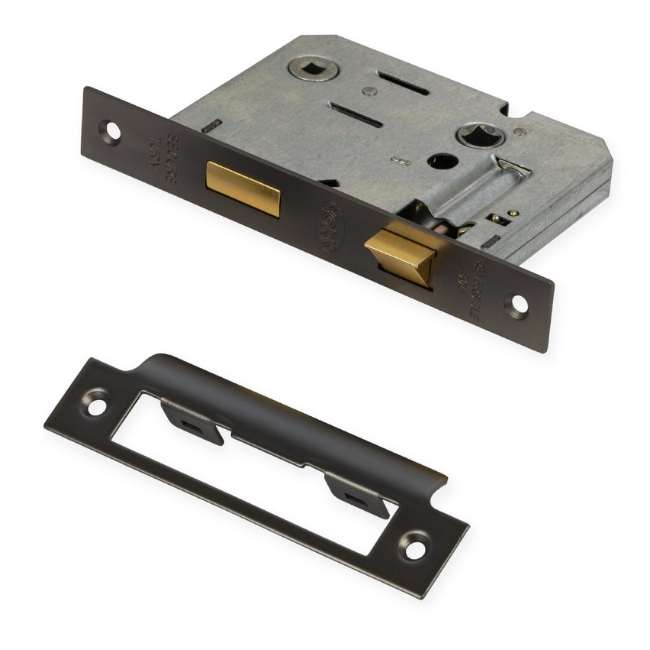 Bathroom Sash Lock
3 lever sash locks
 5 lever sash locks
A 5 lever sash lock is used for fitting a door handle to an external door and is a keyed lock. When choosing your sash lock make sure it complies with British Standard BS3621 regulations and has the kitemark on the case body. As with the 3 lever sash locks there are industry standard sizes, with the most commonly used size for front doors being the 2.5 inch with a backset of 44mm and 57mm centres (as in the example in the drawing above).
Euro Profile Sash Lock
A Euro Profile Lock is also a sash lock for exterior doors. It has a larger lock profile to house a cylinder lock. This type of lock is a popluar choice for  front doors as it has many benefits, including the ability to change the cylinder without having to remove the entire sash lock from the door.
Bathroom Sash Locks
A bathroom sash lock is designed to be fitted with a door handle and a bathroom turn and release. Similar to the other sash locks, there are industry standard sizes with the most popular being 2.5 inch and 3 inch. These have two square holes for the mortice bars of the handle and the turn and release to be fitted into.
Hopefully you now have all the information you need to make your choice between a deadlock, deadbolt and a sash lock. To shop for any of these items please see HERE for our range of locks and latches. And for further tips and advice see more articles in our Ironmonger's Journal, including helpful "How To" guides and home inspiration.
Comments