House Tours: Dormer House Renovation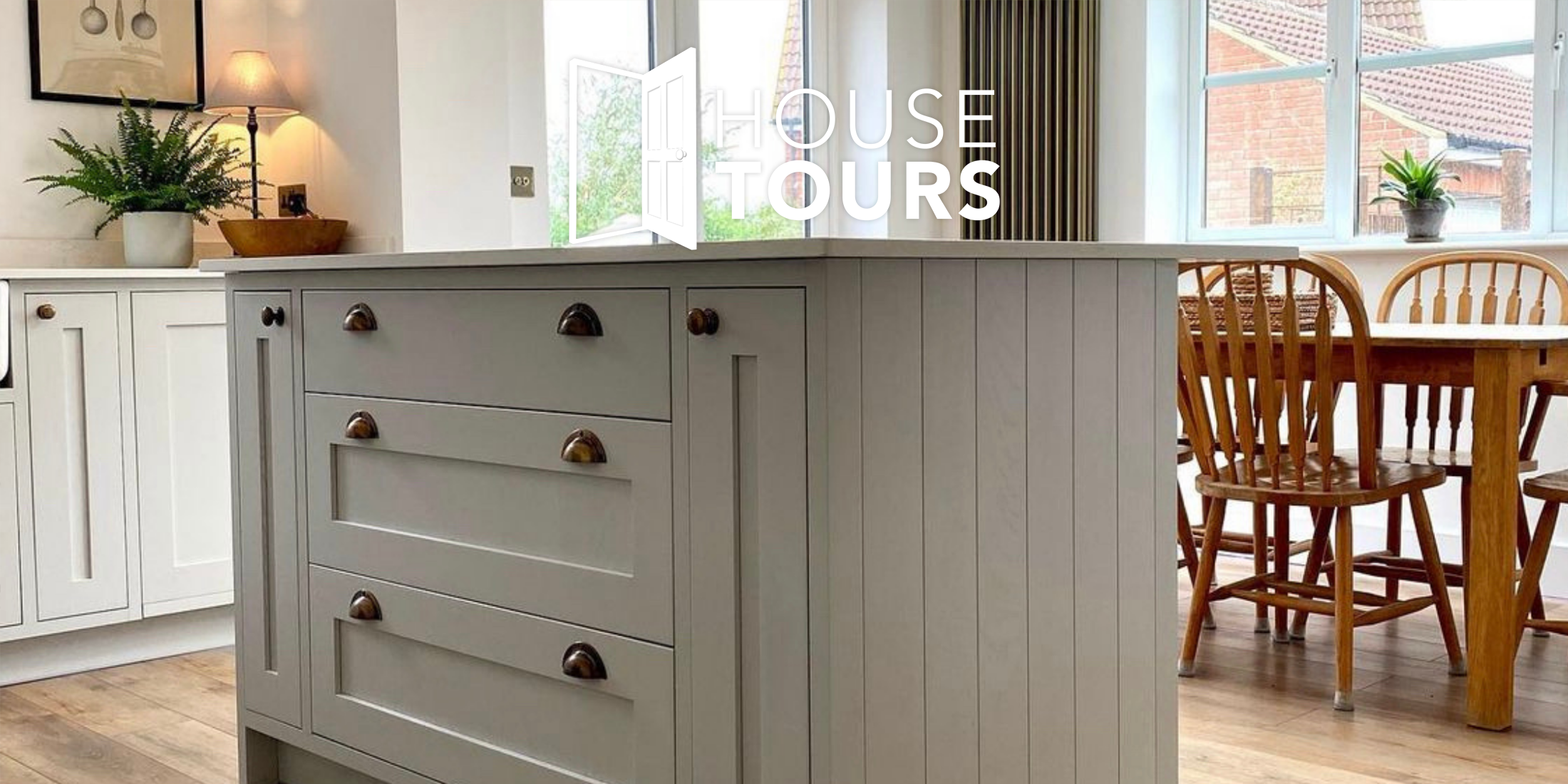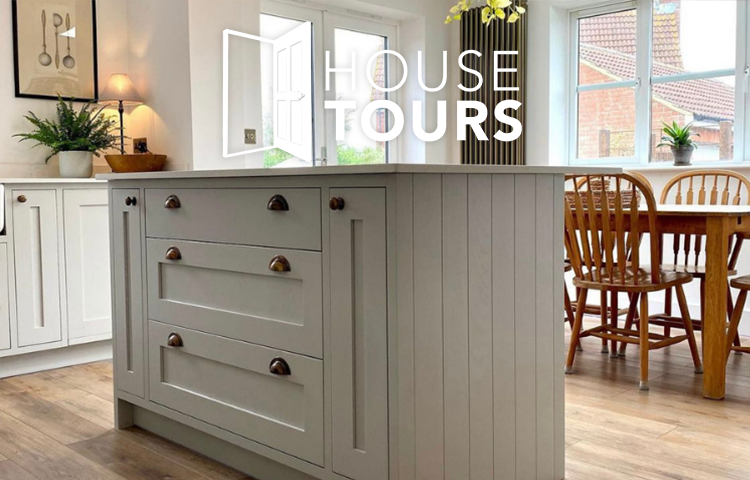 04 April 2022
Karen Angelico
When Sarah and her husband started looking for their next home, they hoped to find a property that needed renovating. They wanted a big project they could tackle and a house ripe for transformation. The Dormer House ticked all the boxes. Situated on a corner plot in a quiet cul-de-sac, this family home was in need of a complete renovation. Surrounded by hedges not touched for years, and a garden in desperate need of loving attention, the property also gave the opportunity for plant enthusiast, Sarah, to work her green-fingered magic.
Join us as we take a tour of this gorgeous home renovation. Discover how to add value to your home by making the right renovation decisions. Learn helpful interior design tips for styling rooms with dormer windows and find house plant inspiration for your home.
What is a Dormer House?
Dormer houses have one or more projections from the roof space. A popular architectural design, offering a distinctive character look. Derived from the Latin dormitorium, Dormer means a sleeping-room and usually includes a vertical window. These dormer windows allow for more space and light in the top floor of a house.
Dormers have a number of different styles, with the gabled dormers of Sarah's home being the most popular. Others include arched, flared, shed, eyebrow, pediment and more - the dormer style has evolved in British architecture since the 16th century.
How To Style Sloping Ceilings
The only downside to having dormer windows are the sloping ceilings and awkward spaces. Sarah's house has 3 dormer sections, front and back, which created a challenge in deciding how best to orientate the upstairs rooms and make best use of the space, especially in the bedrooms.
Sarah and her husband solved the dormer dilemma by embracing the architectural design and using clever styling. In one of the bedrooms, a cosy seating area has been created; in another bedroom, the bed has been placed under the slanted ceiling section. A great idea is to use the sloped areas for built-in cupboards and a desk.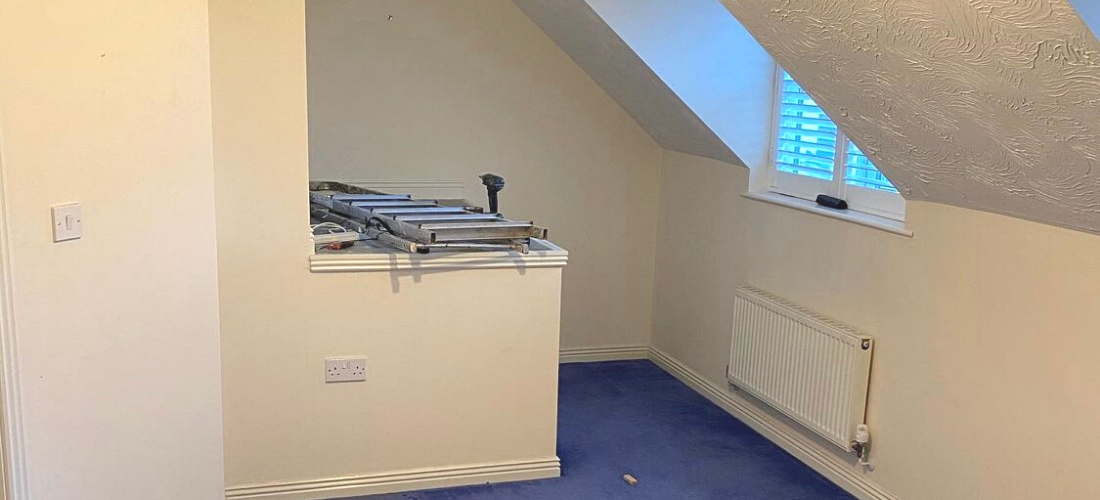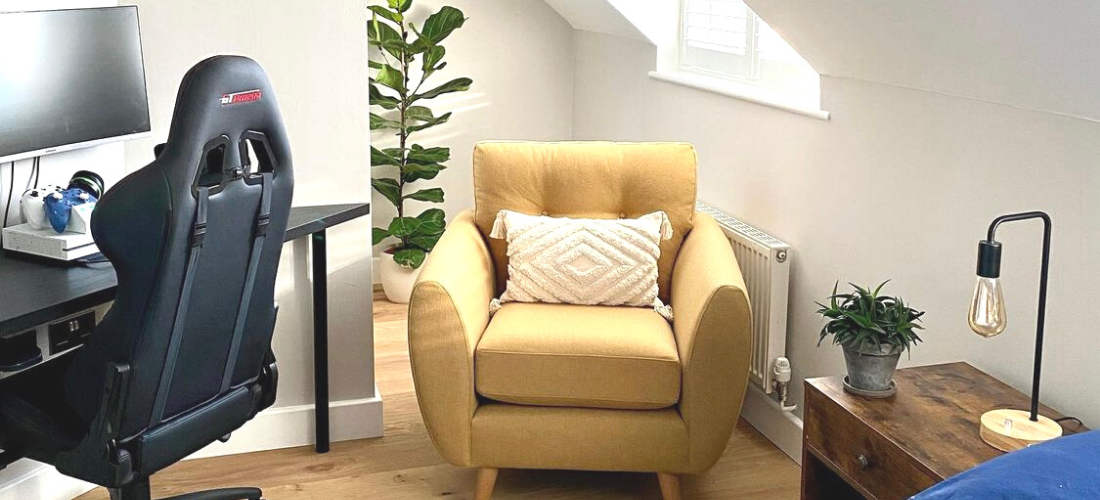 Tips for styling dormer window rooms:
Create built-in storage under the slanted walls.
Fill the awkward space with shelving and make a mini library.
Place a bed under the sloped area.
Build a desk area.
Use seating to create a cosy effect.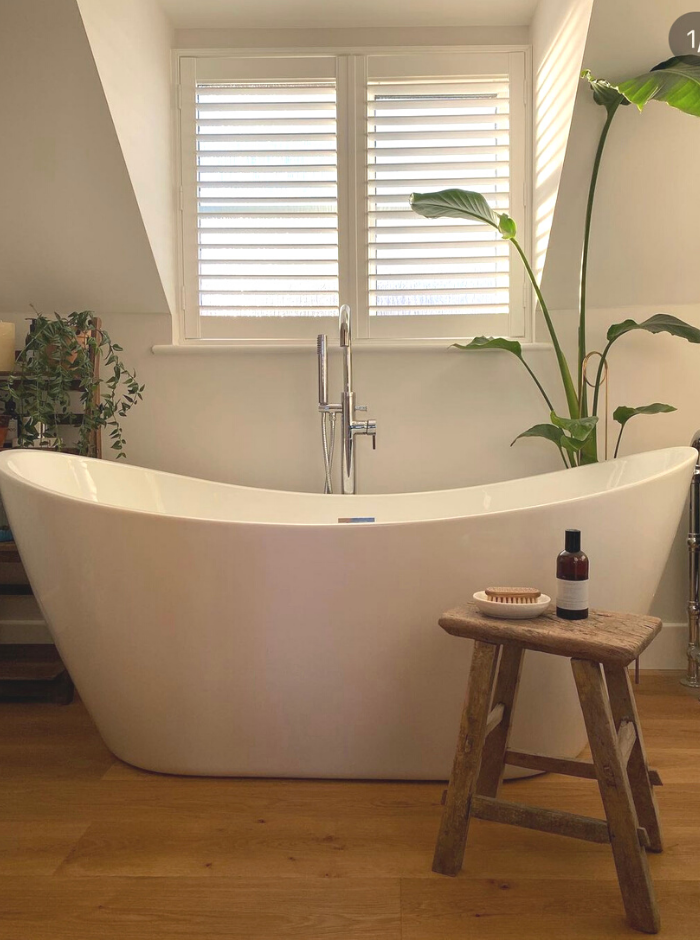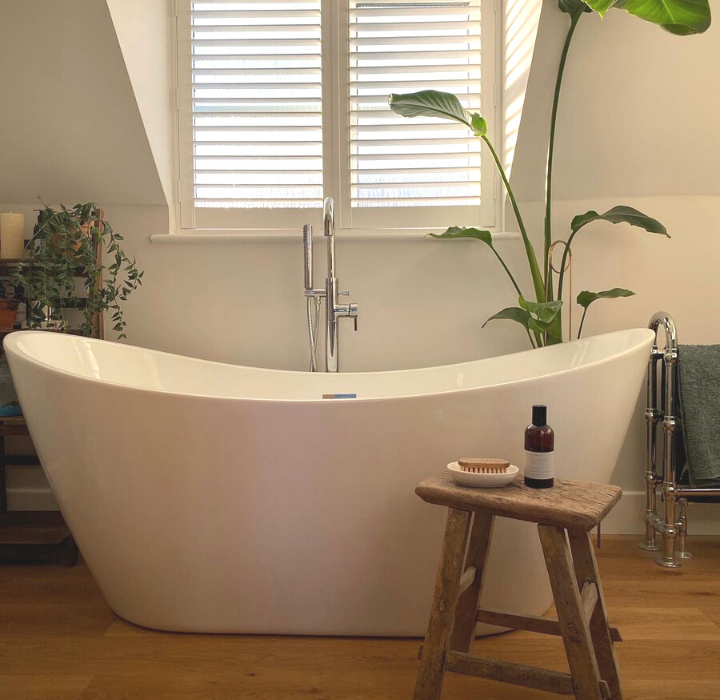 Bath Under Dormer Window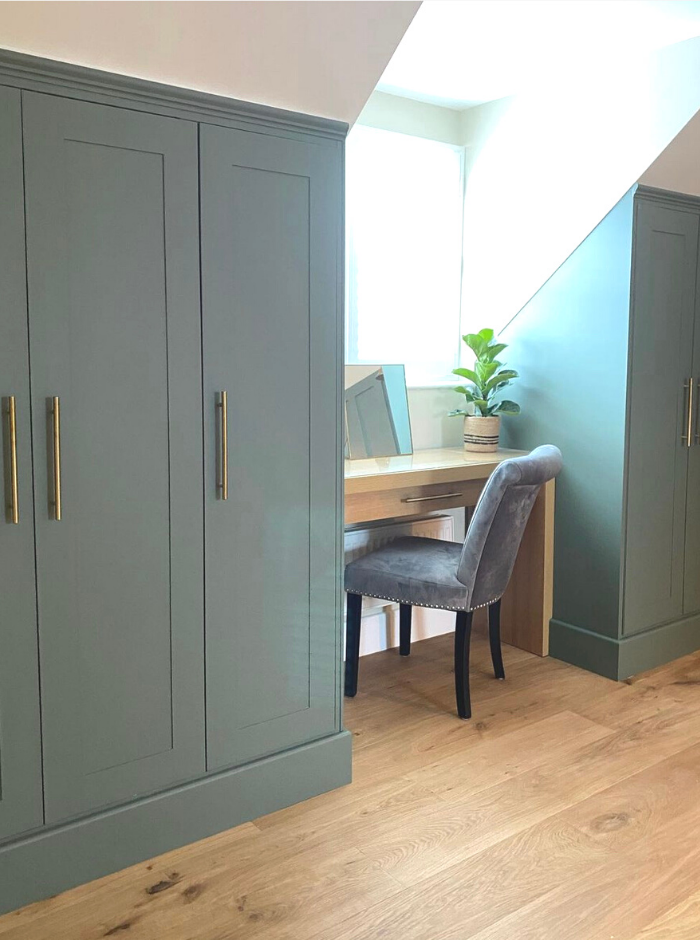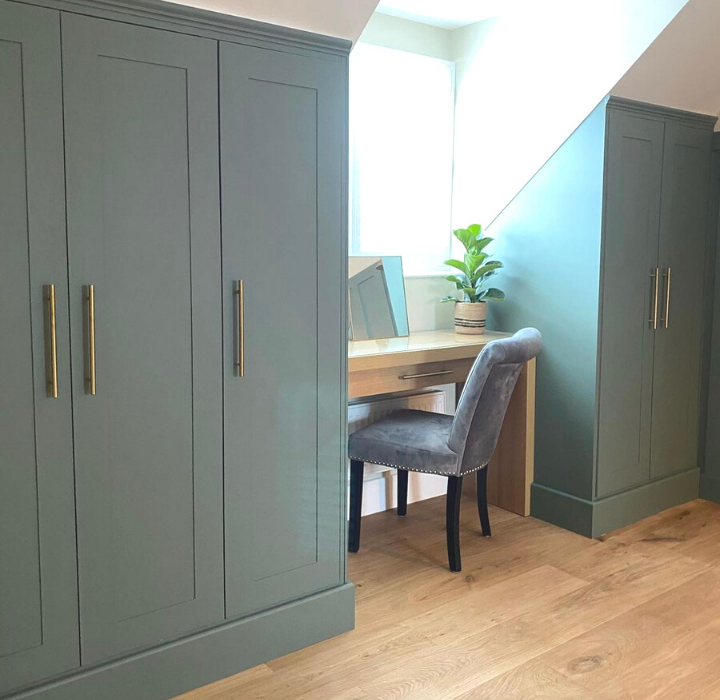 Built-In Dormer Cupboards
Bed Under Sloping Dormer
Timeless Hardware Choices
Sarah uses Pinterest and Instagram for interior design inspiration and budget busting tips. It is often the small details that can make the biggest impact. Too often items likes door handles, cabinet knobs and acessories can be left until the last minute. These hardware highlights are such an important part of a room and the choice of finish and style have such a dramatic effect on the overall design.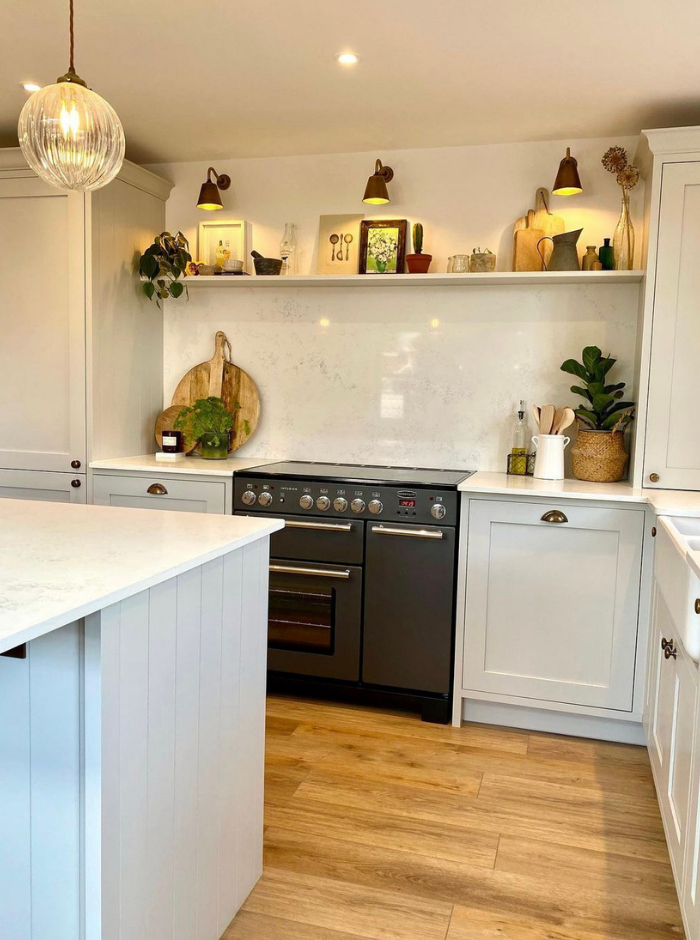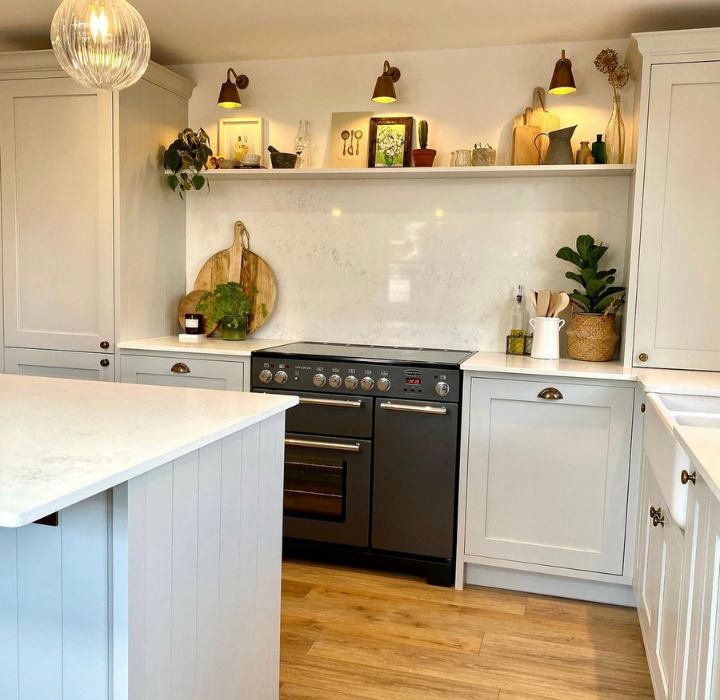 Classic Antique Brass Kitchen Cup Pulls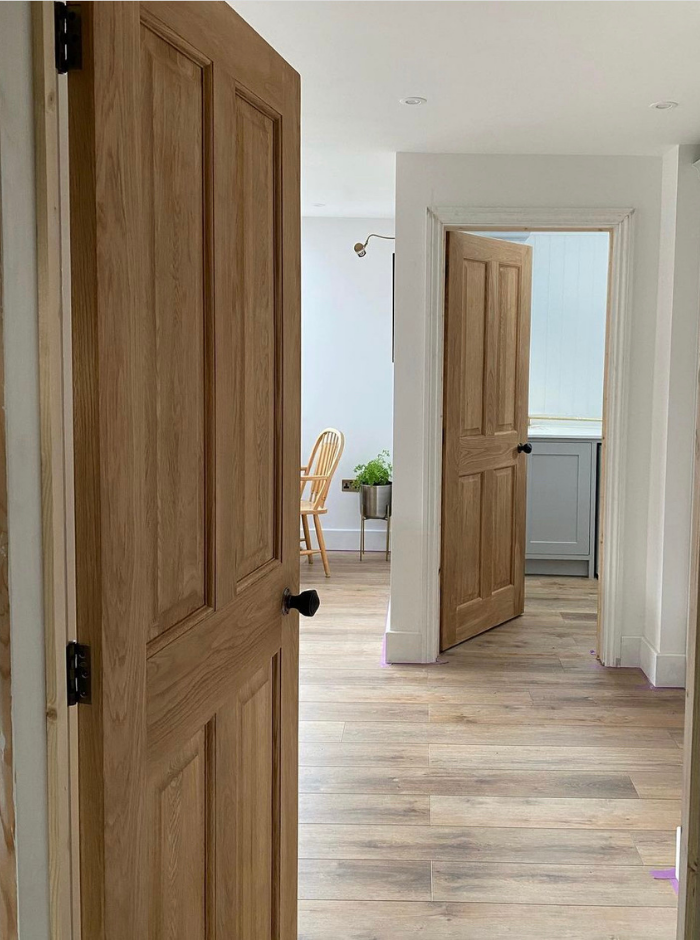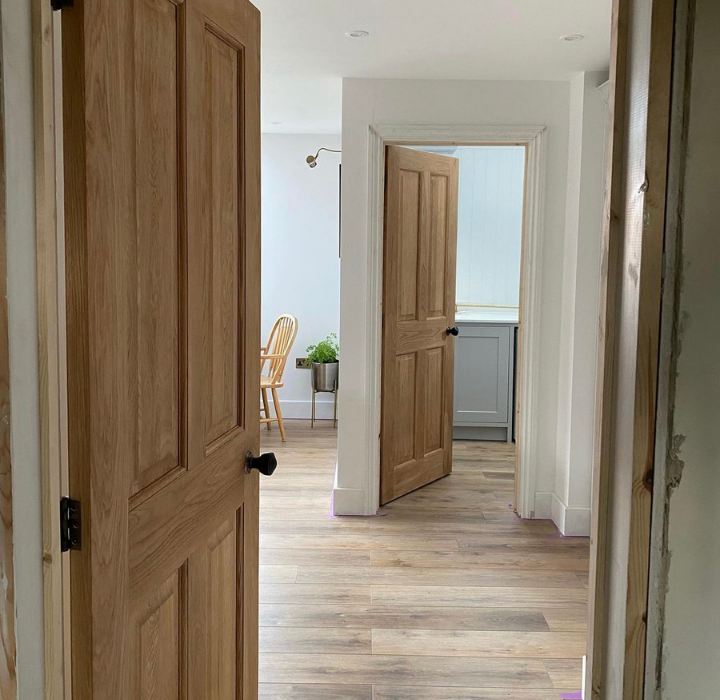 Ringed Wooden Door Knobs
Classic Black Lever Handle & Round Escutcheon
In the kitchen, Sarah has gone for classic Shaker style cabinets with a central island. The Victorian antique brass cupboard knobs and matching kitchen cup pulls are the perfect finishing touch. Traditional style with a timeless contemporary look.
The choice of doors and door hardware compliments the cottage style of the house. These timber panelled doors with wooden ringed door knobs in an ebonised finish co-ordinate with the brass highlights elsewhere in the house. The rim lock on the bathroom door is a lovely detail.
The utility room door also brings cottage style to the house. This type of Dutch door (also called a stable door), is often found on older properties, and offers practical style, especially for an external door. Having a split door, where the top half can be opened, allows a fresh breeze and sunlight into the house. Sarah has chosen classic black ironmongery for this door. Get the look with a Bridgnorth lever handle and a simple round escutcheon.
"The fun bits of kitchen planning are choosing the accessories!"
Plant Life
House plants have become such an integral part of interior design. Since the pandemic, the need to bring nature into our homes has become important and growing trend. Studies have shown how plants help reduce stress and anxiety, improve sleep quality by filtering the air, and increase productivity.
Sarah is a keen house plant enthusiast and has incorporated plants into every room of the Dormer House.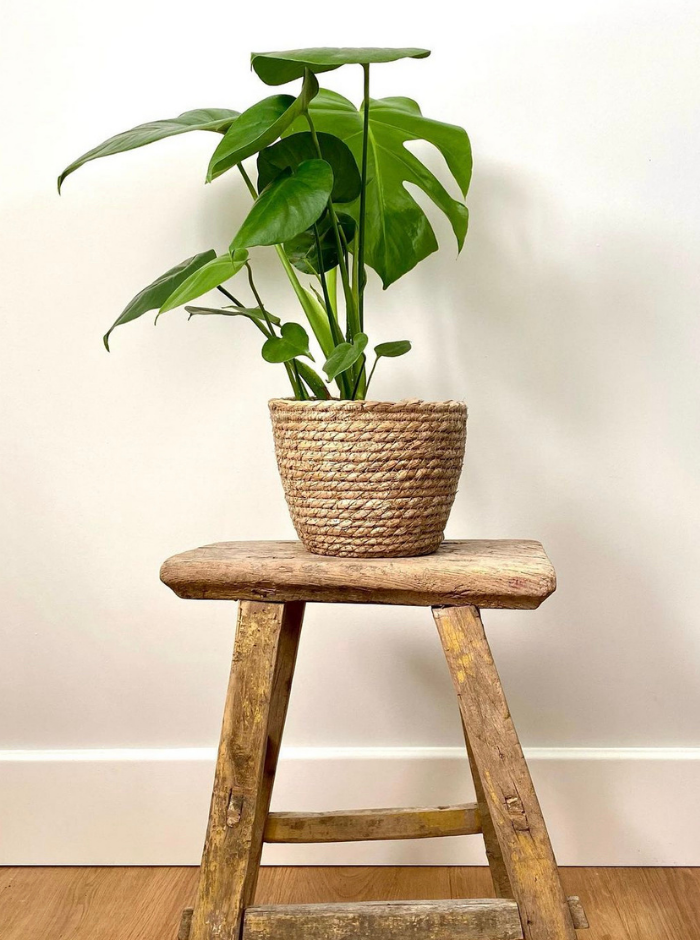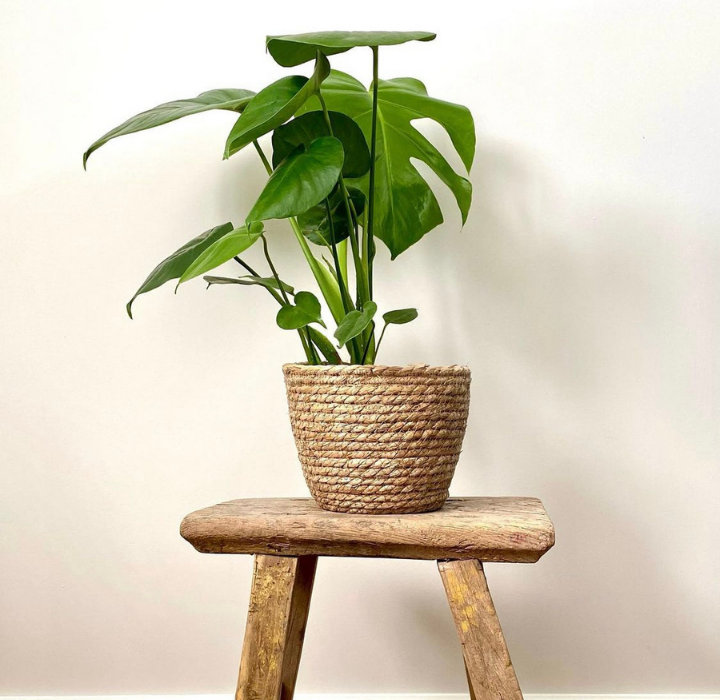 Swiss Cheese Plant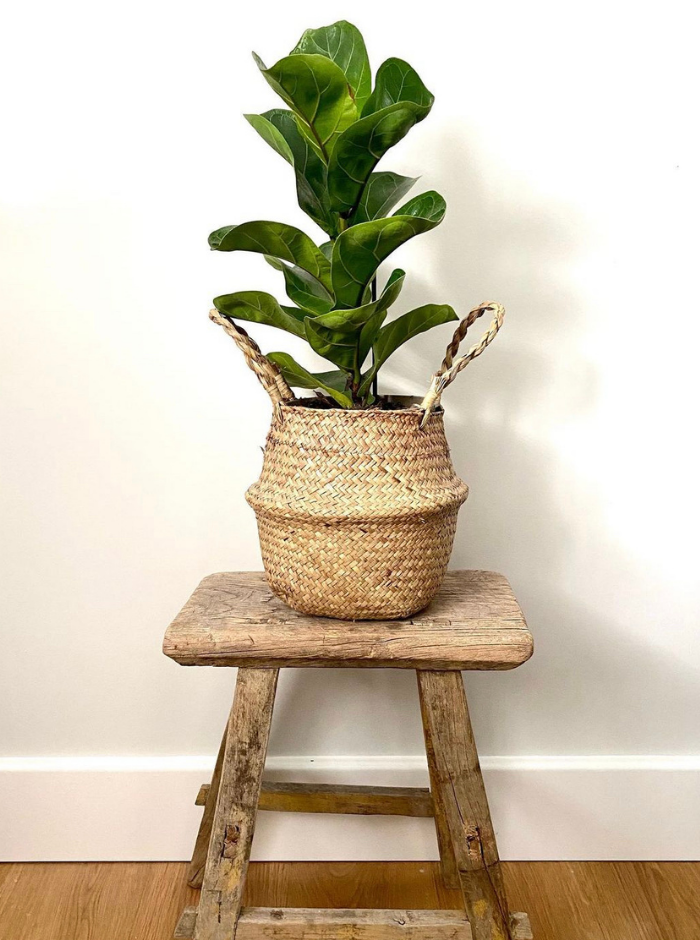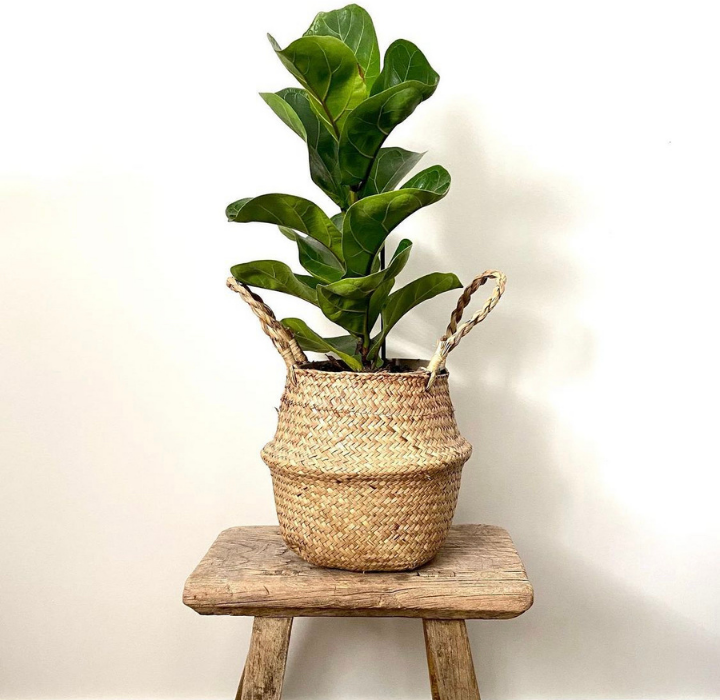 Fiddle-Leaf Fig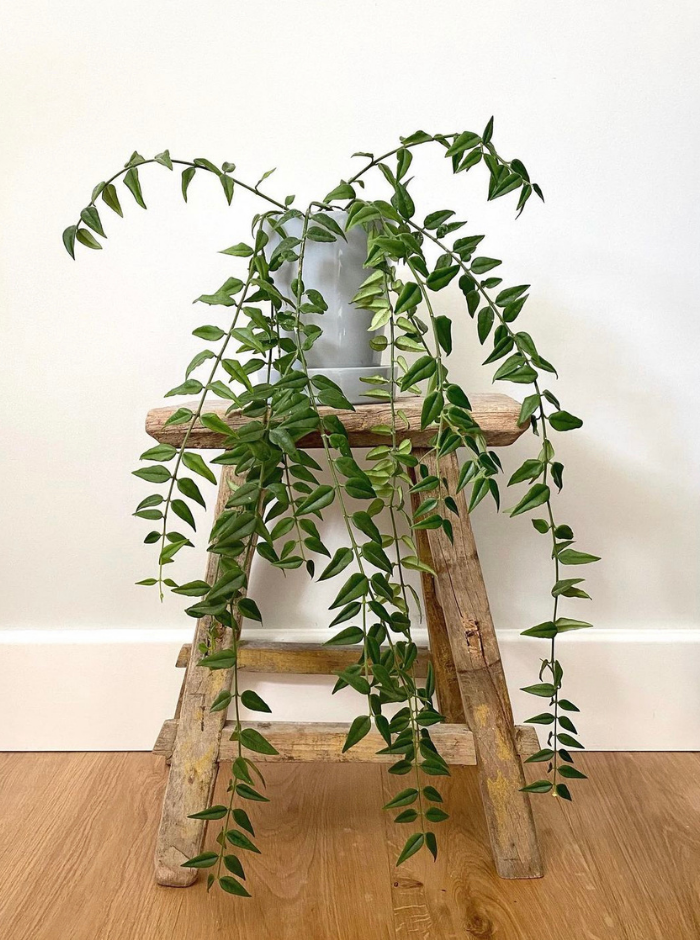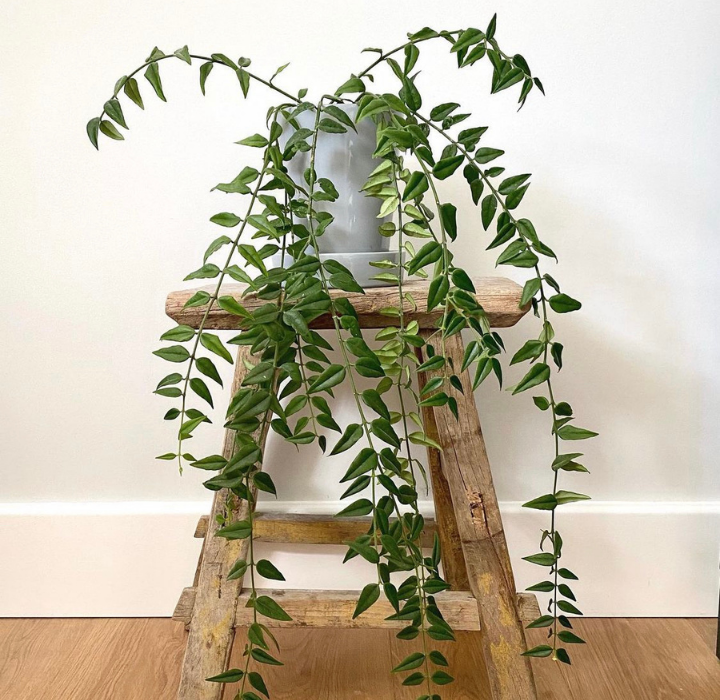 Hoya Lanceolata Bella
Tips for bringing the outdoors inside:
Use a combination of large and small plants.
Choose pots to compliment the decor.
Research! A plant suited to a bathroom will not be the same as one for a living room or bedroom.
Don't clutter - analyse the space and decide which part of the room would benefit.
Make a statement feature with a large plant.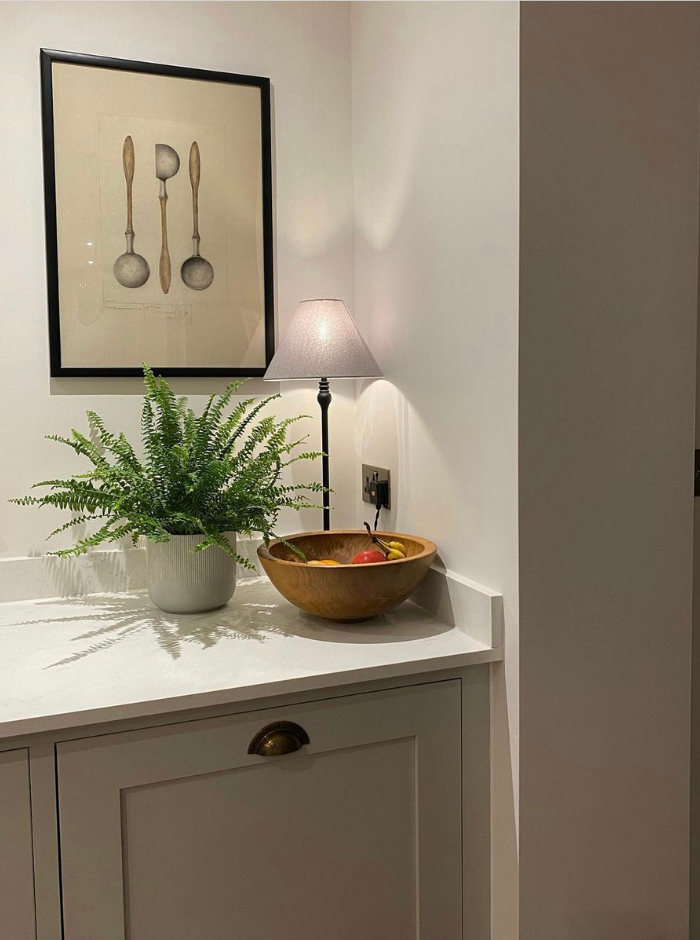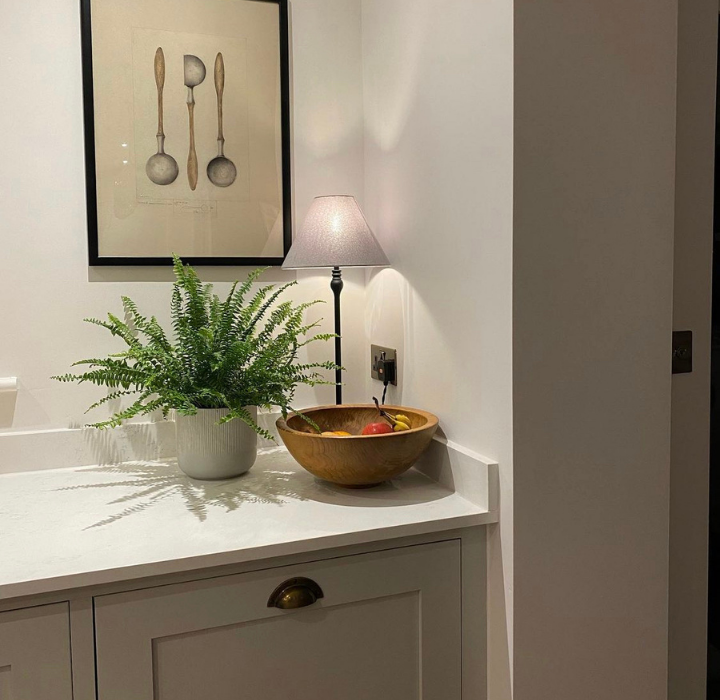 Boston Fern & Kitchen Cup Pulls Antique Brass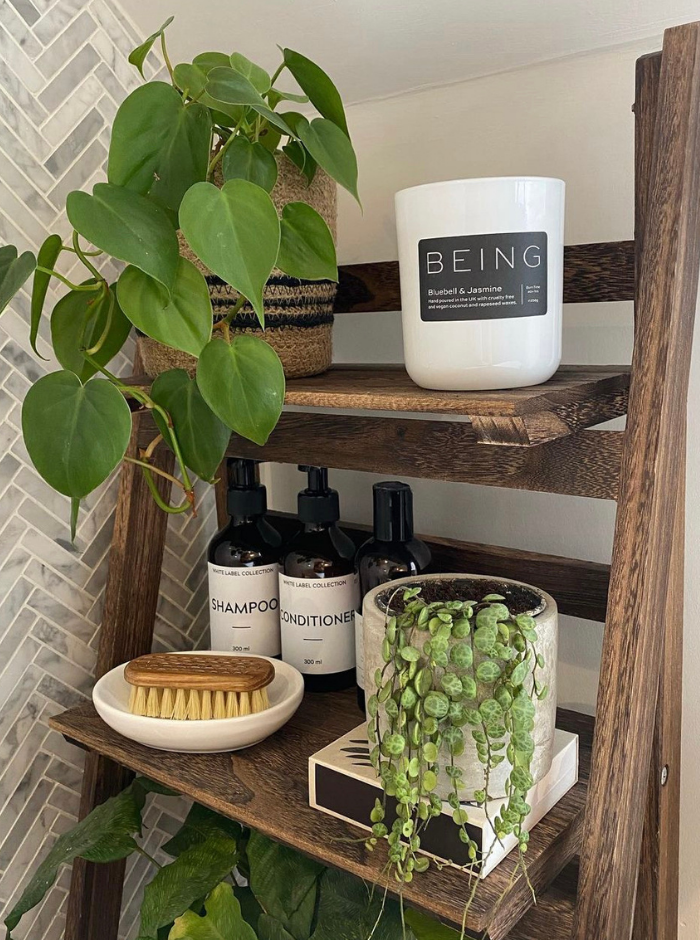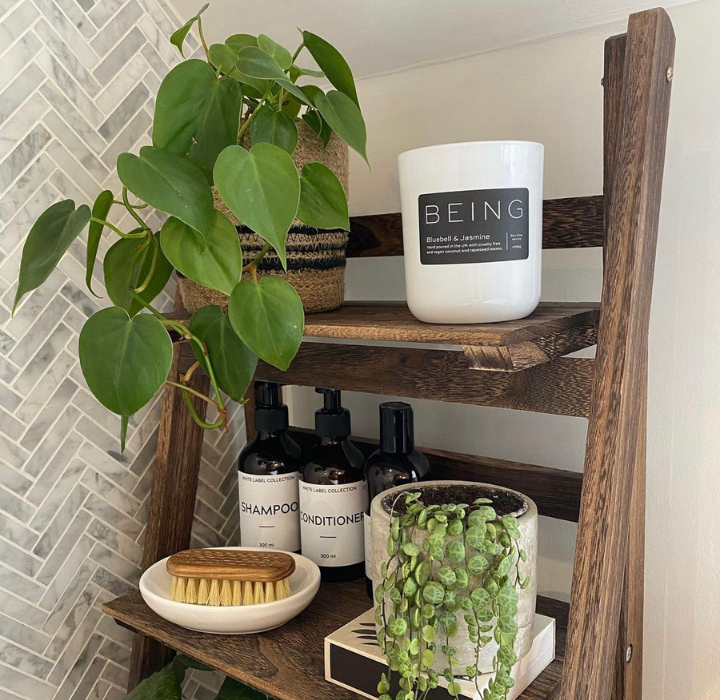 Philodendron & String of Turtles House Plants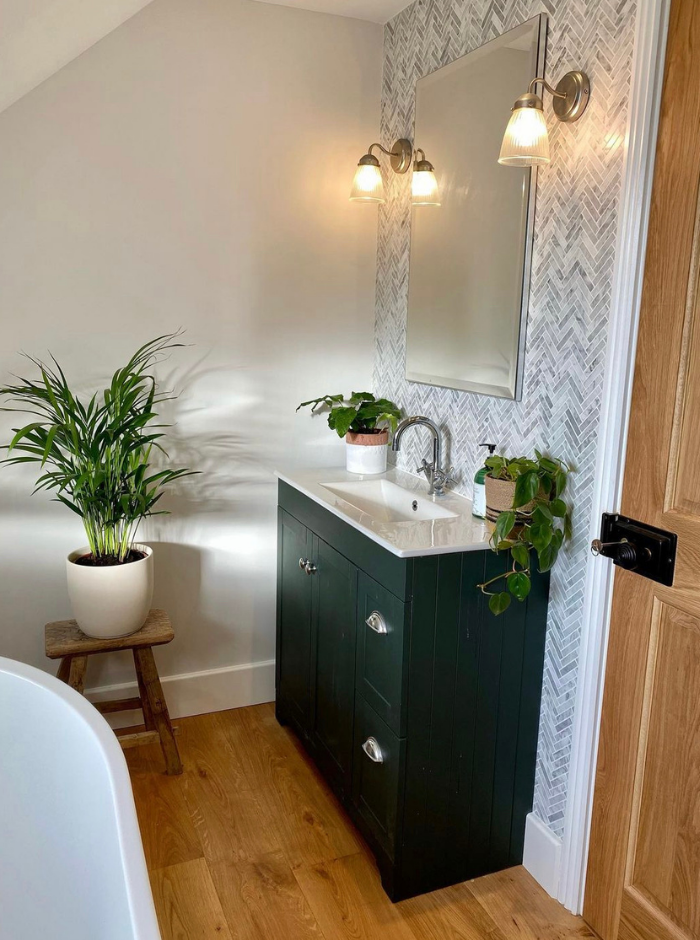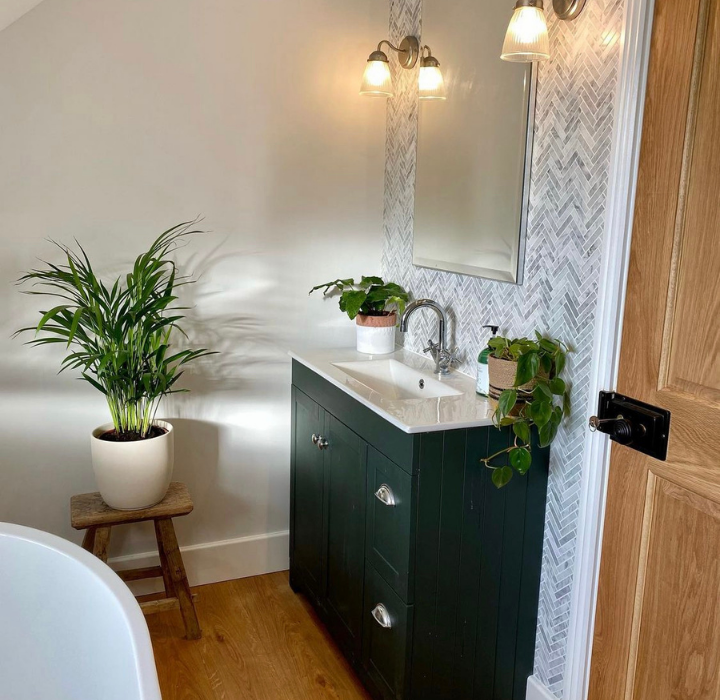 Liquid error (snippets/article-triple-promotion line 190): product form must be given a product
Kentia Palm in Bathroom with Classic Rim Lock
"Hoya Lanceolata Bella plants love a bright spot in a bathroom or kitchen. So easy to look after and look fab trailing from a shelf or windowsill."
Tips For Your Home Renovation
Getting a Valuation
Estate agents can offer helpful advice about renovation plans and give advice about what will increase the value of a property. Although the Dormer House renovation is only halfway through, Sarah decided to ask a local estate agent for a valuation.
These are the helpful tips Sarah learned:
A kitchen/diner is much preferred over a separate dining room (or go for both, if you have the space).
Wood burners are still the best choice for a fireplace.
Off road parking is a big plus - swap a front lawn for a dropped curb and gravel if you can.
A private, non-overlooked garden is a desirable feature.
Home office space is a must.
Sarah and her husband have no plans to sell but these tips have been invaluable for planning the next stage of their renovations. The feedback has made them think about how to add value to their home, not just focussing on getting it finished. They are now reducing their bathroom budget and investing in some established evergreen trees for the back garden to increase privacy. They are also going to reconfigure the stud wall in the oversized hall, making a 4th bedroom/home office with a Jack and Jill door to a downstairs shower room. This new room can then be used as a home office, and in the future, if they decide to move, it can also be advertised as an additional bedroom/guest room suite.
Thanks to Sarah for sharing her home and these brilliant tips! If you would like to find out more about the Dormer House Renovation, head over to instagram and follow @the_dormer_window_house
---
More House Tours
For House Tours updates, competitions, and the latest news for all of our products, please follow us:
Instagram @suffolklatchcompany
Facebook @suffolk.latch
And we love hearing from you! Leave us a comment and let us know what you enjoyed most about the Dormer House Tour 🏡
Comments