House Tours: Leicestershire Barn Conversion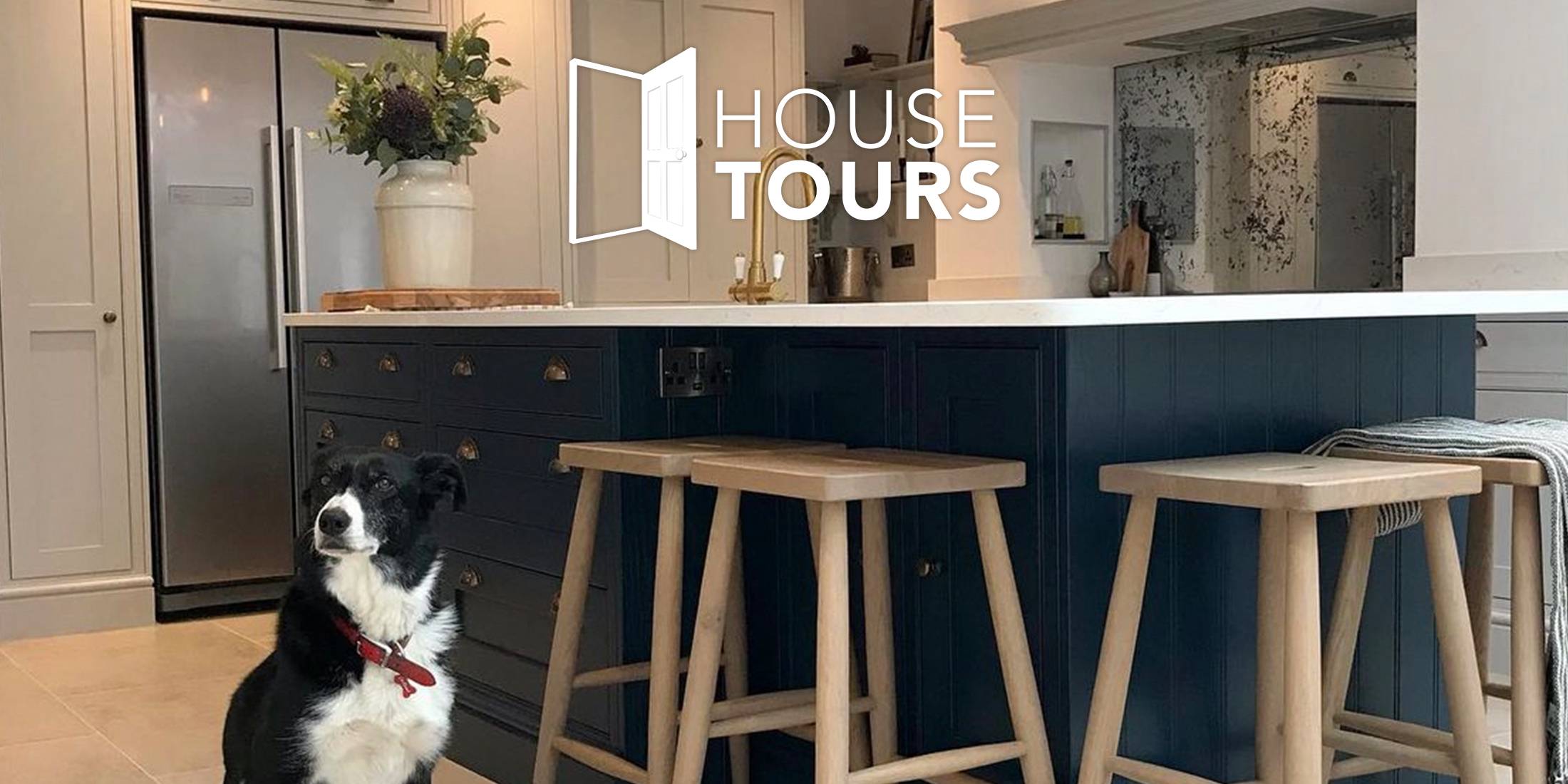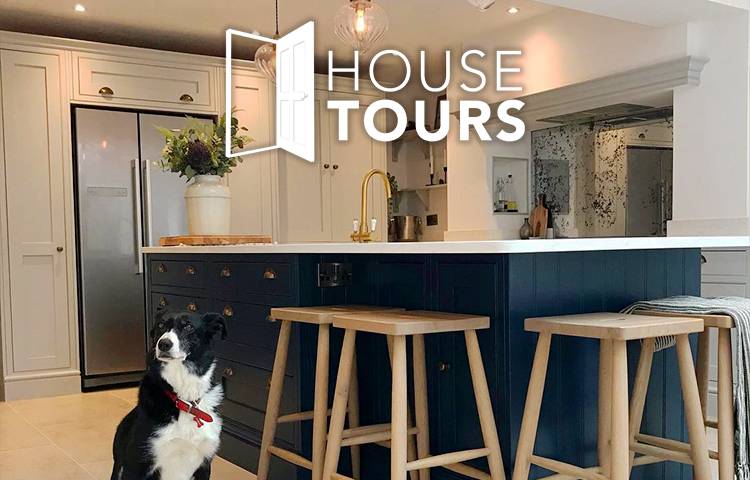 19 May 2022
Karen Angelico
Property With Family History
This Leicestershire barn conversion was previously owned by Kat's husband's grandparents. Originally a cow barn, it was converted into a house in the 1980's, remaining much the same until Kat and her husband decided to buy it in 2015.  Needing a complete modernisation, every room required attention. Kat was up for the challenge, and has always had a fascination for interior design. She used Instagram as her main source of inspiration.
"There are so many talented DIYers and designers that I have drawn ideas from"
The renovation was thankfully a relatively straightforward process, with only minor setbacks. Probably the worst thing to happen was the cement lorry driving into a neighbour's wall!
Kat wanted to create a timeless classic look that would last for years to come. Conscious of not wanting to follow any faddy fashions that would date, she chose neutral colours and traditional designs to create a relaxing family home. Now the work is complete, they won't be moving for a very long time.
"As the house has been in the family for years, it is very special to us. I can't see us moving for a very long time."
The Heart Of The Home
The kitchen is the heart of the home and this is Kat's favourite room in the house. As a family, they now spend most of their time here, either cooking, eating or watching TV. The old conservatory was knocked down and a new larger kitchen space was designed. The initial idea was to have the old kitchen as a snug area for the children's toys, but these have inevitably made their way into the kitchen as well!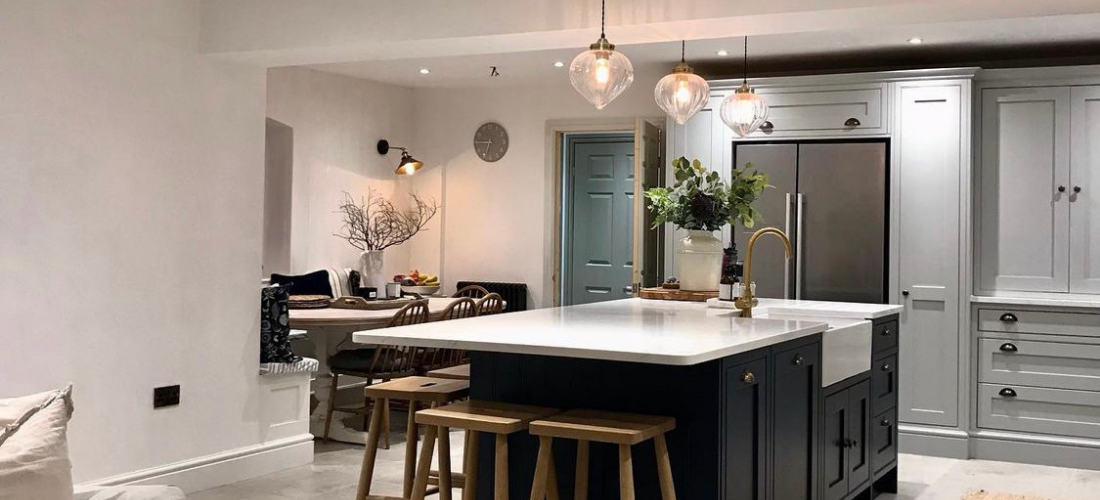 Kat and her husband did lots of research before making any final decisions about the design of the kitchen. With quotes from several companies - both high street and bespoke - they were able to compare ideas and prices. They wanted to install a true in-frame kitchen, which unfortunately wasn't an option from the usual high street stores. In the end they decided on bespoke cabinets with stunning carrara quartz worktops in shades of white and grey.
The result is a stunning classic kitchen with tongue and groove detailing and upmarket shaker style cabinets. The central island is painted a darker colour of cobham blue and the rest of the cabinets in dove grey. The choice of antique brass hardware completes the timeless look, with a striking antique mirror splashback behind the hob.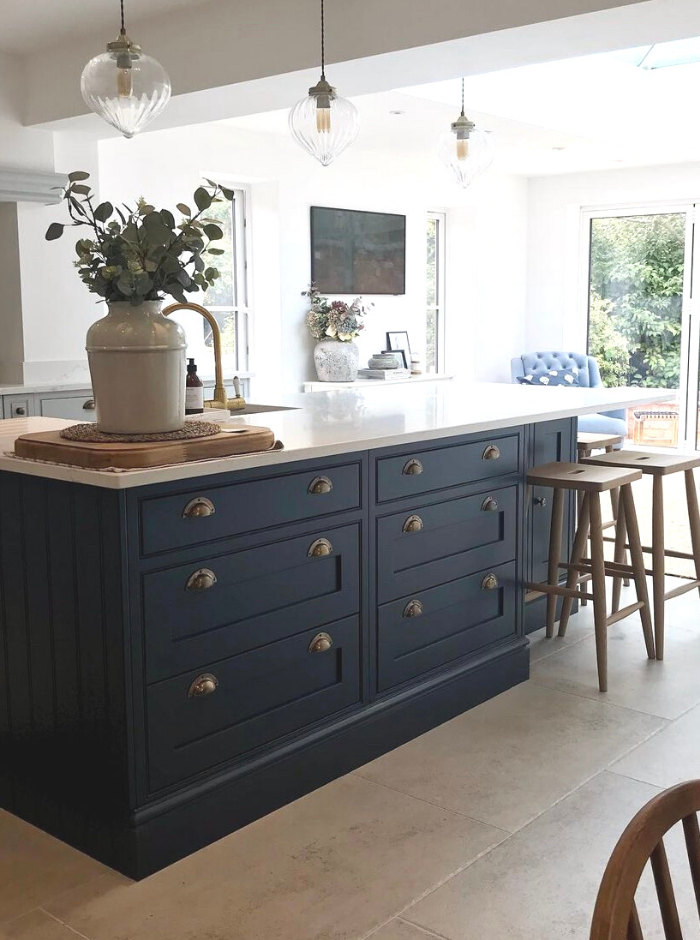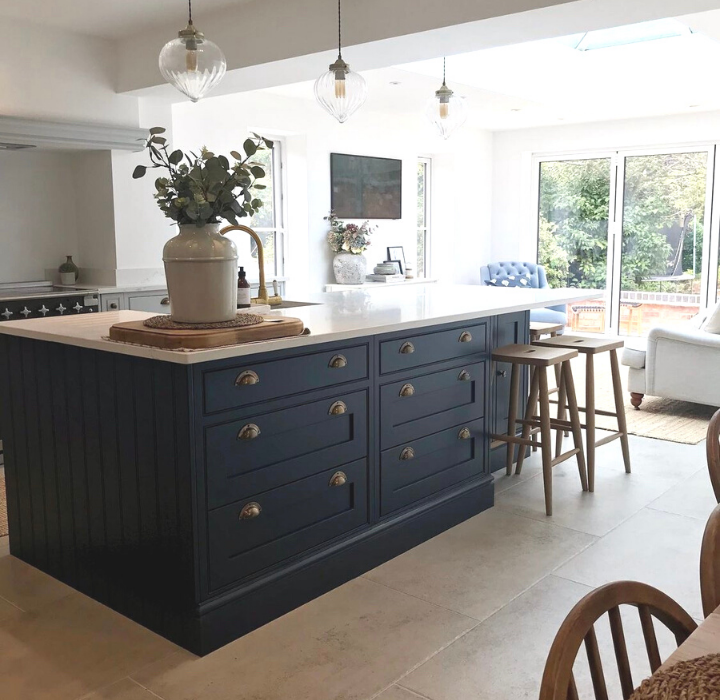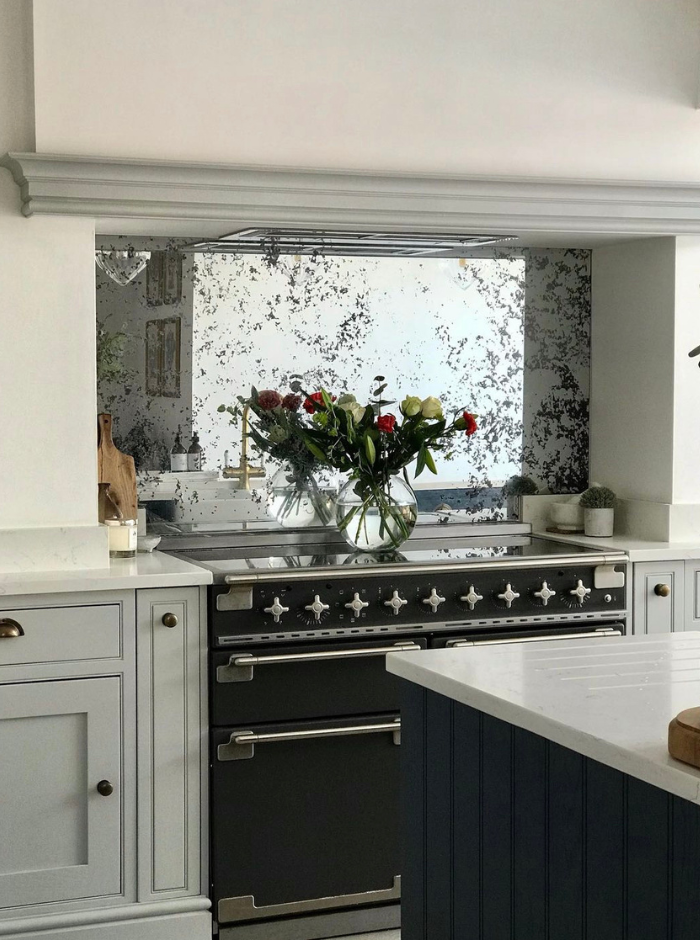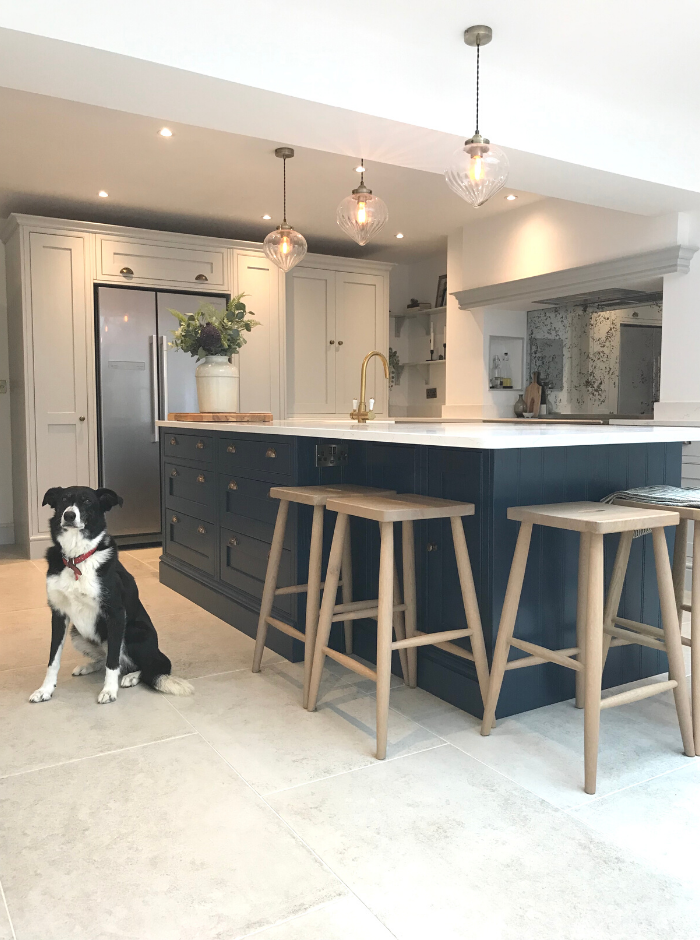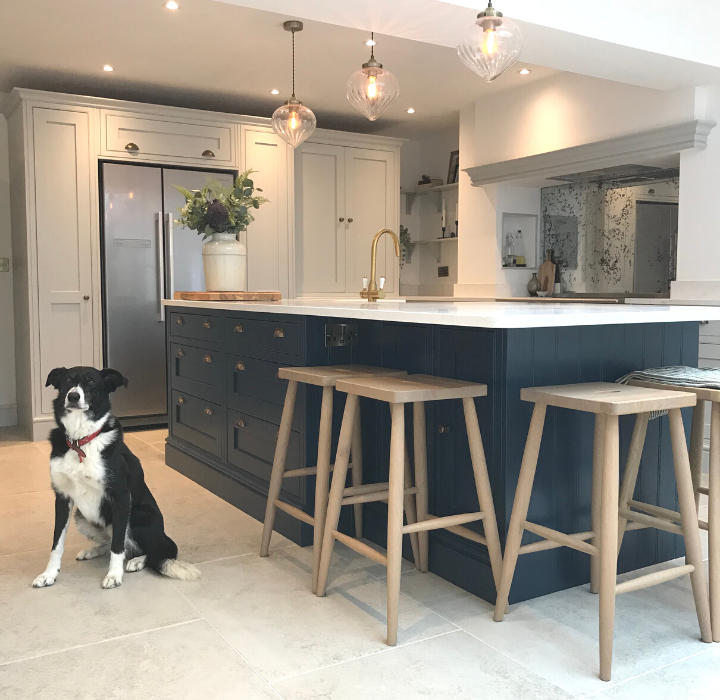 Timeless Style
The classic look in this renovation has been achieved by using a mixture of neutral colours and traditional styles which have been echoed around the rest of the house. Muted neutrals in hues of green, blue and grey that will never date. Each room has a beautiful balance of detail and character, but never too much clutter. The inclusion of house plants also makes for a homely atmosphere.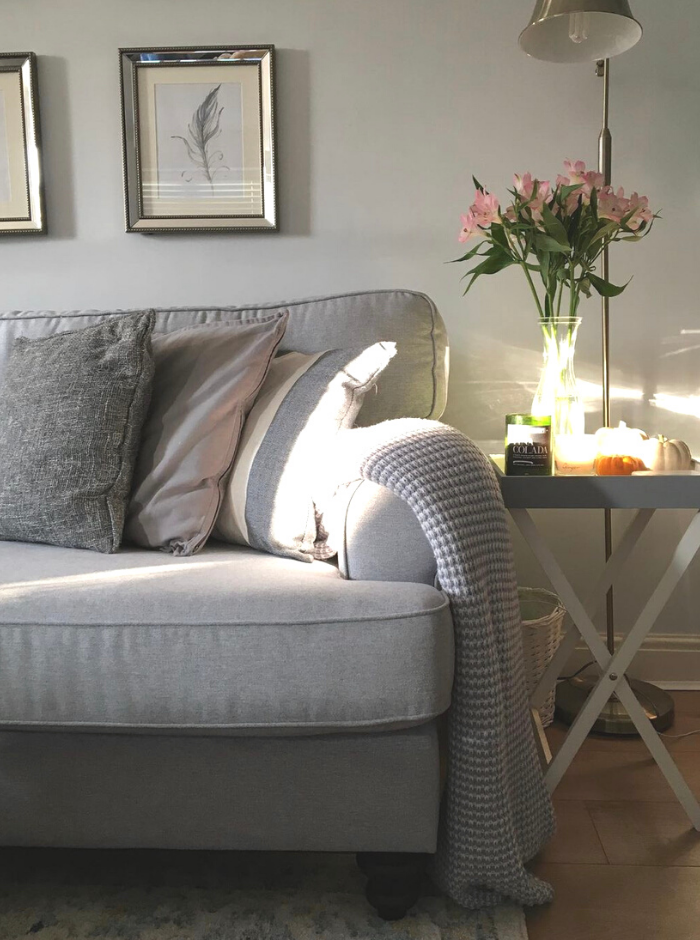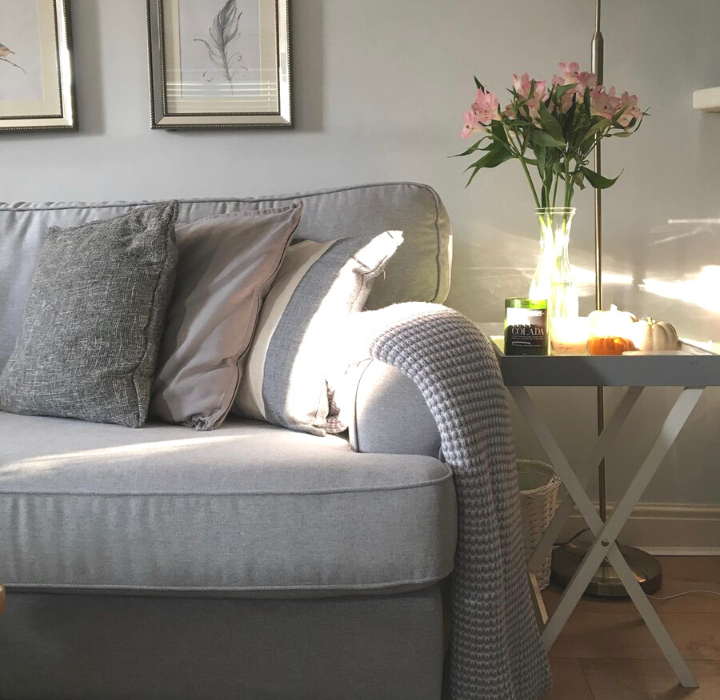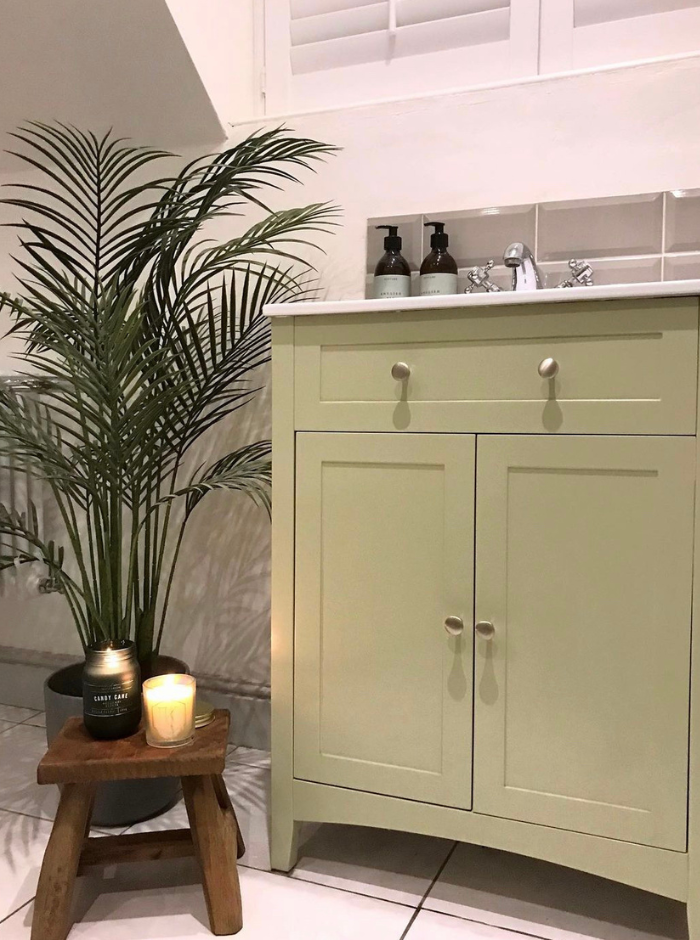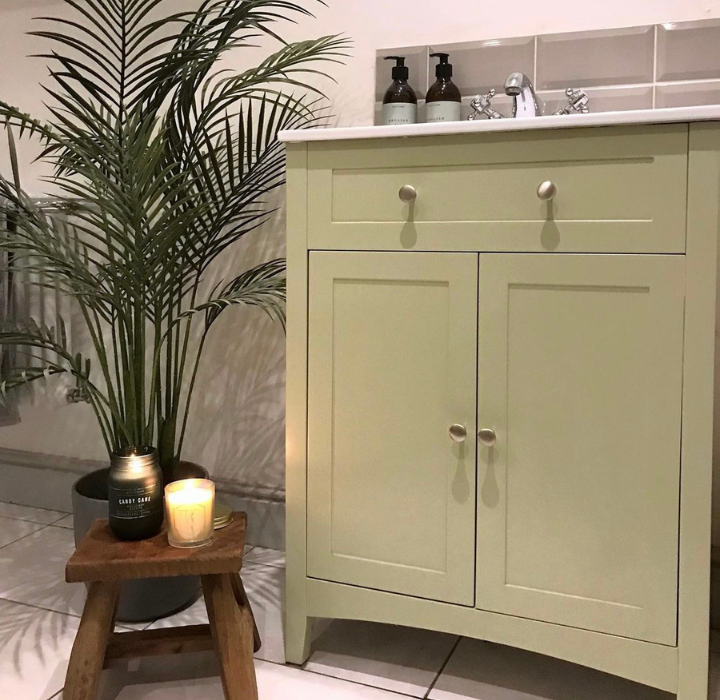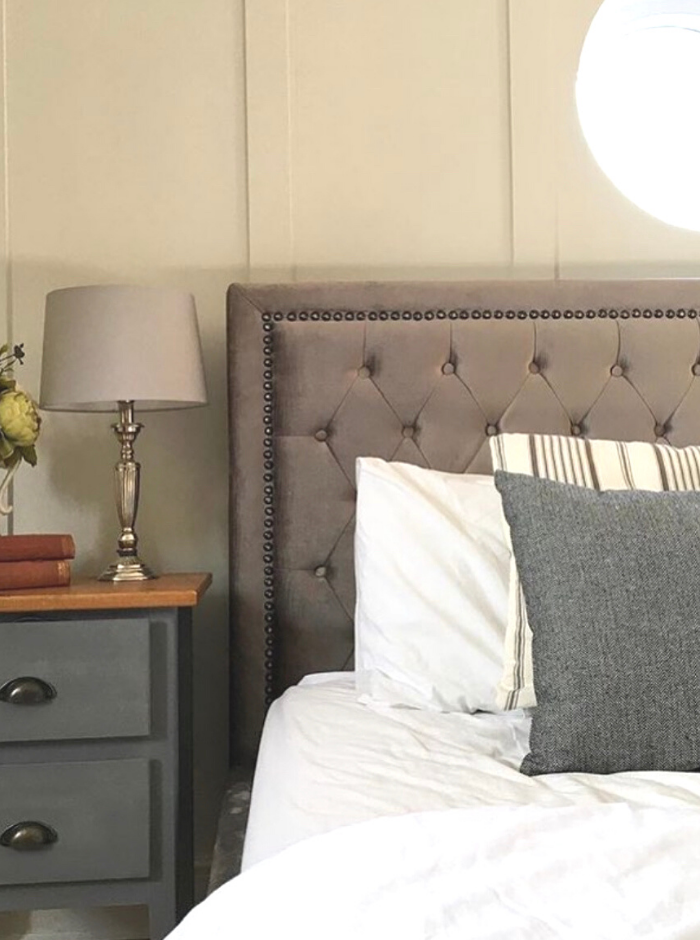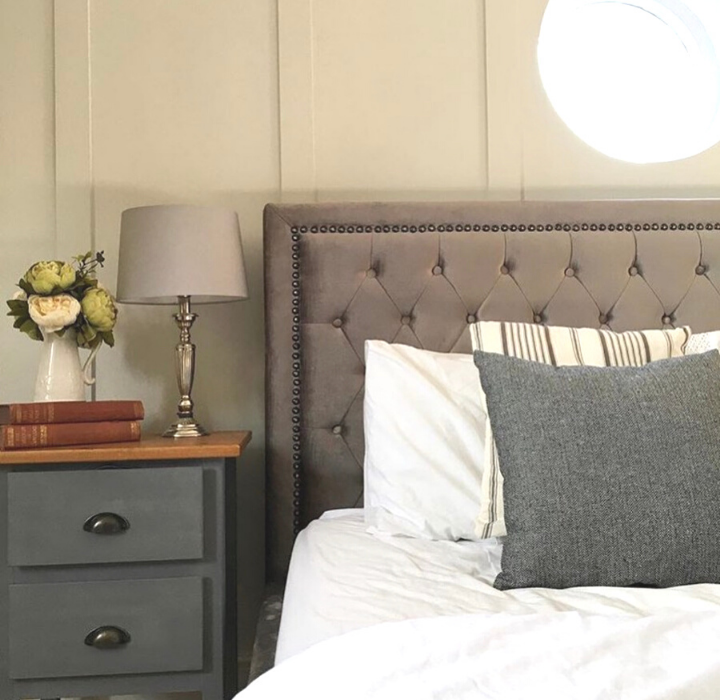 It's All In The Detail
The upstairs panelled doors were a real find and were a rescue project from a skip. Once they were painted white, Kat looked for the right door knobs. She wanted to find a style that would complement the classic look and fit with the rest of the decor. As soon as she found the ebonised and antique brass beehive door knobs she knew they were the ones!
In the kitchen, Kat wanted to co-ordinate with antique brass cabinet furniture. The Victorian Cabinet Knobs and Kitchen Cup Pulls were the perfect choice and offer traditional style for modern living.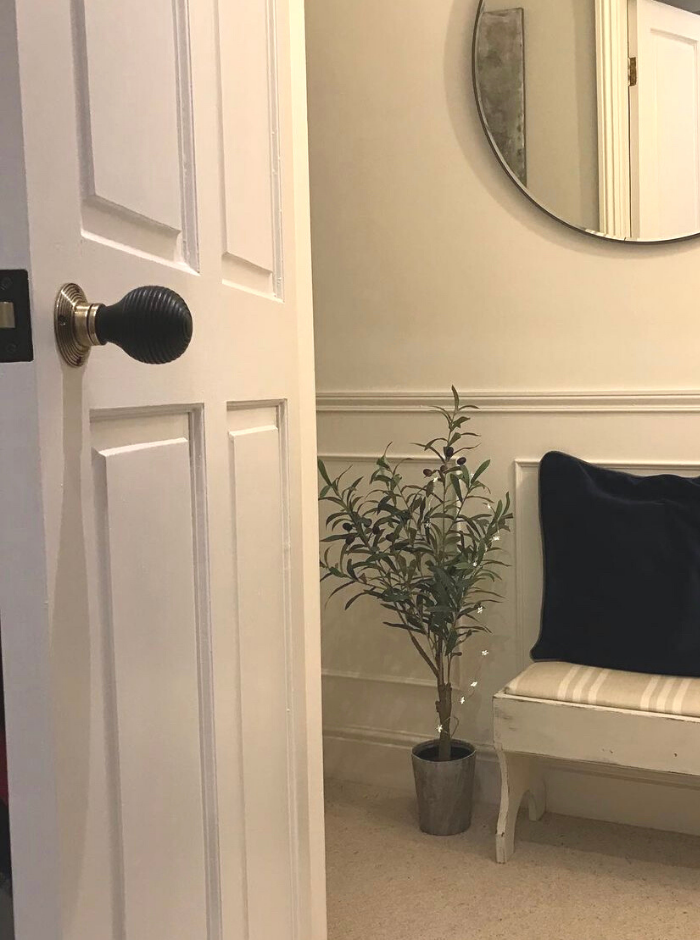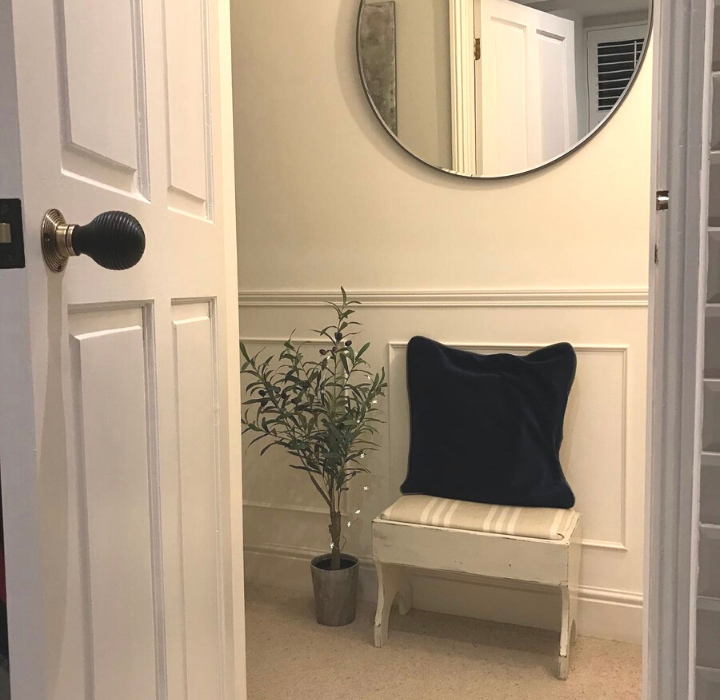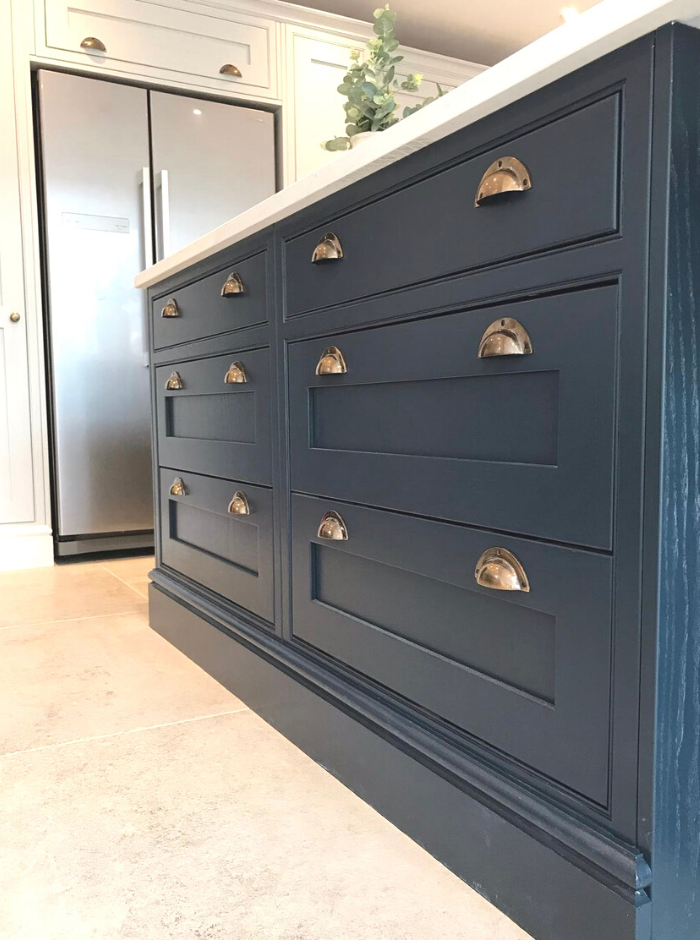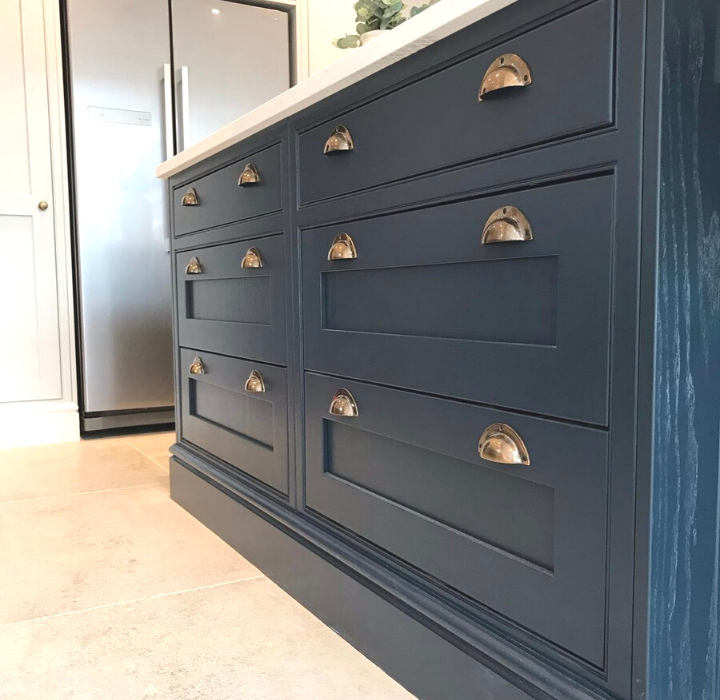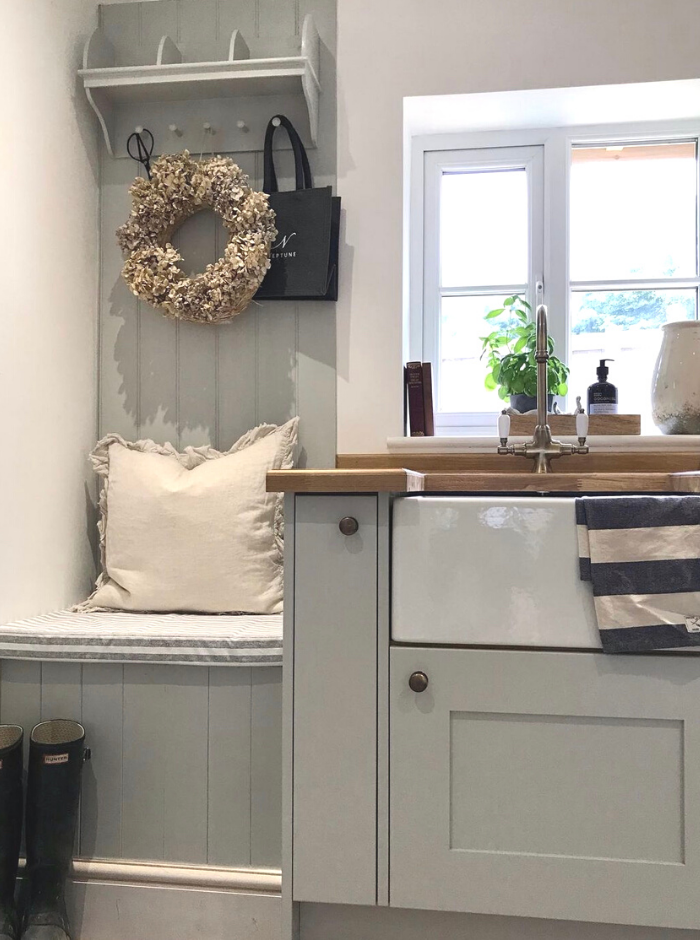 "I love the contrast between the brass and the classic style against the white doors."
Renovating Tips
Kat was keen to get involved in the renovation work and completed all of the panelling, painting and basic carpentry in the house. With a young family in tow, however, she was constrained by how much she could take on. All of the big jobs had to be done by tradespeople.
Kat's top tips for managing a renovation project:
Be prepared for a lot of mess and protect everything that you want to keep - don't rely on tradespeople to protect it for you!
Do lots of research and planning before starting any job, small or large.
Ask lots of questions when in the intial quotes stage.
Remain flexible - whether due to finances, availablilty of materials or products.
Remember everything takes much longer than estimated, and usually ends up costing more than you think it will!
If you need any additional jobs to be done along the way, make sure you get a quote in writing before agreeing - even if you think the job is only small.
Use instagram for inspriation - it's a great place to see what other DIYers are doing.
A big thanks to Kat and her husband for sharing their renovation journey. Kat also wants to give a shout out to Ben from BENSH for the brilliant building work.
To find out more about the barn and follow Kat's personal blog, head over to instagram and check out @thebarnrenovation
---
More House Tours & Product News
Follow us for House Tours updates, How To Guides, and details of all the latest new products 🏡
Instagram @suffolklatchcompany
Facebook @suffolk.latch
Comments